<!- google_ad_section_start ->
Affordable Engagement Rings - My Amazon Picks

Cheap and affordable engagement rings are also engagement rings, and these also emphasize an eternal binding commitment to lover and the pledge to marry sweetheart. So, there is nothing discrediting in wearing a cheap diamond engagement ring or for that matter any inexpensive engagement ring.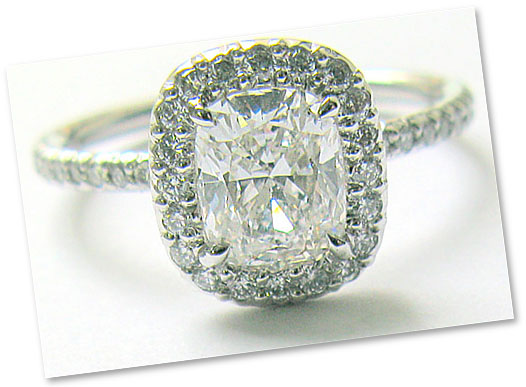 <!- google_ad_section_end ->
Just because an engagement ring is low-priced, doesn't mean it is low-valued and should be demeaned. Real worth of a gift is determined by the feelings and emotions of its giver and not by the price of gift.
So, this article is for buyers with tight budget, and who are searching for cheap engagement rings. After all, if you have a limited budget, then the idea of choosing a ring she loves for a price you can afford can be more than a little difficult.

Therefore, as a helping hand I have listed below my picks from latest Amazon's top rated cheap engagement rings.
I hope this should benefit all prospective buyers who are looking for affordable engagement rings.
Amazon, undoubtedly has a huge collection of engagement rings from various designers to varying settings, stones, metals and price catering to their huge customer base. Now, let me tell you, as a starter or due to less experience, it can really be daunting to select an ER from such a massive lot.
So, keeping this in mind and based on my friends and readers feedback, I have listed down few of my personal favorite from the latest amazon's highest rated affordable engagement rings. These recommended rings will indeed suit buyers with limited budget.

This ring will look extremely beautiful on delicate fingers. Although, it is just 0.5 ct TW (total weight of diamonds), but due to diamond studded swirl band, it appears more designer with a heavier look.
The center diamond is set in prong setting while band is set in channel setting which adds to the delicacy of this ring. This ring is available in both white gold and yellow gold.
Diamonds' cut is specified as "very good", so stones will surely have good brilliance and sparkle. Note that well-cut diamond should be your priority if you want diamond with good brilliance and sparkle.
Rings specification says minimum diamond color is H-I. Color grades G, H and I comes at reasonably low price band (as compared to colorless diamonds (D, E and F)) with nearly colorless appearance as seen with naked eyes, and are popular alternatives to D - F grades. So, be assured that an unaided eye will not be able to detect whether the diamonds are colorless or not.
Minimum clarity of diamonds is mentioned as I1-I2. Yes it's low, but then the price is also low. In fact, a diamond  doesn't need to be internally flawless or VVS grade to be beautiful. However, wearer will have to take care of avoiding knocks, because low clarity diamonds are not as knock-resistant as higher clarity diamonds.


Black diamond engagement ring is quite in trend, so go for it if your ladylove follows trends and love to experiment. Also, if she is one who likes Carrie's style from Sex and the City series, she will instantly fall in love with it.
This black diamond imitation engagement ring is the best buy if you are searching for diamond alternative engagement ring. The ring has a different appearance and can undoubtedly add an edge to her personality.
Its center stone is of reasonable size and resembles a real black diamond. Stones are set in prong setting and with its finishing it will be difficult to distinguish it from a real black diamond engagement ring.
However, to some buyers center stone may appear too big and gaudy, clearly indicating it as imitation even from a distance. But then it's a subjective outlook, some may be shy of disclosing the imitation, while some may boldly show-off their faux pieces.
In my opinion, one must not have a belittling attitude towards cheap and affordable engagement rings, and shouldn't hesitate in proposing with a budget ring. Nowadays, lot of couples - facing budget constraints - are thinking practically and choosing imitation engagement ring. Later on imitation engagement ring can easily be upgraded to diamond solitaire engagement ring.
Final piece of advice! Don't forget to reveal her that it's a CZ engagement ring and don't pass it off as a real one. After all, more than a ring, it's your 100% real love that she will appreciate more!


It's a lovely-looking 10k gold, 0.50ct, 7 stone shared prong diamond engagement ring. Due to shared prong setting, visibility of metal is less and diamond comes out with more brilliance and sparkle with its "very good" cut. With the row of sparkling diamonds, it throws an appearance of an eternity band.
For minimum color grade as K and clarity as I2-I3, price is reasonable. I will recommend to go with white gold, because lower color grade of diamond will be offset by white gold. But, it's a subjective choice, after all some may prefer warmer hue of yellowish diamond more than a colorless stone.
You can very well make it your engagement ring if you are not in mood to spend on a lavish engagement ring. Probably, later on you can upgrade it or use it as an enhancer. This ring can be paired up with another diamond ring to intensify its look.
You can then wear two of these rings with any of your existing rings to create an all together a different look. So, as of now one can wear it as an engagement ring and later on can wear in a differently style.

I'm sure she will love the fact that you have done so much research to find a perfect engagement ring for her! For more options on affordable engagement rings, you may browse engagement ring collection from Amazon.
Return from Affordable Engagement Rings to Engagement Rings Articles page
Return from Affordable Engagement Rings to Diamond Jewelry Homepage
I hope you'll not mind sharing this on Twitter, Facebook and with everyone else :)
Feel free to share if something is in your mind and want it to be covered on this site.

My Newsletter

Did you liked this article? Sign-up my FREE weekly newsletter and I'll send you more awesome new additions on this website along with latest jewelry happenings around the world, and download my Jewelry Design Album for FREE!