<!- google_ad_section_start ->
Round Diamond Engagement Rings

Round diamond engagement rings are the traditional choice for engagement rings and have been in demand since ages. The sparkle and brilliance of round brilliant diamonds make round diamond rings the most popular of all the other solitaire diamond engagement rings.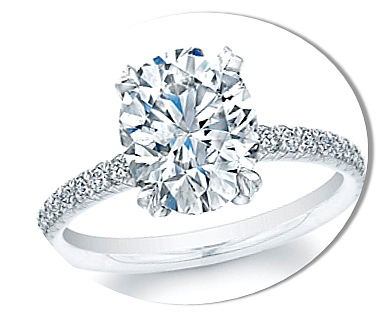 <!- google_ad_section_end ->
It will not be wrong to term round shape the most classic and traditional of all shapes. So, if you want your engagement ring to be classy and conventional with some meaning behind it, I'm sure you will love to know more about round diamond engagement rings.
Symbol and Meaning
Beautiful and symmetrical round shape diamond symbolizes eternity (i.e. - without beginning and end).
Similarly, round diamond engagement rings symbolize the eternal and never-ending love of the couple - love that will remain forever.
Proposing with a round diamond engagement ring has a deep meaning associated with it, and will show you are honest, reliable, trustworthy, faithful and your love on can depend on you for lifetime.
After all, aren't these qualities paramount for a stable and long-lasting relationship!

Your love can show off her traditional thoughts by round diamond engagement ring, clearly indicating "old is gold".
Finer Details
Modern Round Brilliant Cut which is the most common diamond cut, has 58 facets. This cutting style - popularly known as brilliant - is mostly used in round engagement rings.  The facet arrangement of round brilliant gives it the brilliance, fire and sparkle. No doubt, it's this sparkle that captivates people's hearts and stops them from trying other fancy shaped diamond solitaire engagement rings.

For good sparkle and fire, it's important that diamond you are considering should have good facets symmetry. So, before buying round shaped diamond engagement ring, don't forget to check the symmetry and dimensions of the stone.
Round is not boring!
Bring out your creativity and create your own handmade unique engagement ring. Most of the jewelers these days give an option to design your own engagement ring. So, let's see some of the ways you can design your round shaped engagement ring:
If Shape has more priority than Bling
If she loves the traditional round shape, has taste for antiques and if sparkle is not mandatory for her, then why not consider Rose cut diamond engagement ring! After all, it's so very romantic.
Mesmerizing brilliance of round brilliant cut has replaced the old world charm and beauty of rose cut. However, these days rose cut diamond engagement ring is gaining acceptance among couples wanting unique engagement ring. These engagement rings were very popular with vintage and antique designs.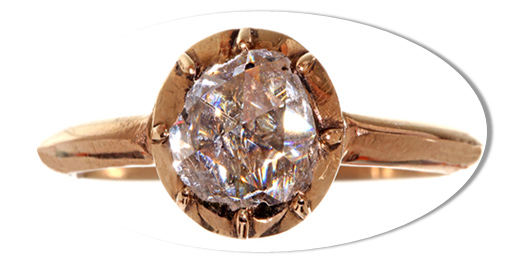 Rose Cut Round Diamond Engagement Ring

You can find a beautiful rose cut engagement ring in heirloom collections or estate collections available on sale, or you can try any antique dealer.
Its price will depend on the quality and size of the stone, and mounting of the ring. It is possible that rose cut engagement rings may be more expensive than contemporary princess cut engagement rings or marquise engagement rings.
If you love the Bling
A round brilliant cut diamond has the best refraction and dispersion of light, giving it a beautiful sparkle. Also, round shape is very versatile and can be easily set in prong setting, bezel setting, pave setting or channel setting.
Prong setting looks best with round shaped engagement ring. In this setting, diamond is little raised, which enhances the refraction and dispersion of light, thus increasing the sparkle and beauty of ring.
Bezel setting secures the stone by covering the whole outer boundary of stone. It's preferred if she has simple taste, nothing fancy and has active lifestyle.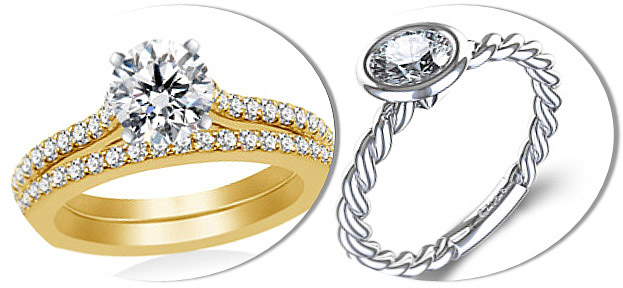 Prong Setting (left) and Bezel Setting (right)

If you want to add more bling to your round shaped engagement ring, then surround the beautiful round stone with small round diamonds in pave setting. This will further augment the sparkle and elegance of your ring.
Fond of Sweet Symbols
If she loves sweet symbols and you want to surprise her with your love, go for 3 stone engagement rings. 3 round diamonds set horizontally in a ring looks extremely beautiful and meaningful. It will symbolize your past, present, future and lifetime of togetherness. You may also read about Three Stone Jewelry.

Three Stone Round Diamond Engagement Ring

Round diamond looks beautiful with or without accent diamond but looks really fascinating when set as center stone with small diamonds set around it. To add a personal touch to your ring, you can set your or your lover's birthstones side by side to the center diamond.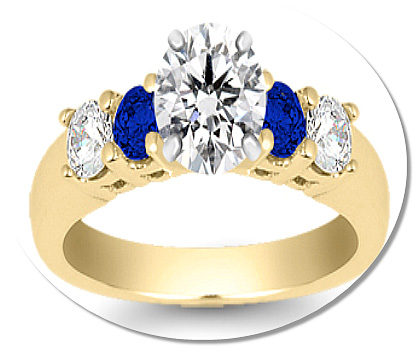 With Birthstones

This will look beautiful and will add color to your engagement ring. In fact, the contrasting look of colored birthstones and white diamond creates an appealing and magnificent engagement ring.
Above all, whatever style or setting you are selecting, the ring you are finally buying, should be accompanied by a standard laboratory certificate (like - GIA certificate). Certificate will mention the details of 4 C's of diamond, and the value of the diamond can be determined on basis of that.
So, go ahead and express your love and all the best from my side in advance!
Return from Round Diamond Engagement Rings to Fancy Shaped Diamond Engagement Rings
Return from Round Diamond Engagement Rings to Diamond Jewelry Homepage
I hope you'll not mind sharing this on Twitter, Facebook and with everyone else :)
Feel free to share if something is in your mind and want it to be covered on this site.

My Newsletter

Did you liked this article? Sign-up my FREE weekly newsletter and I'll send you more awesome new additions on this website along with latest jewelry happenings around the world, and download my Jewelry Design Album for FREE!