<!- google_ad_section_start ->
Heart Shaped Engagement Rings
Heart Shaped Engagement Rings - For Confident and Show-stoppers.
If you have found someone special in your life and thinking of proposing her, then why not go for a compelling and enthralling heart engagement ring. Nothing will stop her from saying "Yes" if you show your courage by proposing her with a stunning looking heart shaped diamond engagement ring.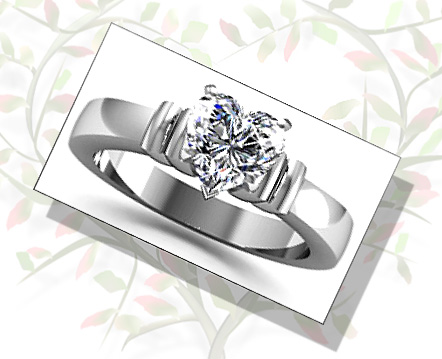 <!- google_ad_section_end ->
Symbol and Meaning

If you are truly romantic and don't shy away from expressing your feeling, then go for a heart shaped diamond ring. After all, among all solitaire engagement rings, heart shaped is the most charming and fascinating.
Heart shaped diamond symbolizes love and passion and is actually a pear shaped diamond with a cleft on top.
Heart shaped stone adhere modified brilliant cut faceting pattern and generally has 59 facets.
Heart shaped stone with good facet symmetry has high degree of fire and brilliance which makes it very sparkling.
The two halves of the heart should be identical, i.e. - both the lobes (top arches) should be of same dimensions. So, before buying heart shaped engagement ring, do examine the symmetry of stone.
Beauty of heart shape is not justified if stone is less than 0.5 ct. After all, small sized heart diamond will appear no better than a poorly cut distorted round or pear shaped diamond. So, while contemplating to buy a heart shaped engagement ring, ensure that center stone is more than 0.5 ct.
Usually, the traditional length to width ratio of heart shaped diamonds ranges from 0.90 to 1.10. Hearts in the range of 0.85 to 1.00 can be termed as wide, while hearts with ratio more than 1.00 can be termed as narrow.
I prefer narrow heart in heart shaped engagement rings, but you must try both narrow and wide hearts and select the one that suits you best.
It was ages ago when all engagement rings looked just the same. But, today is the world of exclusivity and everyone wants his/her engagement ring to be a handmade unique engagement ring. So, most of the jewelers these days will give you the option to design your own engagement ring.
Techniques to Design Your Heart Shaped Engagement Ring
Double Heart - Want something trendy and very romantic, something that will make her fall in love with you yet again? Then go for a double heart engagement ring. Two hearts depict hearts of partners joined by a ring.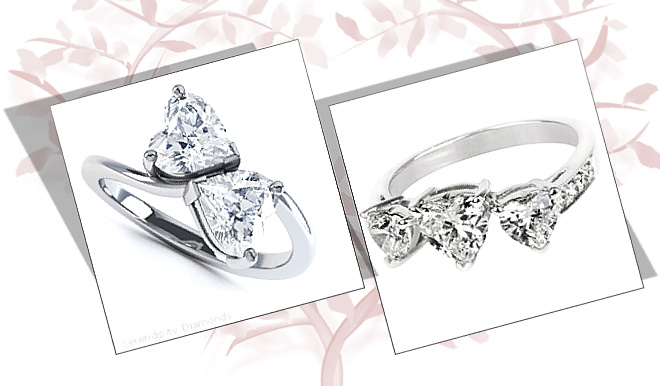 Double Hearts (left) and Three Stones (right)

Three Stone - Love her unconditionally and if she is fond of sweet symbols, then why not go for 3 stone engagement ring and let the world know your love. 3 hearts set horizontally in a ring looks extremely wonderful with a meaning associated with it. It portrays past, present, future and lifetime of togetherness.
No surrounding round diamonds - I'm personally not so fond of surrounding the beautiful heart shape by small round diamonds in pave setting. It simply kills the exclusiveness of heart shape. I would rather suggest to experiment with band instead of going overboard playing around with the stone.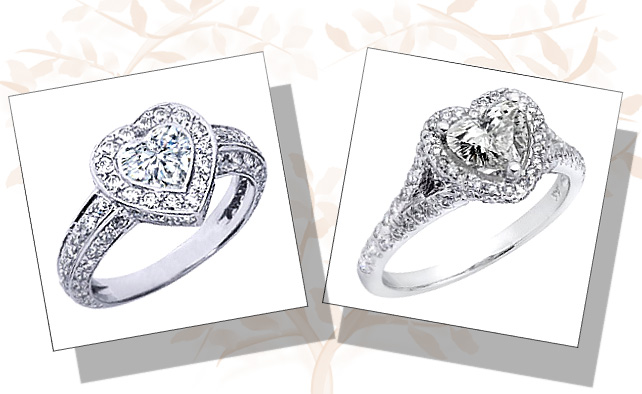 Pave Setting

You can set your band in pave, prong or even in channel setting.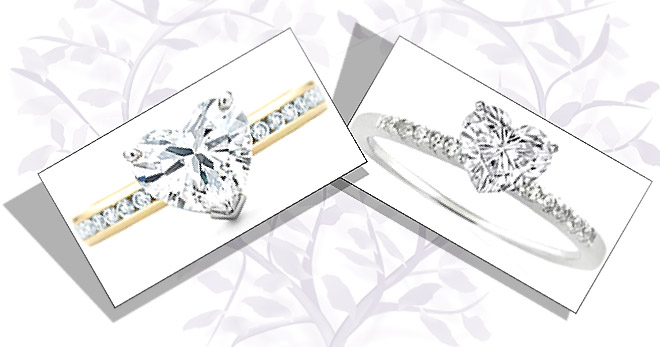 Channel Set Bands

Matches best with Prong Setting - Heart shaped engagement rings match best with prong setting. In 3 prongs, the V-shaped prong holds the pointed end while the other two prongs hold the two lobes. Depending on the size of stone, 3, 4 or 5 prongs can be used.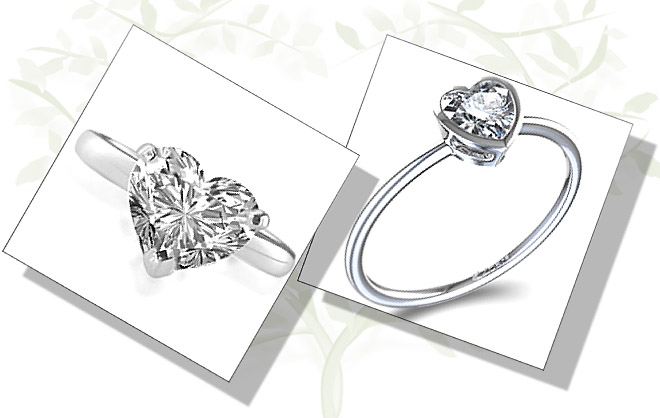 Prong Setting (left) and Bezel Setting (right)

Safety with Bezel Setting - Bezel setting secures the stone by covering the whole outer boundary of stone. It's preferred for smaller heart shaped stones. Choose bezel set heart stone only if you have an active lifestyle, because bezel setting without doubt reduces the fascinating effect of heart shaped diamond.
Vintage Look - If your love is crazy about antiques, then heart shaped engagement rings can also be set in vintage style. This means your new ring will have a blend of older look, with curves and motifs. In the below image, the vintage inspired ring is set with butterfly motif that looks delicate and feminine. You may also like to read about vintage diamond engagement rings.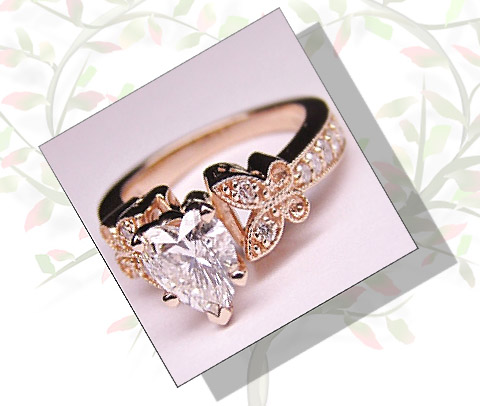 Vintage Look with Butterfly Motif

Blend with Gemstone - If you want to add color to your engagement ring, then you can add ruby, emerald or your birthstone to it. Colorful gemstone will add a variation to the lovely white heart shaped diamond engagement ring.

Personal Engraving - To make your heart shaped ring more meaningful and symbolic, you can add your personal engraving on the band. It could be the date you first met or your engagement date. It can be something very personal that only you two share.
Last but not the least, bear in mind that the ring you are considering to buy is accompanied with a standard laboratory certificates (like - GIA certificates). Certificate will mention the details of 4 C's of diamond and the value of the diamond can be determined on basis of that. This way you will know what you are paying for.
Your investing of so much effort in choosing the best engagement ring shows how much you love her. Lucky she! So, go ahead and take the first step in making one of the most important decisions of your life.
Return from Heart Shaped Engagement Rings to Fancy Shaped Diamond Engagement Rings
Return from Heart Shaped Engagement Rings to Diamond Jewelry Homepage
I hope you'll not mind sharing this on Twitter, Facebook and with everyone else :)
Feel free to share if something is in your mind and want it to be covered on this site.

My Newsletter

Did you liked this article? Sign-up my FREE weekly newsletter and I'll send you more awesome new additions on this website along with latest jewelry happenings around the world, and download my Jewelry Design Album for FREE!