<!- google_ad_section_start ->
Heart Shaped Diamond
Heart shaped diamond symbolizes love and can be one of the best gifts a lover can give to his beloved.
<!- google_ad_section_end ->
Facets Pattern
Heart shaped stone falls under the category of Modified Brilliant Cut and typically has 59 facets.
There can be variation in the number of pavilion facets with 6, 7 or 8 pavilion main facets.
Heart diamond with good facet symmetry has high degree of brilliance and fire which makes it very sparkling.
The two halves of the heart should be identical, i.e. both the lobes (top arches) should be of same dimensions.
The Cleft at the top should be sharp and distinct with Wings (curves on both sides till they meet down at sharp point) having a slightly round shape.
Usually, the traditional length to width ratio of heart diamonds ranges from 0.90 to 1.10. However, length to width ratio of hearts can vary. Hearts in the range of 0.85 to 1.00 can be termed as wide, while hearts with ratio more than 1.00 can be termed as narrow.
Heart Diamond - Top and Bottom Facets' Pattern

Heart Diamond - Length to Width ratio

Length to width ratio of finished stone largely depends on the dimensions of rough. If the rough is wide then the finished diamond will also be wide and similarly, if rough is narrow then finished diamond will also be narrow. Cutting the stone in this fashion reduces wastage.
By the way, in normal scenario I will suggest you to go with wide heart if you are looking for pendant and narrow heart if you have to choose among heart shaped engagement rings. But, this is very subjective and will also depend on your personal choice and how the gem suits your persona.
When is Heart Shape Chosen by Cutter?
Choice of cut often depends on the original shape and nature of the rough crystal. Heart shape becomes obvious choice when inclusions are to be removed from rough crystal.
Cutters choose heart shape when large inclusion is to be removed from original crystal.
This is because, giving round shape to the crystal leads to excessive weight loss, whereas heart shape helps in weight retention. Inclusion is removed by carving heart's cleft. Read more about Diamond Cutting Process.
Cutting the cleft between the two lobes of the heart shape diamond requires great skill and years of experience.
If a heart diamond is too flat then it creates illusion of bigger diamond. But this diminishes its brilliance compared to a heart diamond with more depth.
So, diamond cutter needs to balance both the aspects (i.e. size and brilliance) while giving shape to heart diamond.
Settings
Tip of the heart diamond is very delicate and fragile and requires extra care. So, it is imperative to set the diamond in an appropriate setting. Following are the settings in which heart diamond can be set:
Bezel Setting: This setting provides maximum safety to the stone by covering the whole outer boundary of stone. It's generally recommended for smaller hearts.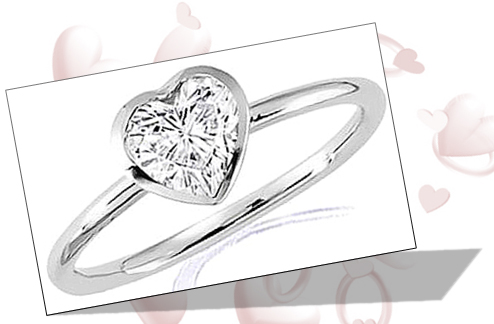 Heart Diamond - Bezel Setting

Prong Setting: 3 prong setting looks beautiful on smaller heart (a prong each on two lobes and third prong on the point) and it provides safety to diamond after its set in jewelry. While bigger heart can be set with 4 prong setting (a prong each on two lobes and other two prongs on each wing with a V-cap to protect the tip) and 5 prong setting (a prong each on two lobes, another two prongs on each wing and fifth prong on the tip).
Heart Diamond - 3, 4 and 5 Prong Settings

Side Stone Setting: Heart shaped diamond looks beautiful with accent stones as well. Ruby and Sapphire blend beautifully with heart diamond. Small round or oval stones can also be set to provide company to center heart. But, I will suggest not using too many fancy shapes as those may steal the beauty of center heart diamond.
Heart Diamond - Side Stone Setting

3 hearts set horizontally in a ring looks extremely beautiful. It symbolizes couple's past, present and future and lifetime of togetherness. For more, read Three Stone Jewelry.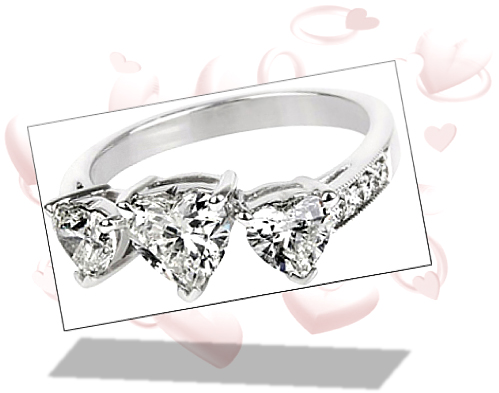 3 Heart Diamonds Ring

Is the Heart Shaped Diamond My Choice?
Truly Romantic
I think you will not disagree if I say that Heart diamond can be termed as symbol of love and romance. This is the reason behind increase in sale of heart stones around Valentine's Day. Hearts can also be one of the obvious choices for anniversary gift.
Size
Beauty of Heart shaped brilliant is eclipsed if its size is less than 0.5 ct. This is because small-sized heart diamond appears like a distorted round diamond.
Heart shaped diamonds are mostly used in solitaire diamond heart necklace and in heart shaped diamond earrings of 0.5 ct or more. Heart shaped brilliants are also popularly used as side stones in diamond engagement rings.
Heart shape was quite popular in antique jewelry. Antique heart diamond engagement rings are still in demand. You can set your diamond in antique setting to give it an antique look.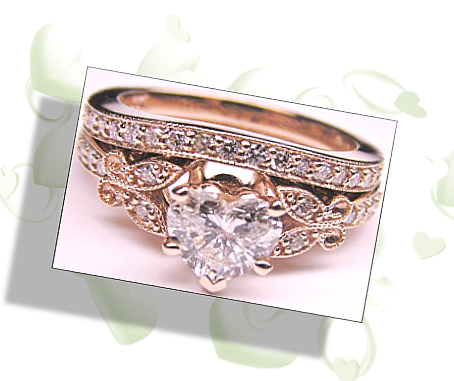 Antique Heart Diamond Ring

Novelty
Heart shaped diamond should be your choice if you want something exclusive and unique. However, don't opt for it if you have delicate and slender fingers as heart diamond has bulkier look as compared to other shapes and may not blend with your fingers.
Too Bold
Before choosing heart shape you must consider if it's appropriate for your relationship. It's true that heart represents love and romance but some people feel flaunting of heart stone as too bold or cliché. So, this may not be your choice if your beloved is shy and is not too expressive :).
Celebrities' Choice
Heart shaped diamond ring is quite popular among celebrities. Elizabeth Taylor wore 17th century heart shaped Taj Mahal diamond which was gifted to her on her 40th birthday by Richard Burton. "I would have liked to buy her the Taj Mahal, but it would cost too much to transport" were Richard's remarks.
Taylor Burton diamond
was the other famous diamond gifted by Richard Burton to Elizabeth Taylor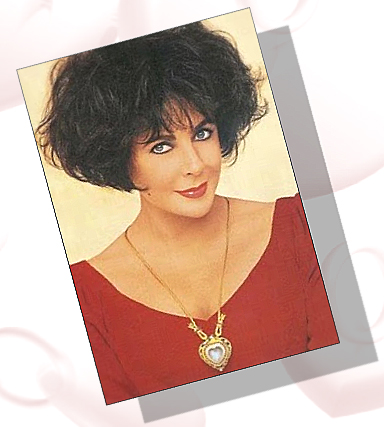 Elizabeth Taylor wearing Taj Mahal Diamond Necklace

Cullinan V is also a heart-shaped diamond and weighs 18.5 carats (3.7g). It was set in a brooch of Queen Mary. But later on, in 1937 it was set as Koh-I-Noor's replacement in Queen Elizabeth's (queen mother) new crown.
Heart shape has been popular among today's celebrities as well. Beyonce Knowles has been sporting heart shape ring and even Nicole Richie wore a large heart-shaped diamond ring when she attended the 2012 Golden Globe Awards. Shilpa Shetty was presented with huge heart shaped engagement ring by her husband Raj Kundra.
Lady Gaga was presented with a massive heart shape diamond engagement ring by her longtime boyfriend actor Taylor Kinney on Valentine's Day in 2015. Possibly designed by famous showbiz jewelry designer Lorraine Schwartz, this ring is estimated to have 6 carat heart diamond and is said to be priced somewhere around $500,000.

Lady Gaga's heart diamond engagement ring

Return from Heart Shaped Diamond to Diamond Shapes
Return from Heart Shaped Diamond to Diamond Jewelry Homepage
I hope you'll not mind sharing this on Twitter, Facebook and with everyone else :)
Feel free to share if something is in your mind and want it to be covered on this site.

My Newsletter

Did you liked this article? Sign-up my FREE weekly newsletter and I'll send you more awesome new additions on this website along with latest jewelry happenings around the world, and download my Jewelry Design Album for FREE!