<!- google_ad_section_start ->
Tiffany Engagement Rings

Tiffany Engagement Rings - Upscale but Affordable too
Every lady fancies a branded engagement ring, and Tiffany has made this dream reality - dreams do become reality. Even being a luxurious brand, there is no doubt that Tiffany's engagement rings are within reach of even folks with not very high budget. Tell me who will not want to possess a branded piece of jewelry if it comes at a bit lesser price!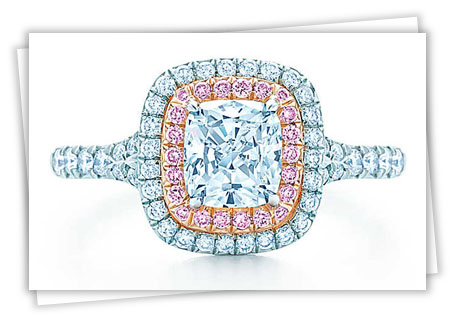 <!- google_ad_section_end ->
While, jewelry brands like Harry Winston and Cartier are too high-end for most of the people, jewelers like Blue Nile and Zales are too common.
This is where Tiffany fills the gap, offering opulence of brand name while being affordable at the same time.
Nevertheless, Tiffany is no less than other luxurious brands when it comes to symbol of extravagance and lavishness.
If you are someone with infatuation for brand names and belong to circle with people asking, "where did the guy got the ring from?", then I am sure you will take pride in saying "It's Tiffany".
Tiffany Engagement Rings Designs
The Tiffany setting engagement ring is still one of Tiffany's most popular engagement ring styles even today. With its simple design - where six prongs hold the stone - it has been a classic since it debuted in 1886. Believe me, it has still maintained its old charm with its elegant form.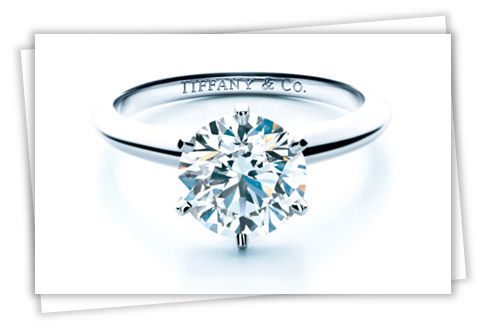 Over the years, with evolving style and fashion, Tiffany has expanded its offering of engagement ring collection to include various designs in line with contemporary taste of buyers - creating dazzling jewelry inspired by flower buds, bees and swirling ribbons to name the few.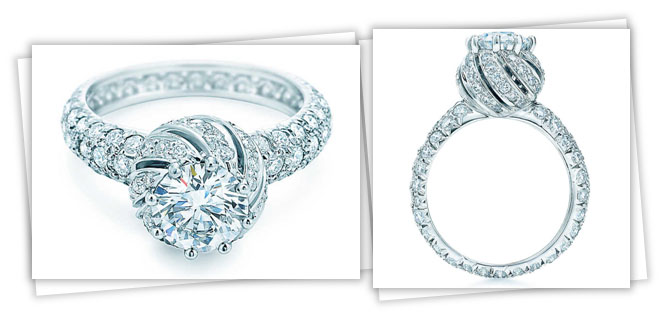 Inspired by flower-bud

The following Tiffany & Co. diamond flower ring from Great Gatsby Collection worn by Carey Mulligan as Daisy in "The Great Gatsby" movie.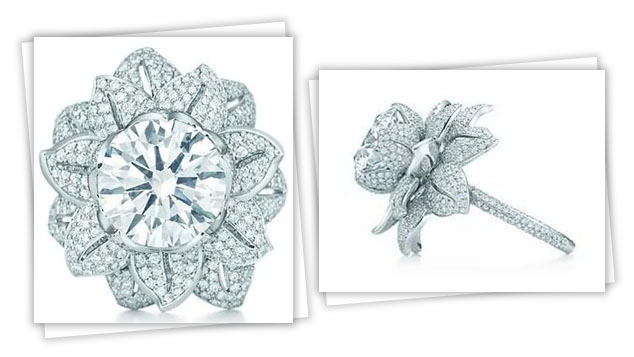 Why is Tiffany Engagement Rings' popularity on rise?
Their engagement ring collection has got something for everyone. Once you enter the store with an intention to buy an engagement ring and willingness to spend, it is very less likely you will exit empty-handed.
It has got everything from neat, simpler, classic Tiffany setting pieces to dressy ones shouting "look at me!". Intricate and detailed designs of renowned Tiffany designer Jean Schlumberger appeal today's youth like never before.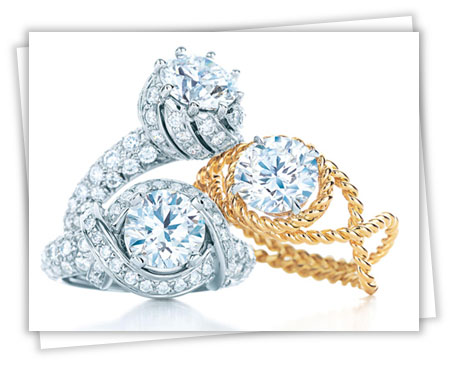 Rings designed by Jean Schlumberger

Unlike Harry Winston and Cartier, you may find Tiffany more responsive in terms of its product range - be it price or quality. They offer smaller sized diamonds in medium quality - like VS clarity and H color - as well. This makes Tiffany engagement rings more affordable and gives hope to common buyers that it's in their reach too.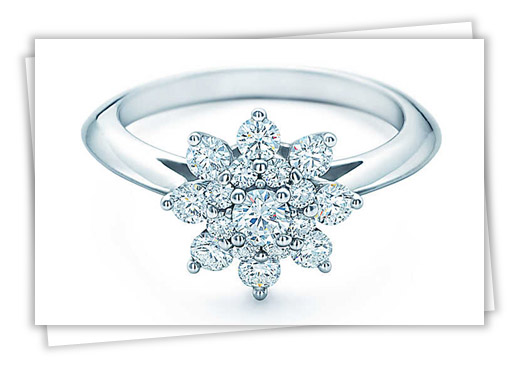 Flower ring created by combination of small sized diamonds. It's classy and elegant and will always stay in style.
Are Tiffany Engagement Rings really worth?
Well, the answer to this question can be quite subjective. For some buyers it's all about monetary value, while for some it can't be quantified. For those in latter category, it's all about personal satisfaction. Irrespective of how much they have paid for, if they are not content with their purchase, they may not find it worthy.
You can have a $15,000 engagement ring that you loved at Tiffany at a pretty less price at some discounted store - may be at $11,000. Yes, it's true, but what about premium of brand value. So, as a buyer it should be your prerogative that what is more important for you - name of brand or weight of your wallet.
However, no one can deny that buying at Tiffany is an experience in itself. When one enters the Tiffany store at Fifth Avenue, 57th Street in Manhattan, New York, it's like entering a calm, serene and luxurious world of blue.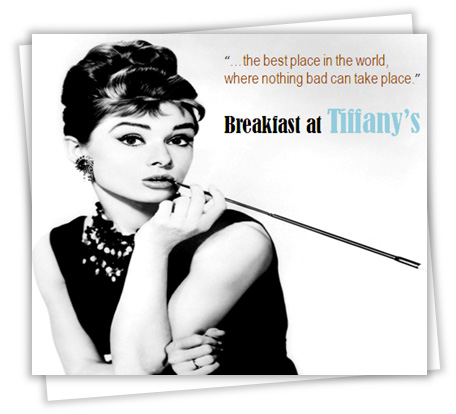 Also, let's not forget Tiffany's Blue Box. It has become so iconic that it makes me think that will it be same if one presents a diamond ring from Tiffany without the blue box. I guess No! It's the overall package - holding a blue box wrapped with a white ribbon does makes a difference.
Having said that, I will suggest don't just screw-up your finances simply to show-off that you too can afford a premium and pricey brand. It's good to be open-minded without getting buckled down under peer pressure. Don't follow others, act in accordance with what you can.
Return from Tiffany Engagement Rings to Luxurious Engagement Ring Brands page
Return from Tiffany Engagement Rings to Diamond Jewelry Homepage
I hope you'll not mind sharing this on Twitter, Facebook and with everyone else :)
Feel free to share if something is in your mind and want it to be covered on this site.

My Newsletter

Did you liked this article? Sign-up my FREE weekly newsletter and I'll send you more awesome new additions on this website along with latest jewelry happenings around the world, and download my Jewelry Design Album for FREE!