<!- google_ad_section_start ->
Tacori Engagement Rings - Modern-inspired Classic Elegance

Tacori Engagement Rings have a bold and more contemporary look, perfect for someone who loves extravagance and doesn't shy away from making big and flashy statement. Tacori rings have the perfect balance of classic appeal with the modern twist and touch of elegance.

<!- google_ad_section_end ->
Tale of Tacori
It's a comparatively young brand, making remarkable engagement rings for over 45 years.
The story of Tacori began with Haig Tacorian and his wife Gilda leaving Europe in 1969 to have a fresh start in the US.
They started their business creating fine jewels with fusion of American and European styling.
Just like any other family business, as their family grew so did their business with son Paul and daughter Nadine joining the creative field.
Youth appeal along with classic flavor topped with consistent quality control has made brand Tacori all the more popular.
Tacori Touch
Their engagement rings have trademark characteristics, like crescent outline and interlocking half-moon arcs (that provide windows of light which enhances brilliance of diamonds placed within each crescent) surrounding the setting, and delicate engraving on ring band.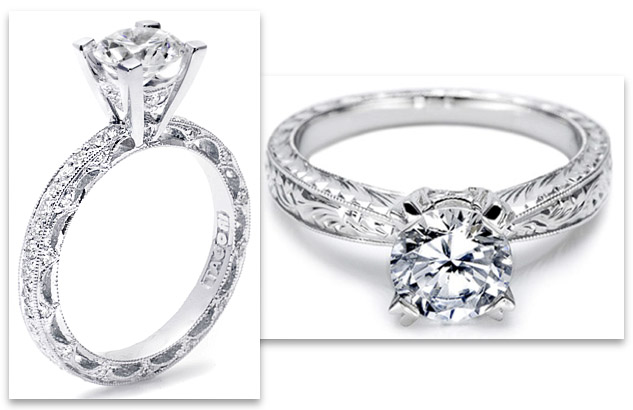 Crescent outline (left) and Engraved (right)

These elements present special lady-like character to Tacori engagement rings - I prefer calling it 'Tacori Touch'. Do you know Tacori's engagement rings are fully hand-made, and therefore no two Tacori ERs are alike.
Also, not many buyers are aware that Tacori creates all engagement rings with exact matching wedding bands. So, later on it will be easy for you if your lady wish for matching wedding band in future. At that time you will not have to run around to fulfill demand of your lady.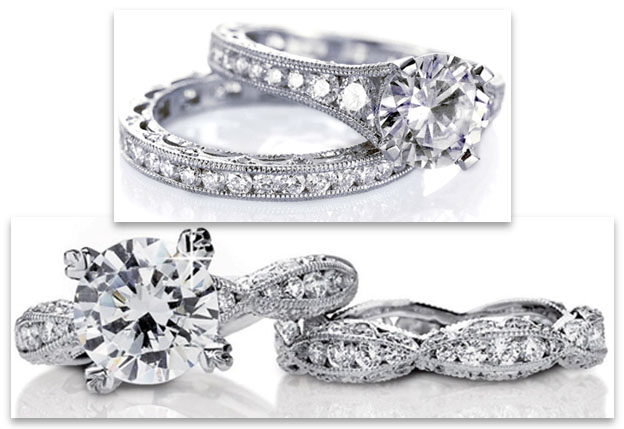 Tacori Engagement and Wedding Rings Sets

Where to buy Tacori Engagement Rings?
You can find a large online collection of Tacori diamond engagement rings as "virtual catalog" on www.tacori.com. However, you won't get the option to buy from their website, as Tacori does not sell diamond rings online directly to the public. It is just for viewing purpose.
So, you will have to put a bit of extra effort to locate nearest authorized Tacori retailers. For this, go to their website and click on "where to buy" and enter the zip code of your preferred area. Their system will return the list of nearest dealers selling Tacori rings.

Design your own Ring
You can pay a visit to your local authorized Tacori retail partner to create a bespoke Tacori engagement ring. Get the suitable changes done according to your personal requirements - like choice of setting, metal, shape and size of stone - to create the custom engagement ring of your choice.
If you intend to surprise your lady with a Tacori ER then I would suggest to buy the center stone first. Get it set in a simple band for that "nervous" proposal moment, and if she says "Yes", you both can go to any authorized Tacori dealer to get the ring customized according to her style and taste.
Tacori Cubic zirconia Engagement Rings
If you are not someone with fat wallet, then also not to worry. Now, you can get the high-end looks and rich designer details of Tacori at a far less price - around $100. As Tacori and QVC have partnered to create Tacori IV – Diamonique® jewelry. Diamonique simulated diamonds and simulated gemstones are set in precious metals to make exquisite Tacori cubic zirconia engagement rings.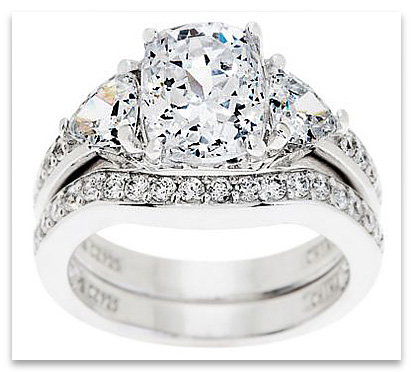 Tacori CZ Bridal Rings Set

As a result of their dedication towards excellent craftsmanship and fine quality, and ability to adapt to constantly changing consumers taste, Tacori has emerged as one of the most remarkable engagement ring brands with something for every one - be it a diamond, gemstone or CZ ER.

Return from Tacori Engagement Rings to Luxurious Engagement Ring Brands page
Return from Tacori Engagement Rings to Diamond Jewelry Homepage
I hope you'll not mind sharing this on Twitter, Facebook and with everyone else :)
Feel free to share if something is in your mind and want it to be covered on this site.

My Newsletter

Did you liked this article? Sign-up my FREE weekly newsletter and I'll send you more awesome new additions on this website along with latest jewelry happenings around the world, and download my Jewelry Design Album for FREE!