<!- google_ad_section_start ->
Aquamarine Engagement Rings - Youth Personified

Aquamarine engagement rings are one of the perfect choices for couples looking for affordable engagement rings. An aquamarine ring gives a look of contemporary engagement ring that cannot be created with a regular diamond engagement ring.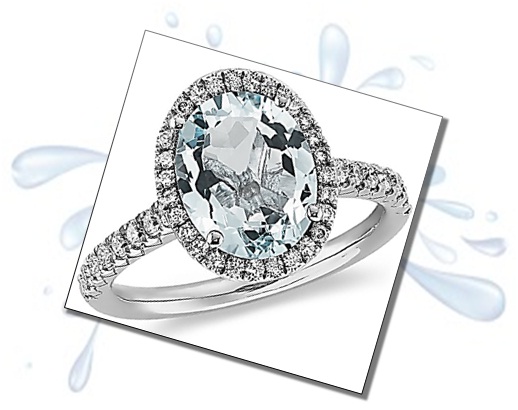 <!- google_ad_section_end ->
Aquamarine Engagement Rings Meaning
Aquamarine (birthstone of March) is a beautiful gem and is known as universal symbol of youth, hope and health. So, if your fiance has her birthday in March, then aquamarine ring should be your choice.
Further, if you are proposing or planning your wedding in March then aquamarine ring will definitely look very symbolic and meaningful.
Aquamarine gemstone was believed to protect sailors, as a guarantee of safe voyage. The serene color of aquamarine is said to cool temper, allowing the wearer to remain calm and level-headed. This gemstone engagement ring symbolizes both safety and security, especially in long standing relationships.
During medieval period, although there was no tradition of exchanging aquamarine during wedding ceremony, but it was believed that the gem has ability to bring love and happiness back in life of already-married couples.

Wearing aquamarine brings passion and affection, and is known as a universal symbol of youth, hope and health. Engagement ring with aquamarine is known to bestow a fruitful married life, as it helps sustain and blossom love in marriage and relationships.

Is Aquamarine Engagement Ring the right choice for me?
Creative: By choosing an aquamarine, you can save on stone. This will enable to utilize the spare money on personalizing the ring. You can make it a handmade unique engagement ring or can make vintage looking engagement ring inspired from Art Deco period. Another option is to create a contemporary engagement ring by using some diamonds along with aquamarine stone.
3 stone engagement ring can be created by using aquamarine as center stone and diamonds as accent stones. Three Stone Jewelry was first introduced as an anniversary gift. Later, with 3 stone diamond rings, it became a popular choice for engagement ring.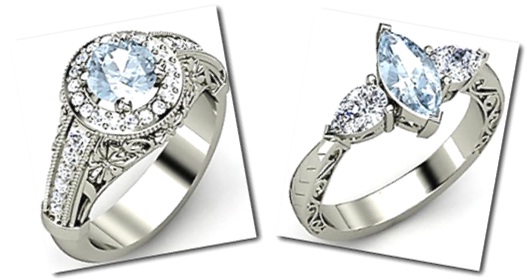 Vintage (left) and Three Stone (right)

Economical: If you love "blue", but not in a position to spend on an expensive blue diamond engagement ring or a diamond and sapphire engagement ring, then look no further than aquamarine engagement rings. Aquamarine is undoubtedly affordable, and may not put much burden on your overall finances.

Variety: It can be cut into variety of shapes like - emerald, brilliant round, asscher and princess. More and more youngsters are opting for engagement rings made of aquamarine over traditional ruby or emerald engagement rings.
As a jewelry designer, I must say that aquamarine rings are in constant demand, with its pale color beautifully complementing and blending with all outfits.
You may also like to read about Fancy Shaped Diamond Engagement Rings.

Emerald Cut (left) and Princess Cut (right)

Unique: You can create your own engagement ring by purchasing the stone and setting it separately. You can choose from various settings like - prong and bezel. Aquamarine rings appear quite appealing when set in white gold or platinum bands with diamonds. You can also try dark shades of aquamarine with yellow gold. However, people generally prefer white gold with aquamarines.
No negativity: With the awareness of conflict diamonds, people are looking for diamond alternative engagement rings that are not associated with blood and violence. So, if you care for human rights and not sure if diamond you will be buying would be conflict-free, then aquamarine can be one of the good alternatives of diamond.

Durable: While buying an aquamarine engagement ring, be assure that it would be able to withstand the daily wear and tear. This gem is the member of Beryl family, which includes emerald. But, aquamarine is less brittle and more durable than emerald and unlike emerald, it is available with excellent clarity even in very large sizes.
Easy maintenance: With Mohs Scale hardness range of 7-8, it is hard enough and scratch-resistant. Due to this it maintains its shine for longer period. Thus, aquamarine engagement ring does not require special care and maintenance.
Things to Remember
I will suggest you to avoid a shallow cut aquamarine stone, because in long run it will start appearing paler as dirt will accumulate on the back side of stone.
The light blue to bluish green color of aquamarine may fade upon prolonged exposure to light.
Aquamarine is a hard and durable gem, but it may develop internal cracks if banged hard.
Naturally occurring stones are usually lighter and greener in color, and heat treatment creates deeper bluer hues. While, natural deeper bluish hues do exist, they are quite rare. The gemstone industry considers it an acceptable practice to heat treat aquamarines, and this information should always be disclosed to the buyer. So, it is especially important to purchase this gem from a reliable dealer.
It is also important not to confuse the aquamarine stones with the topaz as their colors are similar. While topaz is a beautiful gem, it is much less expensive because it is usually treated to obtain its desired color.
Return from Aquamarine Engagement Rings to Diamond Alternative Engagement Rings
Return from Aquamarine Engagement Rings to Diamond Jewelry Homepage
I hope you'll not mind sharing this on Twitter, Facebook and with everyone else :)
Feel free to share if something is in your mind and want it to be covered on this site.

My Newsletter

Did you liked this article? Sign-up my FREE weekly newsletter and I'll send you more awesome new additions on this website along with latest jewelry happenings around the world, and download my Jewelry Design Album for FREE!