<!- google_ad_section_start ->
Blue Diamond Engagement Rings

Blue diamond engagement rings are known for exclusivity, as you won't find a blue diamond very easily. A blue diamond appears extremely spectacular and is synonymous to opulence and above the ordinary.
This post is about:
Blue diamond rings meaning.
What is a blue diamond?
Points to consider while choosing metal and setting for a blue diamond ring.
Things to remember.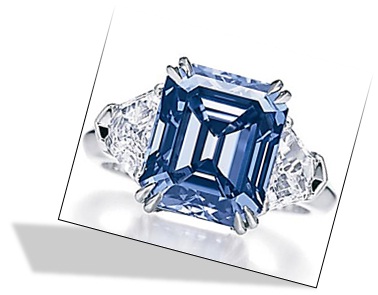 <!- google_ad_section_end ->
If you want your love to get maximum attention, then look no further than a blue diamond ring. It will not be inappropriate to term it as a status symbol in itself!
Blue Diamond Engagement Rings Meaning
Blue color represents new beginning, protection, care and strength. And don't we seek these qualities and attributes in our married life?
Blue diamond is the token of peace and good health. So, a blue diamond e-ring can bring serenity, peace and affection in your life.
It shields from misunderstandings and unnecessary egos and fights in a relationship, at the same time ensuring good health.
Therefore, proposing with an engagement ring having blue diamond will show how high you value your relationship.
You may also like read about proposal stories of other readers, where you can share your story as well.
What is a Blue Diamond?
Natural diamond occurs in white and various other fancy colors (blue color being one of those). Blue stones are rare, and occur naturally when concentrations of boron gets mixed with carbon components of diamond during its formation process. It is the rarity and limited supply of blue diamond that makes it one of the most expensive gemstones. You may also read about black diamond engagement rings, pink diamond engagement rings and yellow diamond engagement rings.

There are plenty of options to choose from, with various tones of blue shades ranging from light blue to darkest of blue - like grayish-blue and greenish-blue - and turquoise. Natural dark blue with uniform hue is one of the most expensive varieties because of rarity.

Choice of Setting and Metal
I will suggest you to opt for an open setting - like prong setting - or small white diamonds set in pave setting surrounding center blue stone. White gold or platinum adds an elegant contrast to deep and vibrant blue diamond, and enhance the allure of blue diamond rings. Touch of white metal will naturally add to splendor of blue engagement ring making it more noticeable and exquisite.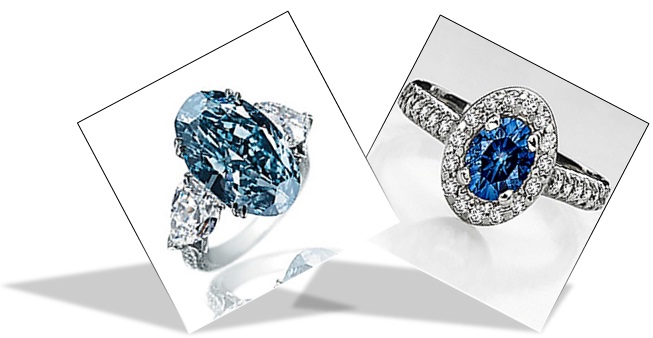 Prong Set (left) and Pave Set White Diamonds (right)

You can consider yellow gold if she is a conventional type and has preference for yellow gold over other metals. Blue and yellow will also complement each other and will make a wonderful engagement ring, especially if it's a dark blue diamond set in yellow gold.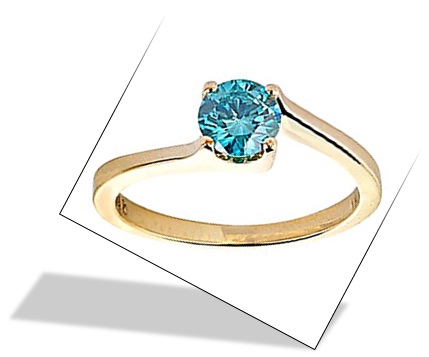 Blue Diamond Engagement Ring in Yellow Gold

Having said that, don't hurry in selecting the setting and metal for your blue diamond ring. Setting and metal color can influence the beauty of engagement ring to a great deal. So, always take your time! Try out the selected stone in different settings and metals before finally getting it mounted.
Things to Remember
4 Cs: Just like in colorless diamonds, inspecting 4 Cs is very important in a blue stone as well. The cut, carat, color and clarity determine the value of diamond. However, being fancy-colored, color will be the most important characteristic that will influence the price  of blue diamond.
Expensive: Two things go in parallel with blue diamond engagement rings - rarity and expensive. So, be ready to shell out extra money when contemplating a blue diamond engagement ring.
Exclusive: You will have to search for it and there are high chances you may have to get it customized. As blue diamonds are rare and very expensive, jewelers don't stock them as ready engagement ring, and you won't find blue diamond engagement rings easily over the counter.
Personalize it: Instead of buying a ready blue diamond engagement ring, first select a blue diamond and then get it mounted into your setting of choice. This will allow you to verify the 4 Cs of diamond in a better manner. It will also give the liberty to create a personalized engagement ring.
Do your homework: Find out which all jewelers are selling natural blue diamond engagement ring. Compare their prices, and you can even ask them the price for making custom ring and duration it will take.
Certificate is compulsory: Due to its rarity and limited supply, market is flooded with fake blue diamonds. So, beware of such fraudulent practices, it may be a diamond simulant. Ask for a standard laboratory certificate, preferably of GIA. Don't go by jewelers word - like it's genuine etc. - instead insist that you won't buy without a certificate.
Color Enhancements: Don't forget to ask if stone has been subjected to any color enhancement. If yes, then it should be priced accordingly. Generally, light blue stones are treated to get darker hue, as price increases with color intensity. Such treatments do not harm the diamonds structurally, but if treated it should be priced low as compared to a non-treated stone.
So go ahead, research and explore the various options you have, and propose your love with the best engagement ring you can find!
Return from Blue Diamond Engagement Rings to Fancy Colored Diamond Engagement Rings
Return from Blue Diamond Engagement Rings to Diamond Jewelry Homepage
I hope you'll not mind sharing this on Twitter, Facebook and with everyone else :)
Feel free to share if something is in your mind and want it to be covered on this site.

My Newsletter

Did you liked this article? Sign-up my FREE weekly newsletter and I'll send you more awesome new additions on this website along with latest jewelry happenings around the world, and download my Jewelry Design Album for FREE!