<!- google_ad_section_start ->
Yellow Diamond Engagement Rings - Joy and Prosperity Personified

Yellow diamond engagement rings are a wonderful choice if you are thinking to propose with a unique colored diamond and affordable engagement ring.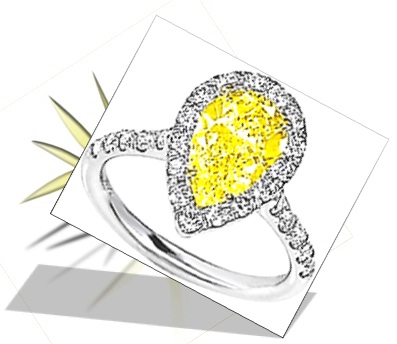 <!- google_ad_section_end ->
Yellow diamond is less expensive than other colored diamonds - like red, blue, pink - and not so common like white diamond. You may also like to read about black diamond engagement rings, blue diamond engagement rings and .

It is quite a common sight of a bride walking down the aisle with white gown and white diamond engagement ring. So, wouldn't it be great sight with your mate standing out with a beautiful yellow diamond ring!
Yellow Diamond Meaning
The symbolic essence of the yellow color is - renewal, hope, cheerfulness and sunlight. Thus, yellow diamond ring is said to bring blessings of joy and prosperity in couple's life.
So without any doubt, it will be a perfect gesture if you propose your love with an engagement ring with yellow diamond, as it will usher in cheerful and happy future for both of you.
About Yellow Diamond
Diamonds occur in many colors, with yellow and brown being the most common. Diamond gets its color due to impurities or structural defects during its formation process. The most common impurity - element nitrogen (N) - imparts diamond its yellow color.
The intensity of yellow depends on the concentration of nitrogen. These natural yellow diamonds are also known as the fancy yellow (or canary diamond). You may also read about fancy colored diamonds and Golden Jubilee Diamond.
Shades of Yellow
Natural fancy yellow diamonds (or canary diamonds) come in varying color shades - like faint, very light, light, fancy, fancy intense, fancy vivid, and fancy deep. So, if you have made up your mind for canary diamond, then you may face the problem of plenty with lot of yellow shades to choose from.


However, the most popular shades of yellow diamonds in engagement rings are fancy vivid and fancy deep, although gem collectors prefer fancy intense yellow.
The most intriguing part about yellow diamonds is that no two yellow stones are ever alike - fulfilling engagement ring trend of more unique, one-of-a-kind pieces. The fascinating and distinct hue and brilliance of each yellow diamond is quite unique, as opposed to the many similar looking white diamonds.
Are Yellow Diamonds Expensive?

The price of yellow diamond rings is high as compared to a white diamond rings. So, it is imperative that you do some research on price and grades. You should be aware that its premium value is because of its color. However, yellow diamond is less expensive as compared other fancy colored diamonds.

Price of the yellow diamond varies with its hue and intensity - more is the intensity of color, more is the price. So, you must consider this before finalizing your yellow diamond engagement ring.
Choice of Metal
Choice of metal will depend on your taste, there are no fixed rules. You may choose to set the yellow diamond in either contrasting white gold or platinum. Monochrome hues of white gold and platinum impart a sharpened visual impact to yellow diamond.
Yellow metal can also be a choice, but it doesn't do justice to the brilliance of yellow diamond. Some people think that yellow band enhances the vibrancy of yellow diamond. However in my opinion, in fact yellow color of metal mixes with yellow color of stone, thus diluting the color of the diamond and lessening its brilliance.
Yellow Diamond set in Yellow Gold

So, I would suggest not choosing the metal and stone from the same color family. You can find a wide collection of yellow diamond rings on Amazon
. With plenty of selection options available on Amazon, you can filter your search based on price, metal, settings, stone shape etc.
Settings
You can choose the setting of your liking, keeping in mind your beau's lifestyle. However, open and clear setting do justice to yellow diamond engagement ring.
It's crucial to let in plenty of light under the diamond for maximum brilliance from all angles. This is best accomplished by prong setting that looks extremely compelling and elegant, while tension setting adds a dramatic touch.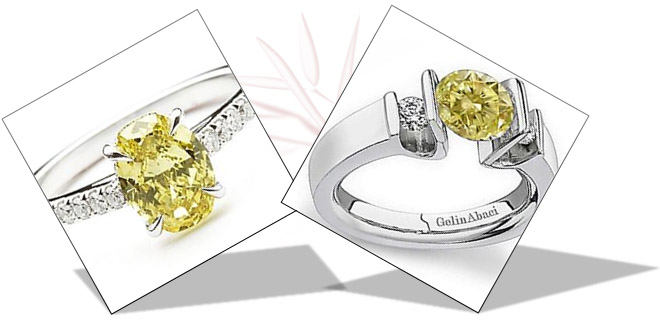 Prong Setting (left) and Tension Setting (right)

On the contrary, I will not suggest bezel setting and channel setting for yellow stones, as these settings cover a big portion of the stone causing a dull appearance. Go for bezel only if your lady has active lifestyle and her tasks require extensive working with hands, or to conceal inclusions or flaws on edges of diamond.
Accent stones: If you are thinking of adding additional stones to the ring, you can include either white diamonds or consider adding stones with a darker red or orange color. Both these options enable the yellow diamond to stand out presenting a scintillating yellow diamond engagement ring.
You can even set your yellow diamond engagement ring in three stone setting which looks alluring and quite meaningful.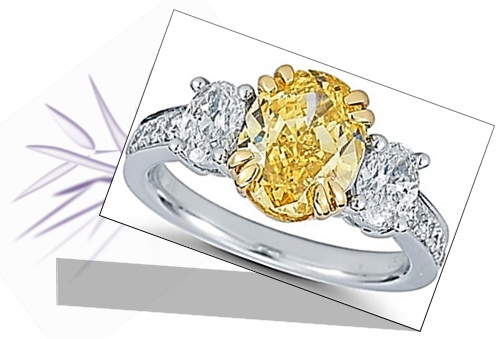 Three Stones

Limited Budget
If you have funds constraint, but your love has a liking for canary, and you really want to add yellow stone to her ring, then set canary diamonds as accents to a center white diamond. This is because, as you know yellow diamonds are more expensive, so by using them as accents you can get a more affordable engagement ring.
However, if even this workaround is not allowing you to bear the cost of yellow diamond, then don't get dis-heartened! After all, managing necessities is paramount. You can surprise her with a diamond alternative engagement ring. Go for an alternative gem with similar bright yellow hue. You can consider yellow sapphire engagement ring with topaz and citrine as other options.
Nevertheless, in terms of beauty a cubic zirconia engagement ring is no less. CZ rings look beautiful and are quite affordable. Just ensure, you choose bright yellow color stone without the influence of other color. Also, make sure you let her know which stone it is, and don't mislead her. Feelings are more valuable and priceless than the price of your gift!
Celebrities with Yellow Diamond Engagement Rings
Yellow diamond engagement rings are quite popular among celebrities. American Idol winner Kelly Clarkson got engaged to boyfriend Brandon Blackstock with a canary diamond and platinum engagement ring. Similarly, Rihanna, Carrie Underwood, and Heidi Klum, all have been seen sporting yellow diamond engagement rings.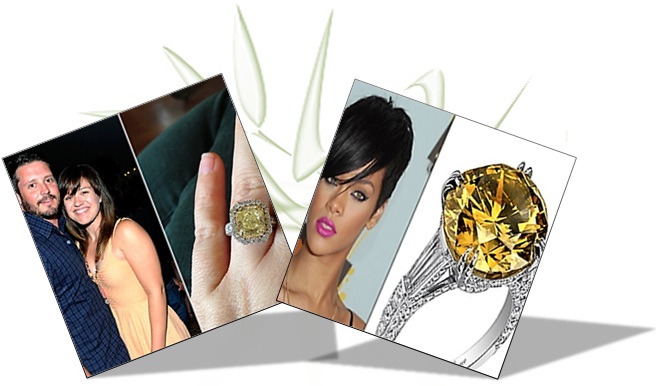 You can purchase yellow diamond engagement ring from comforts of your home by buying online. Select your engagement ring and compare it on other sites. Research may take some time, but it will give right value for your money. It's important to compare diamonds on same parameter - like shape, weight, color.
However, before making online purchase, do read pros and cons of online jewelry buying. Remember that yellow diamond engagement ring must be accompanied by a gemological certificate (preferably a GIA certificate). Don't just go by jeweler's word that it's a genuine yellow diamond engagement ring, rather insist on a certificate.
Return from Yellow Diamond Engagement Rings to Fancy Colored Diamond Engagement Rings
Return from Yellow Diamond Engagement Rings to Diamond Jewelry Homepage
I hope you'll not mind sharing this on Twitter, Facebook and with everyone else :)
Feel free to share if something is in your mind and want it to be covered on this site.

My Newsletter

Did you liked this article? Sign-up my FREE weekly newsletter and I'll send you more awesome new additions on this website along with latest jewelry happenings around the world, and download my Jewelry Design Album for FREE!