<!- google_ad_section_start ->
The Golden Jubilee - The Diamond with "Life of Struggle"

Golden Jubilee is the largest faceted diamond in the world. Discovered in 1986 in Premier mine of South Africa, it originally weighed 755.50 carats (151.1). Other world-renowned diamonds like Cullinan in 1905, Taylor-Burton in 1966 and Centenary in 1986 were also discovered in the same mine.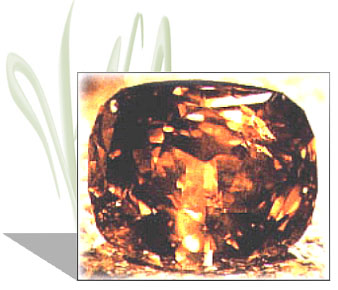 <!- google_ad_section_end ->
Stepchild Treatment
Unfortunately for this stone, it didn't got its due in its early days. It was treated like a step-child, because when found, it was presumed to be the most unattractive discolored diamond in the world. Due to this, it was also called "Unnamed Brown".
Being huge-sized with deep cracks from interior and due to several inclusions, its cutting and polishing was going to be a tough job. Therefore, De Beers - the owner of this crystal - chose Gabi Tolkowsky for cutting of this gem.
However do you know, he was asked to test the special tools and cutting methods (created to be applied on Centenary diamond) on the "unnamed brown". This gem (not worth a gem at that time) seemed the perfect guinea pig (testing object) as there was no risk of something going wrong.
Cutting
An underground vibration-free room was built for cutting this stone. It took Gabi Tolkowsky an almost two years to cut the stone in 1990.
Surprisingly, cutting results outshone the other existing famous diamond. It resulted in a beautiful golden-yellow color with bright reddish hue in center. The crystal was graded as "fancy yellow brown".
It weighed 545.65 carats (109.13g), thereby pushing Cullinan l (530.20 carats) to close second place in terms of carat weight.
Mr. Gabi described the cut as fire-rose cushion cut. He commented, "within its heart lay a wonderfully mysterious shine that gave the diamond a character unlike any other".
However, Golden Jubilee didn't get the much deserved publicity because De Beers' Centennial Celebration in 1988 got all the attention where Centenary diamond was at the center stage and the main talking point.
Transformation from Unnamed 'Brown'
In 1995, De Beers sold this gem to Henry Ho, a Thai businessman. Henry once when asked to describe the color of this gem, termed it as "cognac on the rocks". He then presented it as a gift from people, to King Bhumibol Adulyadej of Thailand on his 50th Coronation Anniversary.
Due to this, this diamond got the blessings of Pope John Paul ll, Supreme Buddhist Patriarch and Imam of Thailand.
As king was suffering from grave illness, this gem was received by King's daughter princess Maha Chakri Sirindhorn on his behalf in 2000. It was then named "Golden Jubilee" because of its color and the occasion on which it was presented to king.
Value
The estimated value of this diamond is somewhere around $10 million. Currently, it's now on display in Royal Museum at Pimammek Golden Temple Throne Hall in Bangkok.
Return from Golden Jubilee to Famous Diamonds page
Return from Golden Jubilee to Diamond Jewelry Homepage
I hope you'll not mind sharing this on Twitter, Facebook and with everyone else :)
Feel free to share if something is in your mind and want it to be covered on this site.

My Newsletter

Did you liked this article? Sign-up my FREE weekly newsletter and I'll send you more awesome new additions on this website along with latest jewelry happenings around the world, and download my Jewelry Design Album for FREE!