<!- google_ad_section_start ->
The Centenary Diamond
Centenary Diamond was discovered on July 17, 1986. It was found in Premier mine of South Africa using their x-ray imaging system. Do you know, discovery of this crystal was known to only few people and they were sworn to keep it secret.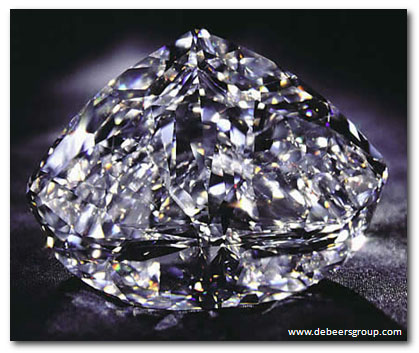 <!- google_ad_section_end ->
Premier mine is the only significant source of blue diamond in the world, and has given birth to some of the world's famous diamonds, like - Cullinan and Taylor Burton to name the few.
Public Announcement
During the Centennial celebration of the De Beers consolidated mines, discovery of this gem was declared for the first time on March 11, 1988.
The celebration had an audience of 400 people including government representatives of producer countries and many other personalities from diamond industry.
The then chairman of De Beers, Mr. Julian Ogilvie Thompson announced the discovery of this crystal. It was announced as the largest D color diamond ever found. The gem was named Centenary after Centennial celebration of De Beers mines.

Cutting of Centenary
Its original weight was 599 carat (120g). The rough stone had irregular shape, elongated horn at one corner and a deep concave on the largest flat surface. Cutting such a huge crystal required great skill and expertise.
In 1988, Gobi Tolkowsky, one of the most accomplished cutters of his time, was entrusted with the task of cutting the crystal. Do you know, when Mr. Tolkowsky first saw the stone, his words were "usually you have to look 'into' a diamond to appreciate its color, but this just expressed itself from its surface. That is very rare."
Gobi Tolkowsky examining Centenary Diamond

Before the start of actual diamond cutting process, this stone was studied in detail for almost a year. A specially designed underground room was built in the De Beers diamond research laboratory in Johannesburg in South Africa for cutting of this stone.
While studying the stone for the best possible cut, Tolkowsky famously said, "From the moment I knew I was going to cut it, I became another man, a strange man. I was looking at the stone in the day, and the stone was looking at me in night."
It was decided to cut the stone into one large modern cut stone. Instead of modern methods (like - Laser technique) Tolkowsky chose Kerfing (age old method in which diamond is cut by hand tools). It took almost 154 days to remove 50 carats from the stone to give it a rounded shape.
For selection of final shape, 13 different shapes were presented to De Beers' board. Out of those, a modified heart shape was selected. It took another year to give Centenary its desired shape.
Final piece was ready in 1991, which had 247 facets (164 on the stone and 83 on the girdle) and weighed 273.85 carats. It was first time that so many facets were polished on a diamond. The Gemological Institute of America graded it as "D" color diamond. It is said to be the largest faceted, D-color, flawless diamond in the world. From this crystal, two more pear-shaped diamonds weighing 1.47 and 1.14 carats were cut.
Centenary diamond lit under multicolored light

In May of 1991, when the then deputy chairman of De Beers Mr. Nicholas Oppenheimer saw this master piece, he rightly declared, "who can put price on such a stone?" It was later known that this gem was insured for around $100 million.
Presently, it's not confirmed that whether De Beers is still the owner of this diamond or it's sold. Reason being that De Beers maintains the non-disclosure policy of such information.
Return from Centenary Diamond to Famous Diamonds page
Return from Centenary Diamond to Diamond Jewelry Homepage
I hope you'll not mind sharing this on Twitter, Facebook and with everyone else :)
Feel free to share if something is in your mind and want it to be covered on this site.

My Newsletter

Did you liked this article? Sign-up my FREE weekly newsletter and I'll send you more awesome new additions on this website along with latest jewelry happenings around the world, and download my Jewelry Design Album for FREE!