<!- google_ad_section_start ->
Champagne Diamond Engagement Rings

Champagne diamond engagement rings are a wonderful choice if you are looking for something lovely, special and trendy. Its extraordinary color will surely make you standout in crowd. The subtle hue and rarity of champagne diamond makes it quite attractive and preferable in modern fancy colored diamond engagement rings.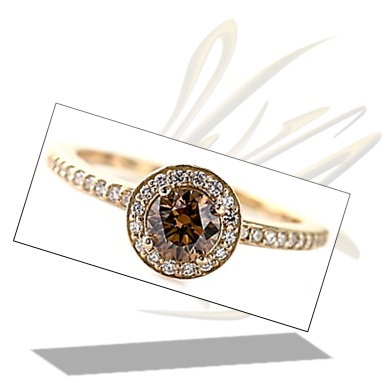 <!- google_ad_section_end ->
Although, it has become considerably common among celebrities, but it's still not so prevalent among common people. So, Champagne diamond engagement ring will make you prominent and be a celebrity in a special way. As it's often said, "less traveled path leads to unexpected surprises and adventures".
Exquisite and unique color, and rarity makes champagne diamond ring a perfect choice to personify your unique relationship.
It will portray your commitment in an elegant and different way, and bring more sparkle in your life and your relationship.
Due to its darker hue - just like, black diamond engagement rings - champagne diamonds are also suitable for men's engagement ring.
About Champagne Diamond
Champagne diamonds are found mostly in the Argyle Mine of Australia, which is also a major producer of pink diamonds. Diamond gets its color due to impurities in its chemical composition, or due to abnormal structural compression of the stone during its formation. Champagne diamond gets its color due to unusual stress during its formation.
Champagne diamonds are also termed brown diamonds (darker shades are even termed chocolate or cognac). However, don't get confused, all these names have been given by jewelers over the period of time, to bring exclusivity to these diamonds.
Whatever the term, champagne diamond engagement rings and cognac or brown diamond engagement rings mean the same thing.
Brown diamond engagements rings have been there for over a century, but recent marketing strategies and popularity among celebrities have contributed to these colored diamond engagement rings emerging in limelight.
Shades of Champagne
When you see a champagne diamond engagement ring, it's hard to not get mesmerized by the delightful combination of warmth of honey and sparkle of diamond.
It includes a shade range from faint brown to intense cognac. Champagne diamond radiates a warm and spirited glow on finger, and generally looks stunning and appealing on all skin-types.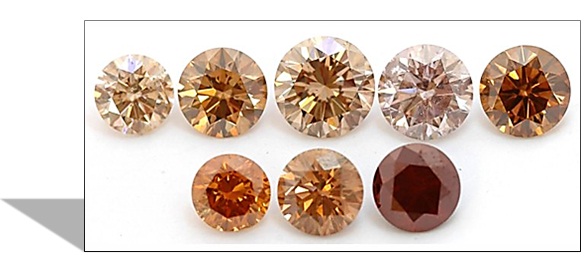 Factors Determining its Value
Just like white diamonds, the value of a champagne diamond is determined by its cut, clarity, color and carat, All four characteristics are important, but since the real beauty is in its colors, so it becomes the most important factor in determining its price .
Color: You must ensure that champagne diamond has a uniform color (without any dominance of secondary color). However, a hint of pink makes it extremely rare and increases its value significantly (Pink diamond engagement rings are extremely popular these days). Also, remember that more vibrant and deeper brown colored the diamond is, more expensive it would be.
Cut: A good cut can enhance the color significantly and a poor cut can create shadow and diminish the vibrancy of color. So, it is crucial to select the stone with a good cut.
Clarity: Clean and clear diamond will show-off it color superbly. However, some people maintain that flaws and inclusions add a dramatic touch to champagne color. They interpret the inclusions in champagne diamonds as champagne bubbles that supplement further uniqueness to its unique color. So, it will depend on your preference.

Carat: Carat size is the least of the influencing factor. But, bigger the diamond is, more prominent is the display of color. You may not appreciate the extraordinary champagne color in small diamonds. So, when choosing between champagne diamond engagement rings, make it large!
Which Setting to Choose?

Choose your diamond setting wisely, because an appropriate setting will launch the dazzle of your engagement ring to an altogether different orbit. To highlight the stone's unusual color, open setting - like prong setting - is most suitable. Prong allows more light into the ring, causing stone to radiate at its best.
I will suggest to better to go with solitaires instead of smaller champagne stones in your engagement ring. This is because, it's difficult to find champagne diamonds of exactly same shade, and even a slight difference in color can completely kill the beauty of your ring. So, if possible stick to solitaire champagne diamond engagement ring.
You can even set your brown center-piece surrounded by a circle of small sparkling white diamonds. White diamonds when set as accent stones will add contrast and produce more sparkle in ring.
Surrounded with small white diamonds

Other popular style for a champagne diamond engagement rings is: three-stone engagement ring. You can set brown diamond as the centerpiece, highlighted by 2 white diamonds on either side. You can also reverse this arrangement, i.e. - set white diamond as center piece surrounded brown diamonds on either side.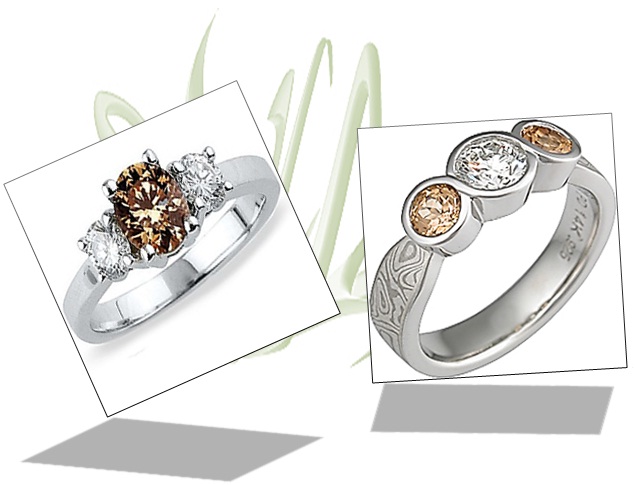 Center Champagne Diamond (left) and Center White Diamond (right)

Metal
You must carefully consider the metal for mounting, one that shows off the peculiar brown color of the stone to its best. A champagne tinted gem is best displayed with white gold or platinum. Yellow gold can cast yellow spell on the stone, making it appear yellow and less valuable than its actual value.
Shapes
Champagne colored stones are best in simple shapes, like - round and princess. Fancy shapes - heart and marquise - may make the diamond appear uneven in tone. People often create cushion cut or emerald cut champagne diamond engagement rings in vintage setting, as it suits best with this color tone.
Be Cautious
Due to limited supply of champagne diamonds, market is flooded with artificially treated champagne stones. So, be careful while choosing a genuine champagne diamond. Inquire about authenticity of diamond and always insist on standard lab certificate preferably of GIA.
So, go ahead and celebrate your nuptials with champagne diamond engagement ring along with ritual sip of champagne.
Return from Champagne Diamond Engagement Rings to Fancy Colored Diamond Engagement Rings
Return from Champagne Diamond Engagement Rings to Diamond Jewelry Homepage
I hope you'll not mind sharing this on Twitter, Facebook and with everyone else :)
Feel free to share if something is in your mind and want it to be covered on this site.

My Newsletter

Did you liked this article? Sign-up my FREE weekly newsletter and I'll send you more awesome new additions on this website along with latest jewelry happenings around the world, and download my Jewelry Design Album for FREE!