<!- google_ad_section_start ->
Channel Setting of Melee Group Diamonds
Channel setting is the most common setting used to set melee (small round brilliant cut) diamonds. Melees can be set in channel in various manners.

<!- google_ad_section_end ->
Here, I will discuss about Double Undercut Technique. As its name suggests, in this technique a seat is undercut in the both metal walls of the channel.
Process of Setting Melee in Channel
Following are the steps which describes about process of setting melees in channel:
Layout
Preparing layout is essential as it helps in anticipating and avoiding problems. Before setting the diamonds you need to know where diamonds have to be set.
There should be a slight gap between each stones in the layout position (table down). This gap will cover up when you turn the diamonds in the set position (table up). During layout procedure you should keep in mind that deeper the diamonds are set into the mounting, they will get closer.
When the diamonds are in layout position, their center line on both sides of the outside of the ring is marked with a sharp tool. After marking, diamonds are removed, cleaned and kept in proper order.
Seat Cutting
Seat cutting is a slow, step-by-step process and requires patience. The stones are set into seats individually grooved into the opposite parallel walls (double undercut technique). The seats must be deep enough so that the table of each stone is in same level with the top of the channel walls.
Stone Seating
You can use a pair of dividers to transfer and mark the guidelines of depth of the diamonds (from the bottom of the girdle to the table) along the inside of the channel walls.
Now, start cutting the groove at each end of the ring where the diamonds will be finally placed. Remember to check that diamonds fit in the groove you've already cut. If diamonds don't fit comfortably you will need to make some changes using appropriate tools.
Start placing each diamonds individually, place the first diamond, wax it in place and then start with other diamond.
It's important that diamond fits well into the seat as per its girdle's thickness. There should not be any gap visible from the top. The junction angle of the crown and pavilion angles with seat should be 72o to 78o. If the seat angles are larger than the diamonds dimensions then the diamond will loosen and may fall.
Stone Setting
Now, work to finally set your diamonds. Tap and bend the channel walls downward on to the diamonds to secure the diamonds in place. Work on the opposite side too and remember to bend only small amount of metal at a time.
Any hurry at this stage will spoil your work done so far. Slowly repeat this process till grip of channel on all diamonds is tight and diamonds are secure.
You need to remove the wax by either steam or ultrasonic cleaning. After removing wax the stones might become loose. So, re-tightening is required.
Before moving further, confirm following:
Each diamond is set between two metal channel and not supported or rested on an under gallery. If the diamonds are rested on lower support rings or bars it's easy for dirt and dust particles to stuck between the ring and diamond.
There is a bar between each stone or a ring below each stone. The purpose of support bars or rings under the stone is to connect the channel walls. This keeps the channel walls stable and prevent them from drifting apart. If the walls drift or gap between them increases the stone becomes loose and may fall.
| | |
| --- | --- |
| | |
| Support Bars (top view) | Support Rings (top view) |
The width of the metal channel holding the diamond should be uniform, smooth and dent or scratch free. Metal rims should be wide enough to hold the diamond properly. If rims are too wide it will cover most of the crown area of the diamond. As a guideline, only 10% to 15% of the diamonds total diameter should be covered by the metal channel.
Area of Stone Covered under Metal Channel Wall
Top of the table of diamond should be in same level with the top of the channel wall.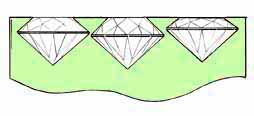 Same Table Height of Set Stones
Diamonds are evenly placed and there are no gaps between the diamonds. Do check diamonds don't overlap on each other. If the diamonds are too close and overlapping each other then in long run edges of diamond will get chipped or damaged.
Common Flaws of Channel Set Melee Diamonds
Walls too Close or too Far Apart
If the opposite channel walls are too close then they will cover up most of the diamonds top view. If more than 15% of the stone's diameter is covered, diamond will appear smaller and may get damaged while setting. If the opposite walls are too far apart then it will loosen diamonds leading to their fall.
| | |
| --- | --- |
| | |
| Channel Walls too Close | Channel Walls too Far Apart |
Gap between Stones
If there is any visible gap between diamond and metal channel walls then it means there is error in workmanship. As this may cause diamond to loosen and fall.
Diamonds set at Different Height
If the diamonds to be set are of different heights then seats in the metal channel walls should be placed accordingly. If the diamonds are set at different height then it's a faulty craftsmanship.
Improper Height of Channel Set Stones
Improper Spacing between Diamonds
There should be even spacing between each diamonds in row.
Diamond's Table and Channel Wall at not Same Level
The table of diamonds in row set in a ring should be in same level with the top of channel wall.
Return from Melee Channel Setting to Channel Setting page
Return from Melee Channel Setting to Diamond Jewelry Homepage
I hope you'll not mind sharing this on Twitter, Facebook and with everyone else :)
Feel free to share if something is in your mind and want it to be covered on this site.

My Newsletter

Did you liked this article? Sign-up my FREE weekly newsletter and I'll send you more awesome new additions on this website along with latest jewelry happenings around the world, and download my Jewelry Design Album for FREE!