<!- google_ad_section_start ->
Edwardian Wedding Rings

Edwardian Wedding Rings - The Epitome of Refinement and Riches
The embellished times of King Edward's brief reign (1901 - 1910) was the witness of drastic social change. Edward was a patron of fashion and style, and it will not be incorrect to say that he was the leader of fashionable celebrities of those times.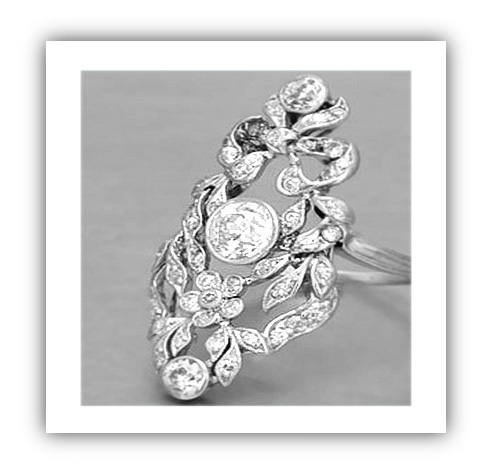 <!- google_ad_section_end ->
It was the period of wealth, opulence and abundance when even lower and down-trodden classes were to taste the life full of luxury and prosperity. Economic high gave fashion and jewelry styles a renewed push with people ready to splurge on weddings and engagements.
The rich lifestyle led to decorated and fancy weddings with several traditions - like importance on beautiful wedding gown - beginning in those days.
The era - also called "Belle Epoch" or "Beautiful Era" - was the period with lightweight, airy and elegant jewelry being its highlight, that complemented the carefree attitude of people of those days. Although, Edwardian period was over by 1910, but by many accounts it is said that Edwardian jewelry was in demand right through till 1920.
Genres of Edwardian Wedding Rings
Edwardian jewelry was designed and created to complement the white silk and lace worn by affluent and upscale ladies of that period. Hallmark of jewelry of that period was grace and elegance that reflected the taste of the people.
Jewelers of those days used expensive materials to create intricate and geometric pieces, with designs more often than not inspired by nature-driven themes and motifs such as flowers and vines.
Edwardian wedding band with seamlessly connected curves of floral pattern, imparting it a tender and exquisite look.
Ring designs were characterized by elongated forms with diamonds in openwork settings, and center-set natural pearls flanked by row of diamonds. Like any Edwardian jewelry, Edwardian wedding rings were delicate, womanish and generally light weight, and were mostly set with diamonds.
This Edwardian wedding band has a uniform repetition pattern and slant line detailing on the side of band. This was a regular fine detailing attribute of Edwardian ring styles.
Edwardian period's fine embroidered and delicate white clothing reflected in mesh-like patterns, curl shapes and fine symmetrical platinum ribbon of diamonds. The white diamond and white metal rings were created to blend with white lace.
Filigree ring debuted during this period. Filigree was a popular feature in pleated, fine cut openwork or twisted metal wire designs. Filigree work was done by hand, so it was common being unsymmetrical from one side to the other.
Fine artistry and delicacy of filigree, and presence of negative space makes this ring appear artistic, airy and lightweight.
The millegrain setting was commonly used to hold old wedding diamonds. Millegrain was created by using fine metal band to hold the diamond in place and adding a decoration of small beads or "grains" of metal.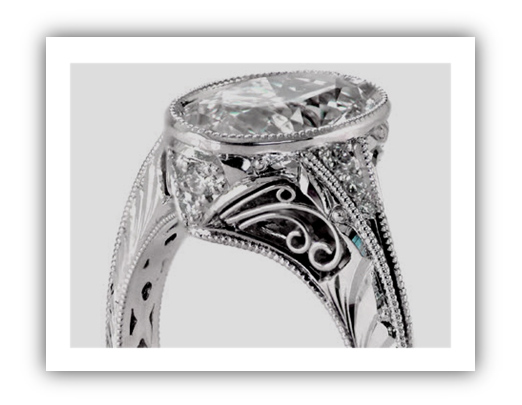 Arrangement of very small metal blobs of uniform size on the shank of ring to create millegrain effect.
With the advancement in technology and newly-found metal - Platinum - jewelry designs were redefined in Edwardian period. Platinum was used in jewelry for the first time in this era and strength of platinum opened the avenues for creative designs and settings.
The oxyacetylene torch was introduced, that produced high temperature required for mounting jewelry in platinum. Strength of platinum allowed use of less metal in gemstones settings. Outcome of this was more delicate designs with lesser visibility of metal and more focus on gemstones and diamonds.
Diamond was an essential element in Edwardian Jewelry, representing some of the best examples of diamond and platinum jewelry in existence. Jewelry was made to look as light and delicate as possible, reflecting the femininity of the Edwardian lady.
This seemingly graceful and feminine Edwardian platinum wedding ring has a carving of intricate motifs on its shank, and its center stone is set at a height to allow it more exposure with maximum refraction of light.
You may find it interesting to know that, it was in Edwardian era when electricity was available for the first time. Therefore, a diamond had no reason to compromise anymore on its sparkle in a candle lit night! And, you will also have no reason to not adore the classic and opulent Edwardian wedding rings.

Return from Edwardian Wedding Rings to Vintage Wedding Rings page
Return from Edwardian Wedding Rings to Diamond Jewelry Homepage
I hope you'll not mind sharing this on Twitter, Facebook and with everyone else :)
Feel free to share if something is in your mind and want it to be covered on this site.

My Newsletter

Did you liked this article? Sign-up my FREE weekly newsletter and I'll send you more awesome new additions on this website along with latest jewelry happenings around the world, and download my Jewelry Design Album for FREE!