<!- google_ad_section_start ->
Blue Diamond Earrings - The Harmony of Blue

Blue diamond earrings are unique, stylish and different from traditional white diamond earrings. Earrings with blue diamond can definitely unlock your style quotient, so why not break the rules by adorning your ears with a blue diamond.
<!- google_ad_section_end ->
Earrings are the first thing in jewelry that get noticed, and earrings with blue diamonds being trendy treat to watch, can articulate your sense of styling to the fullest.

However, before proceeding further, why not first get yourself familiarized with basics of blue diamond!
About Blue Diamond
Blue diamonds are rare and identified with opulence, while symbolizing peace and good health. So, just like blue diamond engagement rings, a pair of blue diamond earrings can bring serenity, peace and affection in your life.
Blue diamonds occur naturally when boron gets mixed with carbon components of diamond during its formation process. It is the rarity and limited supply of blue diamond that makes it one of the most expensive gemstones.
There are plenty of options to choose from, with various tones of blue shades ranging from light blue to darkest of blue - like grayish-blue and greenish-blue. Natural dark blue with uniform hue is one of the most expensive varieties due to its rarity.
Metals for Blue Diamond Earrings
White gold and platinum create a magical contrast with deep and vibrant blue diamond while expressing the allure of earrings. Touch of white naturally adds to splendor of blue diamond earring making it more noticeable and exquisite.
However, if you are a traditional type and want to tread the conventional path, then yellow gold can be a good choice. Blue and yellow will also complement each other, especially if it's a dark blue diamond set in yellow gold.
Blue-Yellow combine

Different Styles of Blue Diamond Earrings
Blue diamonds can jazz up earrings in various styles and designs, like:
Stud Earrings
Hoop Earrings
Dangle Earrings
Drop Earrings
Blue Diamond Stud Earrings
In stud earrings solitaire diamonds are used - with size ranging from 1/4 ct to half carat - depending on how much you are willing to spend. Now, blue diamonds being on expensive side, you may find blue diamond solitaire earrings all the more expensive. So, if you have enough pocket space, it can be a suitable option for daily wear.
In blue diamond cluster stud earrings, cluster of blue diamonds encased with white diamonds makes it easily pair-able with any outfit.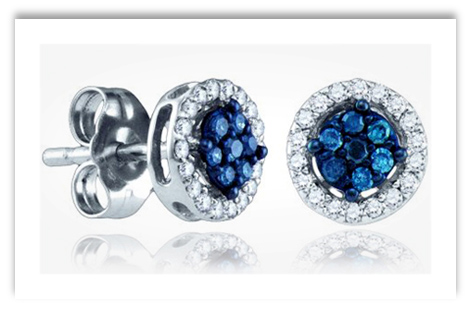 Cluster Stud Earrings

I will suggest you to opt for an open setting - like prong setting - or small white diamonds set in pave setting surrounding center blue stone. These days, blue diamond halo stud earrings are very hot, capable of launching the glamor quotient to an all together new orbit.
Halo Stud Earrings

Round blue diamond stud earrings are the classic and all-time hit. As you can see in the below image from Front Jewelers, round blue diamond is surrounded by small white diamonds in prong setting making this pair of earrings simply superb.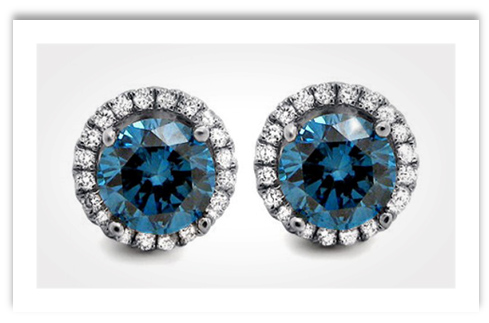 Blue Diamond Round Stud Earrings (Front Jewelers)

If you want to give a contemporary twist to your ears, why not go for princess cut blue diamond stud earrings, like - this 1/4 carat screw-back princess cut diamond earrings.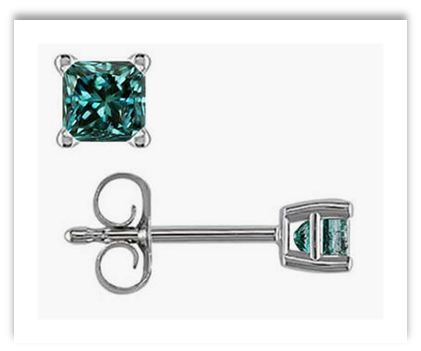 Princess Cut Screw-back Stud Earrings

Blue Diamond Hoop Earrings
Hoop earrings are quite in trend and can instantly add razzmatazz to your overall persona. Hoop earrings are circular or semi-circular in design. Hoops generally blend with most of the face-types and can be worn on formal as well as casual outings.

Hoop Earrings

Hoop's other variation is J earrings ("J" shape rather than a circular shape).
This pair of exquisite white and blue diamond J earrings from Amazon has row of glistening blue diamonds flanked by rows of white diamonds on either side. White gold is complementing blue diamonds by further augmenting the charm of these earrings.

If you are looking something for everyday wear and blue diamond solitaire earrings are not in your budget, this pair of earrings can surely grace your wardrobe.

Blue Diamond Dangle Earrings
This is the most stylish among all earring types, and an instant attention-grabber. Styling can be done in number of ways from lending simple, sleek and formal look to more ornate party-wear. Many celebrities have graced the red carpet event in blue diamond dangle earrings. These can be expensive depending on size and length of earring.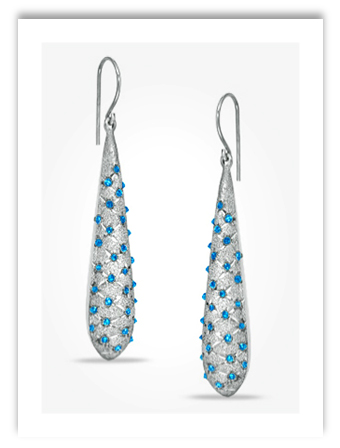 Dangle Earrings

Blue Diamond Drop Earrings
In drop earrings, a big gemstone is suspended from a single point, giving an appearance of a falling liquid drop. Pear and oval shape stones are popularly used in drop earrings. Drop differs from dangle earrings in terms of length, with latter being longer in length allowing it to sway and dangle.
This is a magnificent high-end piece (below image) designed by Alexandre Reza. Assymetric placement of blue diamonds has a strong presence with a bit here and a bit there look.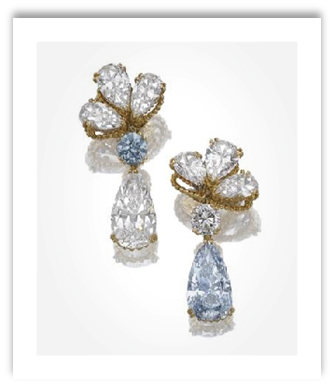 Drop Earrings

Always Remember
Instead of running behind pure blue color, you can select hue with secondary color, for eg – greenish-blue etc. This will allow you to buy an interesting colored diamond at a lower price.
Don't rely too much on color grading terminology. It should be used as a basis to narrow down your selection and to determine the fair price. Always, go for the stone that you find most visually pleasing and color of stone that you would really enjoy.
If the blue color of stone is due to color enhancement, then it must be disclosed by jeweler. Color treatment results in lowering of price.

Blue diamond earrings are expensive and not something you may buy frequently, so make sure you get a perfect piece according to your style, need and budget in the first instance itself.
Return from Blue Diamond Earrings to Earrings page
Return from Blue Diamond Earrings to Diamond Jewelry Homepage
I hope you'll not mind sharing this on Twitter, Facebook and with everyone else :)
Feel free to share if something is in your mind and want it to be covered on this site.

My Newsletter

Did you liked this article? Sign-up my FREE weekly newsletter and I'll send you more awesome new additions on this website along with latest jewelry happenings around the world, and download my Jewelry Design Album for FREE!