<!- google_ad_section_start ->
Old European Diamond Earrings
Old European diamond earrings or to be more precise old "European-cut" diamond earrings are enjoying a renewed popularity among patrons of old-fashioned jewelry. The fact is, due to flourishing antique diamond industry and reviving interest in antique diamond cuts, old European cut diamond earrings are fast catching up the trend.
<!- google_ad_section_end ->
However, first thing first!
What is old European Cut?
An Old European Cut diamond is an old style of diamond faceting with hand. Antique diamonds or all diamonds which were cut prior to nineteenth century were different from modern round brilliant cut diamonds that we usually see nowadays.
During those days, due to absence of technology and modern cutting tools, most of the cutting was done by hand, and until first couple of decades of 20th century there were no predefined rules to cut diamonds.
In those days, there were prominently 2 cutting styles - Old Mine Cut (cushion-shaped) and Old European Cut (round-shaped). Both these cuts - the earliest predecessors of modern round brilliant cut diamonds - have typically 58 facets with high crown, small table and a large culet.

Although, as usual stones were cut to enhance its beauty, but due to lack of technological help, cutters didn't knew the proportions and facet positions that can have the maximum impact on the brilliance and sparkle of a diamond. They used to cut conforming to natural shape of stone in order to increase the total yield, whereas today with more focus on brilliance of diamond, only 50% of rough stone converts into the final piece.
Old European Diamond Earrings
The renewed love towards classical piece of jewelry is bringing people back to old European diamond cut earrings. A true antique lover has the taste to appreciate the old-world charm of antique earrings.
However as always, it's important to always purchase only from a reputed, trusted and expert jeweler who deals in vintage jewelry, and who can guide you and provide true information related to different eras.
Below, I have listed few of my chosen Old European diamond earrings from different online jewelers dealing in fine antique and estate jewelry. However, let me tell you at the beginning itself that you may find these earrings quite upscale, but isn't there a premium attached with antique jewelry!
Old European Cut Diamond Earrings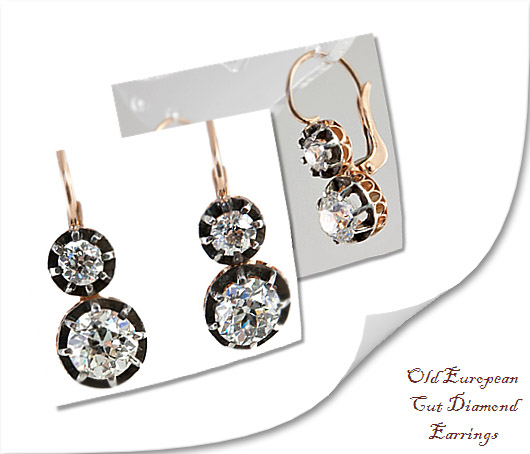 Side view of these old European cut diamond hoop earrings equally exhibits classic and shapely semblance as the front view. Beauty and grace of these simple earrings lies in the antique setting.
Old European Cut Diamond Dangling Earrings

These dangling earrings have the splendid blend of old mine cut, round single cut, round Swiss cut, and old European cut diamonds. If you are an admirer of antique diamond cuts, then these earrings will be a suitable match for you. However, you will have to verify whether detailing like - milligrain edges and bright polish are done by hand.
Old European Cut Diamond and Ruby Earrings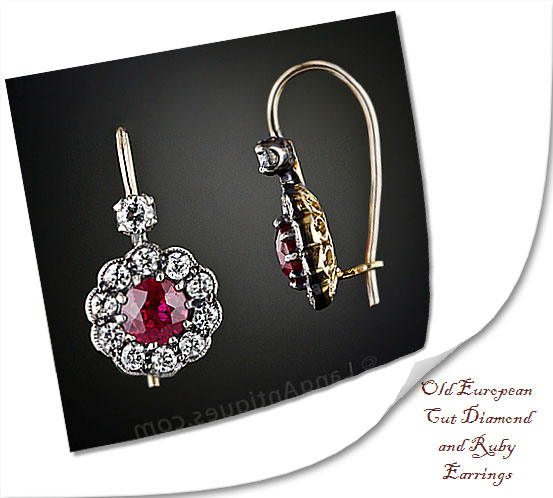 These ruby and old European cut diamond earrings from Lang Antique stunningly recreate the magic of Victorian and Edwardian era. The center faceted-ruby accentuates the surrounding old European cut diamonds. Ruby will add a hint of color to your persona while blending with most of your outfits. Even though it's an antique piece, it's surely wearable.
Old European Cut Cluster Diamond Earrings

Wow! Simply speechless! Just love it in plain and straight words! These 18kt rose gold earrings with cushion shape center diamond surrounded by small round diamonds, are mounted in classic cluster setting. One glance at it and you know it's a vintage piece.
Diamonds with antique cuts can't be replaced by any modern cut diamond, and lovers of artifacts know this very well. So, if you are an antiquity enthusiast then what to wait for!
Return from Old European Diamond Earrings to Earrings page
Return from Old European Diamond Earrings to Diamond Jewelry Homepage
I hope you'll not mind sharing this on Twitter, Facebook and with everyone else :)
Feel free to share if something is in your mind and want it to be covered on this site.

My Newsletter

Did you liked this article? Sign-up my FREE weekly newsletter and I'll send you more awesome new additions on this website along with latest jewelry happenings around the world, and download my Jewelry Design Album for FREE!