<!- google_ad_section_start ->
Engagement Ring Styles - Which one will blend on your finger?
Engagement Ring Styles - "Fashion changes, but style endures" ~ Coco Chanel
Do you know what your engagement ring says about you? Oh yes! Don't be surprised, styling of your engagement ring can tell a lot about you.
<!- google_ad_section_end ->
It's not like, an expensive engagement  ring will demonstrate your wealth, and moissanite engagement ring will reveal you are running low on money.
All these are old-fashioned talks, because nowadays even rich folks go for non-diamond engagement rings.
It's all about your sense of styling and how much you know what blends best with your overall physique.
In this article, I will explain the engagement ring styles for different types of fingers.
Below, I have broadly classified finger-types in 4 categories to give you a basic idea of which type of engagement ring you should pick, that will suitably blend with your hand.
Skinny Finger
Heart, oval or round diamond engagement ring blends beautifully with slender fingers, as these rings create impression of fuller fingers. If you are fond of antiques, then there is option of Victorian engagement rings. Floral patterns and motifs of Victorian era combine well with thin fingers.
However, I will not advise an Art Deco engagement ring, because its bolder look with big-sized stones and geometrical pattern makes thin fingers appear thinner.

Fuller Finger
Princess, heart and round diamond engagement rings go with fuller fingers. If you fall in this category, then try prong setting engagement rings, because in prong setting stones are set at a height which can neutralize the fuller look of fingers.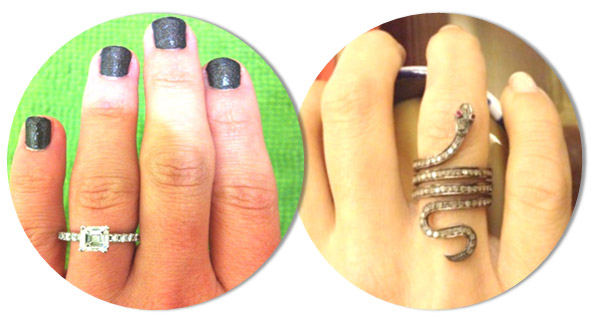 If you have a penchant for engagement ring from bygone era, then try out serpent style engagement ring  from Victorian period. Apart from being popular, it will look extremely beautiful on meaty fingers.
Wide bands compliment bulky fingers, with its another alternative as split shank. In my opinion, split shank style distracts attention from bulky looking fingers by counterbalancing its appearance.
Having said that, whatever you choose, avoid a small ring on heavy-looking finger, as it will tend to make a big finger appear bigger.

Small Finger
A small finger looks cute and delightful, but its beauty gets lost by accompanying it with an oval engagement ring with oval stone aligned horizontally (instead of along the finger). If you find yourself in this league, always stick to oval or emerald shaped engagement rings in vertical settings only.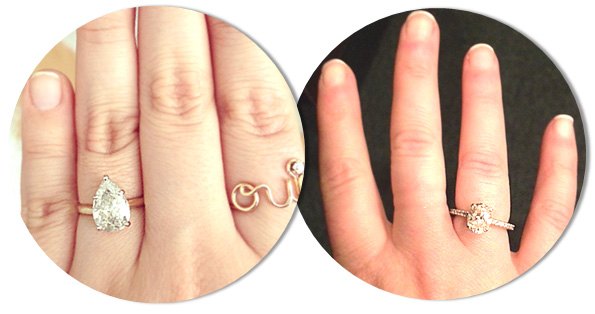 Marquise and pear shaped engagement rings also impart an elongated look to small fingers, with center-stone aligned along the finger.
If you have an affinity towards antique jewelry, then an art nouveau engagement ring with soft curves and lacey motifs will add to the delicacy of your fingers.
P.S. - Pear-shaped stone worn with pointed edge towards nails (rather than wrist) makes fingers appear longer. However, this is not a golden rule.

Long Finger
It becomes obvious that stone shapes that I have suggested for small fingers becomes strict no for long fingers. Like marquise shaped engagement ring is not meant for you. However, if you are a diehard fan of marquise, then go with a wider marquise instead of a narrower one.
You can make a statement with an emerald shaped engagement ring or a cushion halo setting engagement ring. Antiques admirers have an option of art deco engagement rings. Bold color-contrast of art deco style looks extremely attractive on long fingers.
Finally, round, heart and princess diamond engagement rings generally look beautiful and attractive on all types of fingers. Similarly, solitaire  engagement ring styles in prong setting are time-honored classic. So, in case of any doubt, always stick to time-tested regular and basic styles.
Return from Engagement Ring Styles to Engagement Ring Articles page
Return from Engagement Ring Styles to Diamond Jewelry Homepage
I hope you'll not mind sharing this on Twitter, Facebook and with everyone else :)
Feel free to share if something is in your mind and want it to be covered on this site.

My Newsletter

Did you liked this article? Sign-up my FREE weekly newsletter and I'll send you more awesome new additions on this website along with latest jewelry happenings around the world, and download my Jewelry Design Album for FREE!