<!- google_ad_section_start ->
Art Nouveau Engagement Rings
Art Nouveau engagement rings are extremely beautiful and one of my favorite. During Art Nouveau - the term art nouveau is a French word and it means "new art" - period (1895 - 1910), engagement rings were viewed as functional art.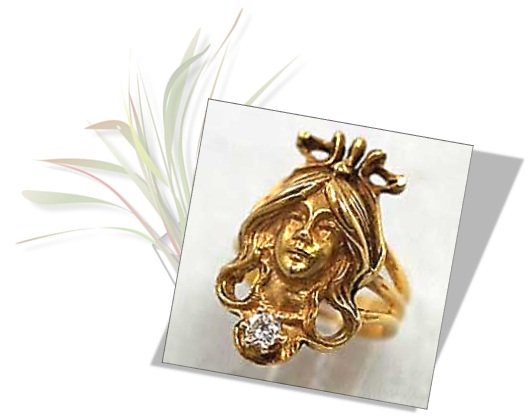 <!- google_ad_section_end ->
In those days, jewelry was not mass-produced, rather each piece was handcrafted with passion and love for jewelry. Known to be mostly influenced by nature, art nouveau jewelry style was inspired by everything around at that time. Be it architecture, art, ceramics, lamps, stained glass windows, textiles, furniture and of course jewelry.
Art Nouveau period softened the strict styling of the Victorian era with soft and natural forms. Flowing lines were a common theme during that period, with focus on curving lines, delicate details and natural imagery.
Engagement rings were made in nature themes, with soft pastel colors, and had a very feminine look with intricate patterns that reflected the style of that time. That era was also highly influenced by Japanese art and nature, and typically featured flower or vine designs.
In today's time original Art Nouveau Engagement Rings are of extreme worth. So, if you have an heirloom engagement ring of art nouveau period, then you should feel yourself lucky.
Art Nouveau Designs Inspiration
It was the period of innovation, and new ways were adopted with modern approach, to design and stylize jewelry. It was a modern era and the female physique was praised and openly used in jewelry.
It was during that period that the naked female forms were used in jewelry for the first time. Art Nouveau Jewelry wonderfully depicts pictures of fantasy, figures of women with fairy wings, obscure patterns and intertwining floral arrangements.
Gemstones and Materials Used
In Art nouveau period, materials and gemstones were chosen for their beauty and uniqueness, and not because of their worth. This is the main reason for the rise in popularity of semi-precious gemstones - like amethyst, opal, moonstone, amber and citrine.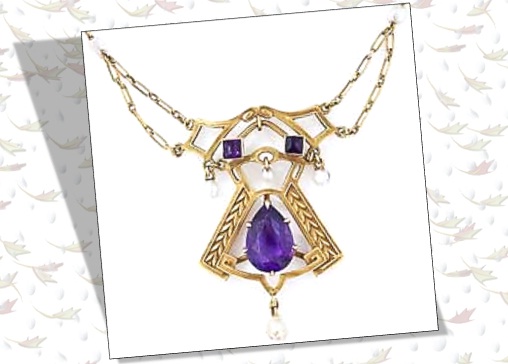 Amethyst Necklace

You will notice that diamonds were rarely used and even if used, they were of smaller sizes. Popular trend was to mix different gemstones and small diamonds to embellish & frame the pattern.
In that era, lesser known and exotic materials - like horn, ivory, shells and copper - were incorporated in jewelry to create grand patterns.
High Skills and Techniques
To create such out of the world beautiful jewelry required high skills and techniques. Jewelers used to have creative freedom and created unique customized jewelry for their customers.
New methods - like enameling and a stained-glass window effect - became a signature technique of this era. You will generally notice and appreciate these techniques in the jewelry of Art Nouveau era.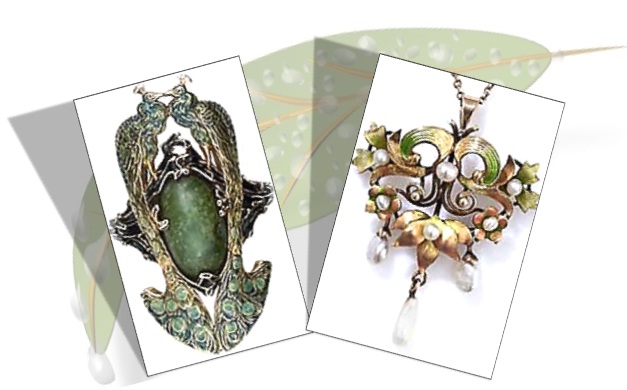 Greenish-Blue Enamel Engagement Ring (left) Pastel Enamel Pearl Necklace (right)

Nowadays, designers and jewelers are increasingly launching their jewelry collections inspired by that era. If you look at today's enameling work, you can easily tell what they are trying to recreate. Their source of inspiration is hidden in Art Nouveau period.
Engagement Rings
In Art Nouveau rings, you will often feel the touch of nature - like plant and floral motifs. Water lilies and dragonflies were the common motifs that reflected in engagement rings of art nouveau era.
So, if you are looking for a flora or fauna - like butterfly or dragonfly - inspired engagement ring, then what could be a better choice! You can have your ideas implemented, that to in an antique style engagement ring. Isn't this superb, blend of your trendy ideas with a classic antique finish!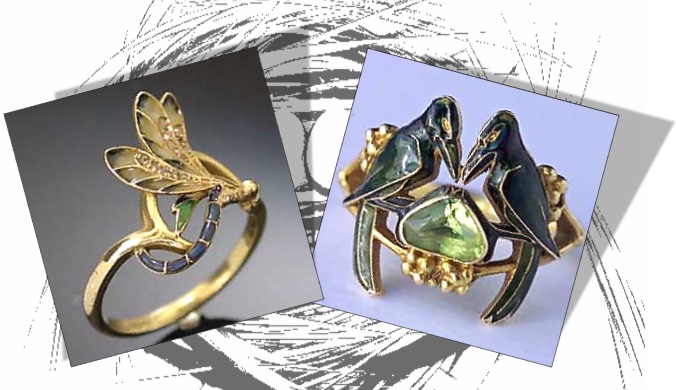 Dragonfly inspired Engagement Ring (left) Birds inspired Engagement Ring (right)

Comparison between Different Era Engagement Rings
If you compare the Victorian engagement rings, Art Nouveau engagement rings and Art Deco engagement rings, you will find that art nouveau engagement rings lies in between - in terms of period, design and style - Victorian and art deco eras.
Victorian engagement rings had little presence of color while art deco engagement rings were attributed by bold contrasts of colors.
Victorian era engagement rings followed strict patterns in design while art deco engagement rings was over the top with geometrical patterns. Art nouveau engagement rings adopted delicate, intricate flowing patterns with soft enameling and gemstone colors.
If your partner appreciates art and architectural movements and loves antique jewelry, then an Art Nouveau engagement ring will definitely be a right choice.
I can say this without any doubt that Art Nouveau engagement rings are a perfect choice for ladies who wish to have feminine, soft, intricate and unique engagement ring.
Return from Art Nouveau Engagement Rings to Vintage Diamond Engagement Rings
Return from Art Nouveau Engagement Rings to Diamond Jewelry Homepage
I hope you'll not mind sharing this on Twitter, Facebook and with everyone else :)
Feel free to share if something is in your mind and want it to be covered on this site.

My Newsletter

Did you liked this article? Sign-up my FREE weekly newsletter and I'll send you more awesome new additions on this website along with latest jewelry happenings around the world, and download my Jewelry Design Album for FREE!