<!- google_ad_section_start ->
Dubai Gold Jewellery Market - Where to Buy?

When we talk of Dubai gold jewellery market, the first thing that strikes is cheap gold jewelry in Dubai. Dubai is a heaven for jewelry lovers especially because of duty-free prices. So, In this article, I have listed popular places in Dubai where jewelry buying will undoubtedly be a life-time experience.
Gold Souk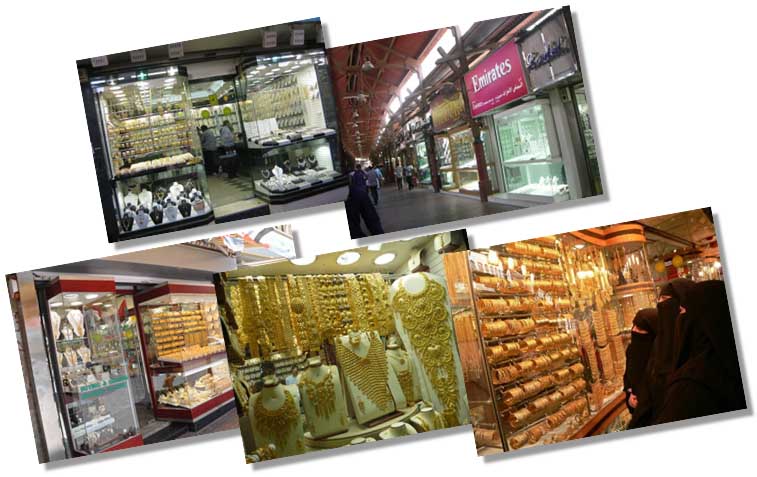 <!- google_ad_section_end ->
You would have heard Dubai being referred as the "City of Gold". This name was originally derived from the Gold Souk.
"Souk" means market, and the Gold Souk is nothing less than that, a marketplace where over 300 jewelry retailers (both well established as well as smaller stores that operate mainly in the gold souk) trade almost exclusively in jewelry.
It is located in heart of Dubai's commercial business district in Deira. Being famous for cheap gold and beautiful jewellery, it is one of the cheapest places in the world to buy quality gold jewelry from.
From rare collector's items to simple gold chains, the range of jewellery on offer at the Gold Souk is simply incomparable.
The current gold prices are listed by weight all over the places, and prices of jewelry vary on day to day basis, based on current gold price and making charges.
Souk is filled throughout the day with visitors from all over the world, enjoying the spectacle of wonderful gold and diamond jewelry at display. Souk is opened till 10:00 pm, however it is advised that best time to shop is during afternoon, when less crowd will allow a shopper to get a better bargain.
Government keeps a strict control over quality of products sold, so be assured that what ever you will purchase will be genuine. Having said that, rare incidents have been reported when sellers have sold fake gold in the name of real. So, always do a proper research before finalizing the deal.
At this one of its kind marketplace, interested buyers can negotiate their price with local vendors, as well as find unique and locally crafted gold jewellery on sale at reasonable prices. This is the place where both the ultra-rich and regular citizens buy gold.
Dubai being a tax-free shopping zone - along with sizable number of jewelry retailers - one can definitely get a good bargain. However, the shopper must possess a knack of bargaining. Let me tell you, it's really a great fun!
As a buyer if you are not used to bargaining, no need to feel shy. After all bargaining is a traditional thing in Gold Souk, and jewelers expect this from their customers. It is said many a times travelers have purchased gold and diamonds from souk at one-third the price they might have paid in the USA and UK.
Gold & Diamond Park
This is the new gem in Dubai gold jewellery market. Gold & Diamond Park - an indoor air conditioned specialty mall - has the unmatched selection of 90 leading retailers and recently opened another expansion that now offers 118 manufacturing blocks and commercial space for over 350 offices.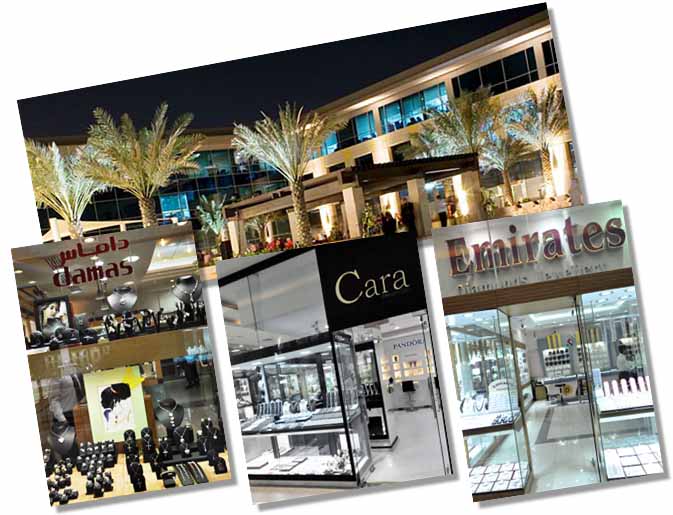 This mall was launched in 2011, and has earned the trusted reputation as Dubai's leading destination for gold, diamond and fine jewelry. The mall boasts of brands like Damas, Cara Jewelry, Emirates Diamonds and many more.
Here you can find unique designs or get jewelers to recreate pieces for you at a fraction of the cost of the original. Being less crowded than other shopping areas in Dubai, it's possible to pick up real bargains.
Customers can commission their very own designs, taking advantage of the skills and experience of the leading artisans working in backstreet workshops.
So, enjoy shopping jewelry in Dubai. After all, terming Dubai as paradise for shopaholics will not be an exaggeration!
Return from Dubai Gold Jewellery Market to Diamond Articles page
Return from Dubai Gold Jewellery Market to Diamond Jewelry Homepage
I hope you'll not mind sharing this on Twitter, Facebook and with everyone else :)
Feel free to share if something is in your mind and want it to be covered on this site.

My Newsletter

Did you liked this article? Sign-up my FREE weekly newsletter and I'll send you more awesome new additions on this website along with latest jewelry happenings around the world, and download my Jewelry Design Album for FREE!