CAD Designed Diamond Necklace
by Rajesh Roy
(Kolkata, India)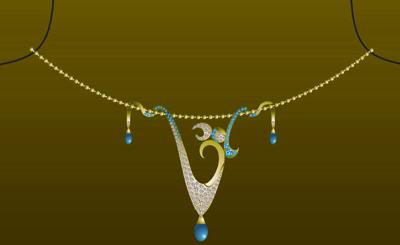 Om Diamond Necklace
Hello Friends,
I'm a jewelry designer and I design using CAD.
CAD helps me to design to perfection and accuracy. Jeweler I work with takes orders from customers by showing designs on computer. Customers can see the 3D view on computer and they get better idea of how the finished jewelry piece will look.
It is helpful to jeweler as he doesn't need to keep large ready stock for customer display. He just keeps some jewelry pieces to show the finishing and make of jewelry.
I have uploaded one necklace designed by me. It is "Om" necklace. In this I have used yellow gold and diamonds are set in pave setting. Along with diamonds I have used blue sapphires. The center "Om" piece is linked to a small gold ball chain.
Hope you all will like my design.
Thanks,
Rajesh
I hope you'll not mind sharing this on Twitter, Facebook and with everyone else :)
Feel free to share if something is in your mind and want it to be covered on this site.

My Newsletter

Did you liked this article? Sign-up my FREE weekly newsletter and I'll send you more awesome new additions on this website along with latest jewelry happenings around the world, and download my Jewelry Design Album for FREE!