<!- google_ad_section_start ->
Harry Winston's New Jewelry Collection "Secrets"

Published on 29-Oct-2014
Not known for frequent introduction of new jewelry collection, Harry Winston has this time launched "Secrets" collection which is very aptly dedicated to its founder Mr Harry Winston.

<!- google_ad_section_end ->
Mr Winston though a popular public figure of his time, was a very private person. He was known for his mysterious ways, from keeping diamonds secretly in his pockets to secret vault concealed within his office to treasure his jewels.
The jewelry house masters the technique of creating astonishing pieces with combination of cluster of different-shaped diamonds at different angles, and Secret collection has recreated that mystical classic magic again.
The Secrets collection - reinterpretation of Harry Winston's traditional touch into modern glam - is classified into three categories (Secret Wonder, Secret Cluster and Secret Combination) with total of 29 masterpieces.
Most prominent feature of this collection is hidden compartments or multiple components meant to surprise wearers.
So, why not try to decode the secret of the magnificent "Secrets" collection!
"Secret Wonder"
This collection is conceived keeping in mind the contemporary taste of ever-changing modern world. One of the aspect that jewelry buyers of today want is that jewelry should be wearable in multiple ways. After all, this is how they can sport same piece more often in different ways without presenting the routine look.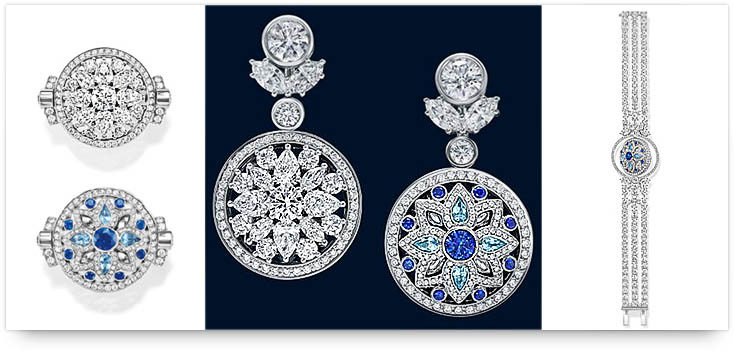 Center of these earrings, ring and bracelet contain a surprising element - it's the flipping center round piece with cluster of white diamonds on one side and combination of sapphires, aquamarines and diamonds on the other side. Flip the center, and from all-classic white diamond look you'll get the colorful burst of vibrancy with contemporary feel.

"Secret Cluster"
Diamond clustering is the signature style of Harry Winston. One of the most noticeable character of a Harry Winston piece is the minimum visibility of metal with maximum focus on diamonds. Different diamond shapes are mixed and set at varying angles to create designs that capture the light from all directions.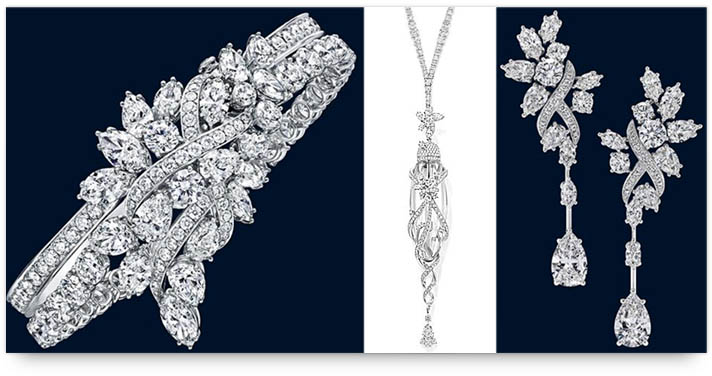 (1) The bracelet is the tribute to Mr Winston in true sense. Just like his concealing habit of carrying precious gemstones beneath his clothes, no one can guess this bracelet too has an exquisite emerald hidden beneath the surface of the diamond cluster. (2) Notice the fine craftsmanship in this mysteriously set miniature Secret Cluster perfume bottle wrapped around by pave set diamonds to create a stunning unique diamond pendant. (3) The earrings have Harry Winston's trademark motif of delicate ribbon of diamonds along with round, marquise and pear shaped diamonds. The secret of this piece is detachable pear-shaped diamond drop that lends versatility to this mesmerizing piece.

"Secret Combination"
This segment showcases the fusion of fine design and excellent craftsmanship. Each piece has detachable strand of fancy-cut diamonds that can be put together in a variety of ways, giving flexibility and lending a fresh look for different occasions.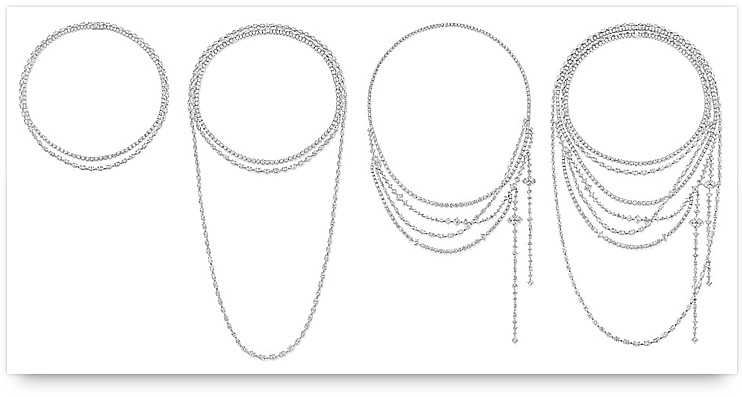 Wear your creative hat and play with strands of this necklace to create different looks. Links are detachable and several combinations can be easily created depending on your mood and need.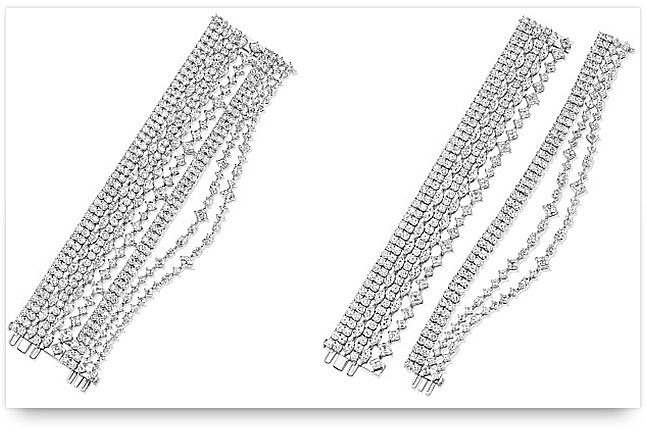 This bracelet can be reinvented to create a fresh look

Over all, the exquisite Harry Winston "Secrets" collection is meant to enthrall wearers and onlookers alike, and I am sure no one can stop wearers from "showing-off" their Secret piece.
Return to Featured Jewelry Collections page

Return to Diamond Jewelry Homepage
I hope you'll not mind sharing this on Twitter, Facebook and with everyone else :)
Feel free to share if something is in your mind and want it to be covered on this site.

My Newsletter

Did you liked this article? Sign-up my FREE weekly newsletter and I'll send you more awesome new additions on this website along with latest jewelry happenings around the world, and download my Jewelry Design Album for FREE!