<!- google_ad_section_start ->
How to Choose the Right Necklace
We all know that a good and perfect dress can make your evening, but do you know that even a beautiful and gorgeous necklace also has this similar ability? A necklace that matches your personality and worn according to the occasion, can add a magical touch to your overall appearance.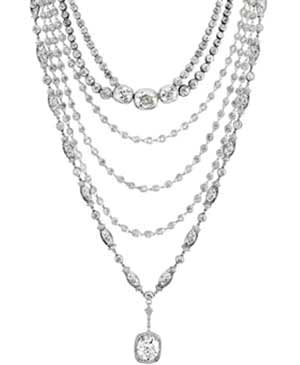 <!- google_ad_section_end ->
There are so many types of necklaces to choose from. However, it's important to understand what kind of necklace will match your particular dress and body type.
Like, if you have petite body then choose delicate necklace, and if you have fuller frame then go for necklace with big pendant or big chunky gemstones, this will take away focus from your wide bone structure.
Illusions a Necklace can Create
Do you know that size and type of necklace can really change the way how you look?

If you are quite tall and going on date with a bit shorter guy, then opt for 17" - 19" necklace.
If you are on a shorter side and going out with a taller man, then try a long necklace. Long V-shaped or Y-shaped necklace can elongate your appearance. But, make sure your necklace falls below your bust.
If you are planning to wear a broad and deep neckline dress, then opt for collar necklace. It will attract the attention directly on your neck area and not on your overall frame.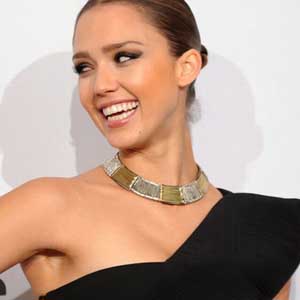 Collar Necklace

Tip: Click your pictures with collar and longer necklaces, and you will notice the difference in your appearance. You will agree with me that indeed type and size of necklace can change your personality.
How to Choose Necklace of appropriate Size?

Before moving further, let me tell you that it's important to buy necklace of particular size if you are buying it for specific occasion. Knowing your approximate neck size will help you in choosing a suitable necklace.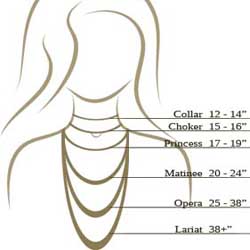 But, don't worry if you are unaware of your neck size, after all most of us are! It's simple to measure, just wrap a soft sewing tape around the base of your neck and mark where it meets. If you don't have a measuring tape, just wrap a ribbon around your neck and then measure it on metal measuring tape.

Now once you know your neck size, as a general thumb-rule, you must choose necklace of next size or in other words one size bigger. For example, if your neck size is 15", then choose necklace of 17" - 18".
Different Types of Necklaces

Following are the types of necklaces that are categorized according to their length:

Collar Necklace: It's the first one in the list and its length is around 12" - 14". This necklace will wrap around your neck and will look great with V and boat-neck-styled tops, shirts or dresses. This also looks equally beautiful when worn with off-shoulder dress or top.
Choker: Its length of 15" - 16", and will rest gently on your collar bone while adding classic and royal style to your dressing. Choker matches well with cocktail dresses and casual outfits, and does not blend with formal dressing. Also, it's a strict NO to team-up choker with high necks or turtle-neck tops.
Choker can add elegance to any of an ethnic Indian dressing - be it a slawar-kameez or a saari. It's perfect to be worn on weddings either by bride or any one attending the wedding.

Princess Necklace: As its name suggests, it will give you a princess-like feel with its length of 17" - 19", and it is also the most popular in the list. It complements generally all types of dresses, body frames and occasions. You can wear it with medium height to very low neckline dresses. It can be worn at any formal or casual event.

Matinee Necklace: It is generally 20" - 24" long and combines well with high necklines. It ends at the top of cleavage, and compliments beautifully with evening gowns. Matinee necklace is perfect for formal evenings.

Tip: If you are not comfortable showing off your cleavage and your dress plunges little deep, then don't to worry. Just cover it up with your matinee necklace!

Opera Necklace: These necklaces are long with length of 25" - 38". It should fall on your breast bone or you may like it little longer. With opera necklaces, you can play with your creativity, by mixing and matching two strands of necklace.

Since layering is in trend, you can very well wear multiple pearls strings, or mix and match ruby and pearl string, or emerald and pearl string. You can also pick different sizes or shapes of pearl strings to create your own unique funky style.

Blending of string will depend on your dress and its color. Generally, pearl string matches with most of the outfits and can add a classic and elegant touch to your overall dressing. Check this for more jewelry trends.

Lariat/Sautoir/Rope Necklace: These are very long ones with length more than 38". Usually, necklace with length more than opera length is called Sautoir or Rope necklace.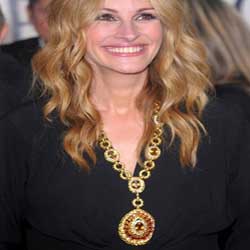 Sautoir Necklace

Lariat is similar to sautoir as its length is more than opera length. It doesn't have any clasp and can be draped around your neck in any manner you like. You can wrap it multiple times around your neck. You can also form a loop or knot in center according to your style.
The above types of necklaces are classified according to length. However, classification can be done in endless number of ways. Like you have, diamond solitaire necklace, diamond eternity necklace, diamond heart necklace, diamond flower necklace, 3 stone diamond necklace, cross-diamond necklace.

In the very popular diamond eternity necklace, same-sized diamonds are studded in continuous manner throughout the necklace. Then there are V-shaped and Y-shaped necklaces which are also quite popular, and add a unique element to dressing.

If we talk about antique diamond necklaces, it's important to talk about Indian "Ranihaar" and "Satlada/Naulakha haars". Ranihaar means necklace worn by queens, these are grand and huge with 4-5 strand necklace.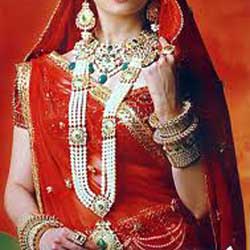 Ranihaar

Satlada and Naulakha means long opera length necklaces with seven and nine strands respectively. It's popular in bridal trousseau as everyone dreams to be a queen on her wedding day. However, it is worth wondering that how the queens in earlier times adorn these huge necklaces on daily basis!

Knowing which type of necklace is right for your persona, and wearing the same according to the occasion, will add a confidence to your personality. So, make your statement with the right kind of necklace meant just for you.
Return to Diamond Articles page
Return to Diamond Jewelry Homepage
I hope you'll not mind sharing this on Twitter, Facebook and with everyone else :)
Feel free to share if something is in your mind and want it to be covered on this site.

My Newsletter

Did you liked this article? Sign-up my FREE weekly newsletter and I'll send you more awesome new additions on this website along with latest jewelry happenings around the world, and download my Jewelry Design Album for FREE!