<!- google_ad_section_start ->
Nathalie Leseine's Men's Pearl Collections
Published on 10-Sep-2014
With changing times, men's jewelry is also getting much-deserved focus. It's now no more about luxury watches only.

<!- google_ad_section_end ->
Contemporary designers and leading jewelers are no longer just stuck with women embellishments only. When today's men are confidently carrying jewelry and other luxury items, new jewelry collections are being exclusively launched targeting them.
Although, males sporting jewelry is not a new feature, with men from different cultures around the world donning jewelry since olden days.
It's just that with changing market scenario and business needs, jewelry designers and jewelers are strategically attracting men with jewelry lines designed especially for them.
Latest example is Nathalie Leseine - French native based out of San Fransisco - who has unveiled her two new black Tahitian carved-pearl collections (Moana Cruise and Moana Mana) targeting male segment.
But you would be wondering, can pearls and men's jewelry complement each other? Answer is definitely yes. Tahitian pearl with its dark color has a very masculine touch and Nathalie Leseine has made her new collection super-cool with traditional Polynesian tattoos and symbols carved on them. Without floral fragrance, these motifs have geometrical features which fuse perfectly with men's line of jewelry.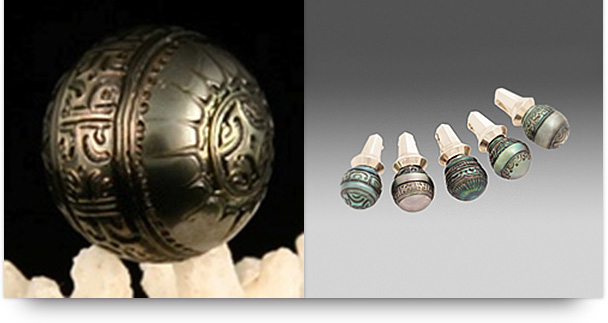 Carved Tahitian Pearls

The most important aspect of male jewelry is that it should have a masculine look or it will appear too sissy. Leseine has used more of Art deco style in her collection that seamlessly fits with Polynesian motifs carved on Tahitian pearls.
Straight clean lines and geometrical shapes perfectly blend with men's jewelry while swirls and hearts go well with female decorative. And Leseine knows this very well while keeping the design minimalistic and simple as desired by men.
Moana Cruise - Modern with traditional Tahitian flavor
In Moana Cruise, chokers featuring hand-crafted mounting and adjustable clasps, you can very well see her love for geometric angles which combine just right with the Polynesian theme. Enough attention has been put into details with adjustable clasps for convenience of wearer.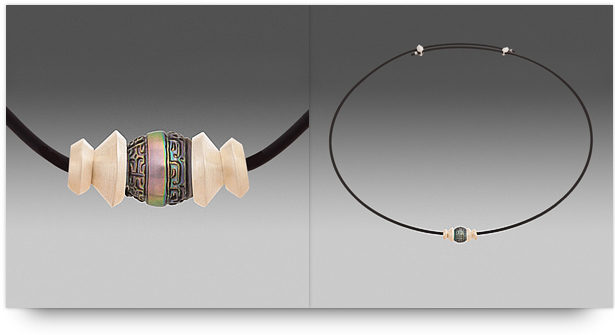 Moana Cruise Choker

Clasp is designed the way men wear jewelry with contemporary design and smooth finish. It is adjustable to wear with the length you choose and a gentle tug makes it large enough to take on and off over the head. Use of Argentium - tarnish-resistant silver - ensures the jewel will stay as bright and beautiful as on day one.
Moana Mana - The Man personified
If you are not ready for experimenting with chokers and circumspect on how it will combine with male personality, then you have the option of pendants as well. Her second line features pendants that will be perfectly suitable for men.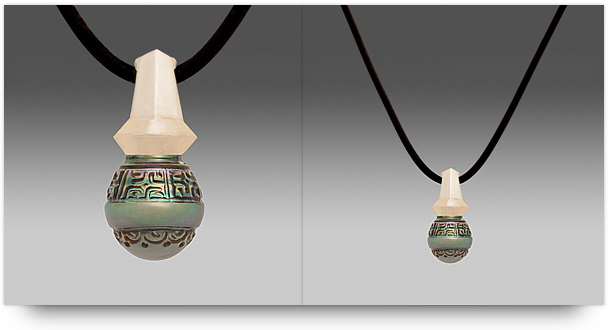 Moana Mana Pendant

Mana in Tahitian culture means - that certain something in the way a man carries himself...a quiet strength. The Native Carvings present his fiercely personal style. Moana Mana offers even more choices as the pearl enhancer allows the pearl to be worn either on this high-quality rubber with the adjustable clasp or be detached and worn on a leather cord or steel cable or even a chain, whichever style strikes her customer.
Men are coming out of their shell and not shying away from trying jewelry made especially for them. Why to just stop and satiated with rings and watches only! There are numerous options available on men's jewelry shelves - one has to just explore his adventurer side.
For more details on these collections, you may visit: http://www.atelierleseine.com/pages/carved-pearls-mens

Return to Featured Jewelry Collections page
Return to Diamond Jewelry Homepage
I hope you'll not mind sharing this on Twitter, Facebook and with everyone else :)
Feel free to share if something is in your mind and want it to be covered on this site.

My Newsletter

Did you liked this article? Sign-up my FREE weekly newsletter and I'll send you more awesome new additions on this website along with latest jewelry happenings around the world, and download my Jewelry Design Album for FREE!