<!- google_ad_section_start ->
Tension Engagement Rings - Is it about taking tension?

Tension Engagement Rings - Science of fine craftsmanship
Tension setting is relatively a new style of setting - invented in 1960 - and is perfectly suitable if one wants to really showcase the alluring beauty of a solitaire piece. If incorporated in a contemporary style engagement ring, the magical floating effect this setting creates can be simply stunning.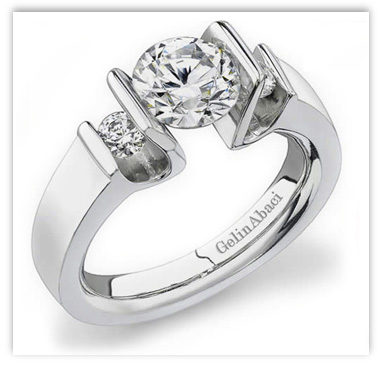 <!- google_ad_section_end ->
Are Tension Engagement Rings safe enough?
Tension ERs are as safe as having your favorite ice-cream on a hot summer day. There is quite a common misconception that tension setting engagement rings are risky and not safe enough and hence the name.
But, then is there any criteria for defining safe and unsafe settings!
Prong setting is considered safe and secure, but what about prongs getting bent any time causing diamond to fall.
In fact with other settings like prong for example, one can become careless assuming stone will always be safe in it.
On the contrary, with tension set engagement ring I am sure you'll always be extra careful. Also, as opposed to usual perception, you will have to bang the tension ring really hard to force the diamond to loosen and fall.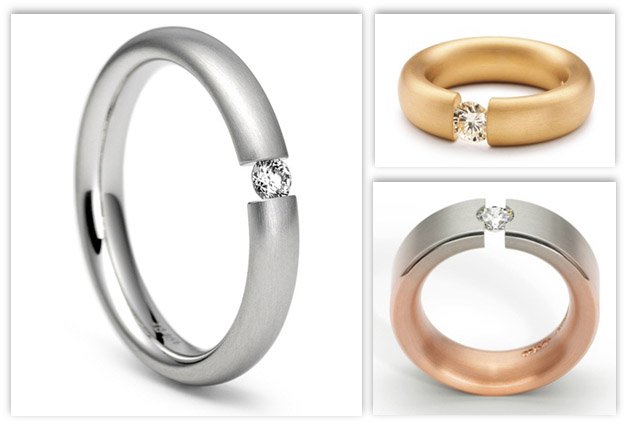 Technical Side
Usually when people see a tension set engagement ring for the first time, they just fell in awe and are left wondering how a precious stone is left suspended between metal in a tension setting ring.
Really speaking, there is no magic in this. It's just the setting technique that creates the drama. It's the compressive force of metal that creates pressure to hold the stone between the ends of metal band.
After carefully selecting the center stone, an open-ended ring shank is created with groves cut on either end for fitting girdle of the stone. In order to hold the stone tightly and securely, gap between ends of metal is kept smaller than diameter of the stone.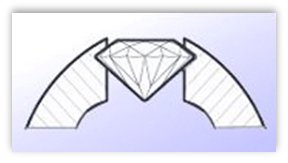 Choice of Stone Shape
Round is the most common and popular shape for tension setting engagement rings. However, other shapes like pear, marquise and princess stones are also the popular choice for tension setting engagement rings.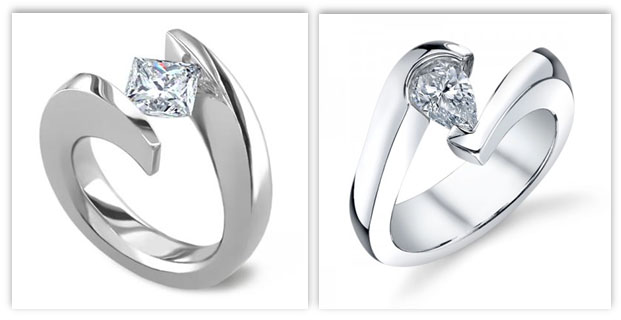 Suitable Gemstones

While there are multiple options to choose between different shapes of stone, you may find limited choice of gemstones suitable with tension setting. There are only three natural gemstones that are hard enough to withstand the immense pressure exerted on the stone in a tension setting - diamond, ruby and sapphire.
While diamond is the hardest natural substance with Moh Scale value 10, ruby and sapphire belong to Corundum family which is second hardest mineral after diamond.
Emphasis on Clarity of Stone
In a tension set engagement ring, most part of gemstone is exposed allowing maximum passage of light through it. So, it is very important to choose stone with high clarity, because even a slightest of inclusion may be easily visible. Also, higher clarity stone will show even more brilliance with less metal around it.
Can Tension Set Engagement Rings be resized?
Practically, resizing a tension set engagement ring it may not be cost-effective for you. This is because, in a tension engagement ring, size of shank and grooves is finalized according to size of the center stone. Therefore, resizing will require the whole process of creating from scratch, for which you will be charged extra. So, one can avoid paying extra by ordering the right size at the first instance only.
You can explore variety of options available in tension engagement rings along with playing with your creativity - like shuffling between different combination of metal and stone colors. But remember, whatever you decide it should be a well-thought decision.
Return from Tension Engagement Rings to Engagement Ring Articles
Return from Tension Engagement Rings to Diamond Jewelry Homepage
I hope you'll not mind sharing this on Twitter, Facebook and with everyone else :)
Feel free to share if something is in your mind and want it to be covered on this site.

My Newsletter

Did you liked this article? Sign-up my FREE weekly newsletter and I'll send you more awesome new additions on this website along with latest jewelry happenings around the world, and download my Jewelry Design Album for FREE!