<!- google_ad_section_start ->
Tiffany's "T" Collection - Trendy Treat with Classic Charm

Published on 17-Sep-2014
Tiffany never rests on its past laurels and is always ready to surprise its admirers and lovers.

<!- google_ad_section_end ->
This time around, it's the turn of its new "T" collection - specifically targeting smart and edgy ladies with a sense of style and attitude - that speaks of class and luxury. It's for the independent and free-spirited woman of today who doesn't wait for someone to buy her a jewel.
Brainchild of Tiffany's first female design director Francesca Amfitheatrof, this new striking collection from Tiffany is seriously stylish that will perfectly complement modern women.
The Inspiration
According to the designer, the inspiration behind her debut collection for Tiffany has been New York city itself, with its high-rise buildings and skyline. With letter "T" being the idea behind this collection, obviously there are no paisley or floral motifs.
It's the epitome of minimalism with contemporary and sleek looks, and the stylishly designed T motif in different ways really stands out.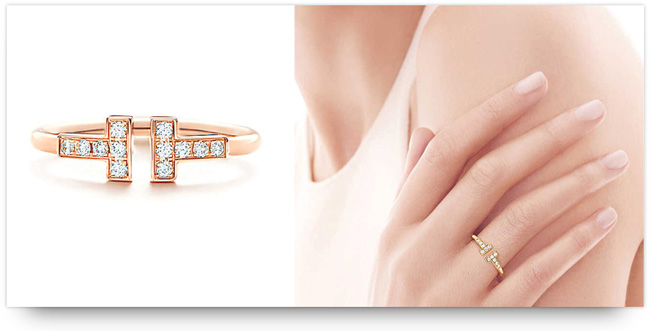 T-Ring

Something for Everyone
Don't think that it's just for bold and out-going women who eye for statement pieces - like bold hand-cuffs. "T" wire bracelet is designed keeping in mind those ladies who want a dainty look and inclined more towards delicate pieces. These jewels can be transitioned nicely for a boardroom meeting or an evening out.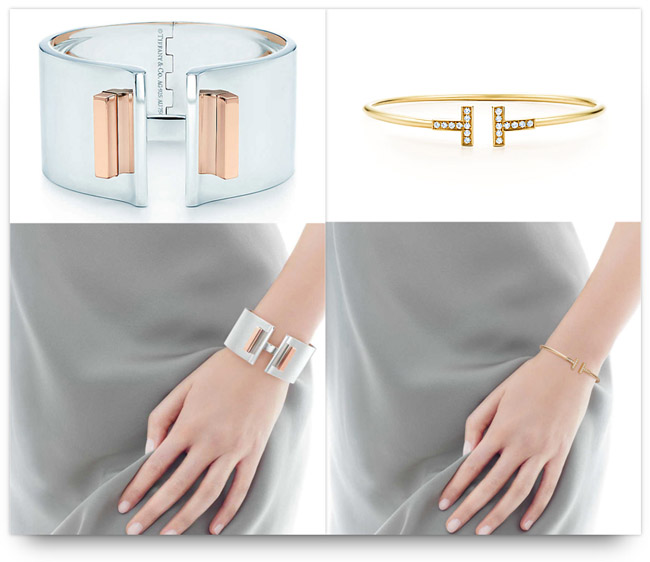 T bold cuff (left) and delicate bracelet (right)

Flexibility
Designer's attraction towards engineering structures is evident in this collection with enough importance given to flexibility and usability of pieces. Modular linking (allowing pieces movement in any direction) and fastenings links that allow modification in chain length are the key aspects.
The collection is versatile enough and can easily combine with ones personal sense of styling. You may not have to wear a T collection piece as it is. For example, the chain-link piece can be worn both as a bracelet as well as a long necklace. It's up to you how you want to spruce-up your look, double it if you want a short necklace or twist it further to transform it into a bracelet.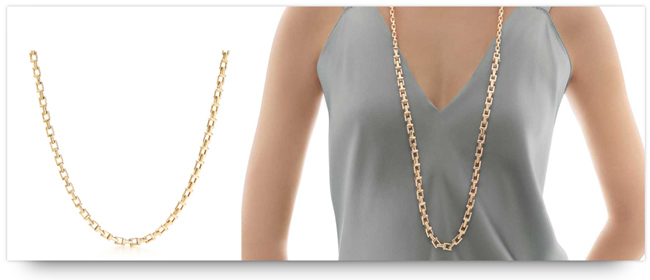 T Necklace

Materials Used
Amfitheatrof's 20 years of jewelry making experience reflects in this collection with it minimalistic design created out of metal without incorporation of any fancy elements. Yellow, white and rose gold, sterling silver and black rhodium are the main features along with use of diamonds in some of the designs and little use of ceramic as well.
Just like other Tiffany creations, all T pieces are inherently heirloom stuffs that can be easily passed on to the next generation. In my opinion, though the collection has modern look that will instantly jazz-up your glam quotient, it has that classic appeal too.
Return to Featured Jewelry Collections page
Return to Diamond Jewelry Homepage
I hope you'll not mind sharing this on Twitter, Facebook and with everyone else :)
Feel free to share if something is in your mind and want it to be covered on this site.

My Newsletter

Did you liked this article? Sign-up my FREE weekly newsletter and I'll send you more awesome new additions on this website along with latest jewelry happenings around the world, and download my Jewelry Design Album for FREE!