Twilight - The Fusion of Day and Night
by Megha Agrawal
(Pune, India)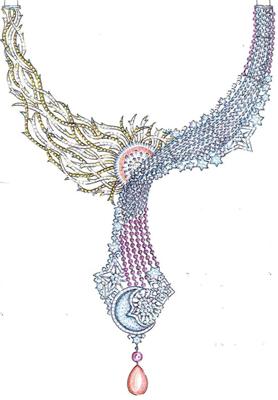 Necklace
Click to Enlarge Images
I am sharing one of my designs inspired by nature. The design is named "Twilight" and it shows fusion of day and night.
I got inspiration from twilight sky while designing this necklace and earrings. This design depicts rising of sun from cover of night sky.
Left Side of Necklace - This side depicts 'day'. I have used shades of citrine to depict sun rays. Quartz of semi circular shape represents the rising sun.
Right Side of Necklace - This side depicts 'night sky'. Pearls and diamonds are used to show moon and stars. Loose gold chain has been used to give flexibility to the necklace and to keep the total cost of necklace down.
Pearl and Quartz drops at the bottom have been used to give necklace and earring the balanced look.
Friends and visitors are welcome to share their views and comments on my design.
I hope you'll not mind sharing this on Twitter, Facebook and with everyone else :)
Feel free to share if something is in your mind and want it to be covered on this site.

My Newsletter

Did you liked this article? Sign-up my FREE weekly newsletter and I'll send you more awesome new additions on this website along with latest jewelry happenings around the world, and download my Jewelry Design Album for FREE!