<!- google_ad_section_start ->
Zircon - The December Stone
The term Zircon is derived from the Arabic words zar and gun, meaning gold and color respectively.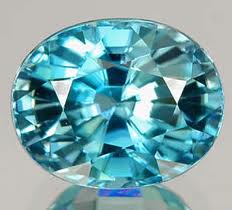 <!- google_ad_section_end ->
One of the birthstones for December, it is very brilliant and transparent stone available in several lovely colors. Its brilliance and hardness, make it a one of the desirable gems.
On Mohs Scale of hardness it's rated 7.5. Its major sources are Chanthaburi area of Thailand, Palin area of Cambodia, and the southern part of Vietnam.
Color
It's a well-known mineral that makes an important gemstone comprising of many colors. Natural variety with good color and transparency is quite uncommon; while most crystals are opaque and brownish.
This jewel is found in a wide range of colors like: blue, yellow, orange, brown, green, colorless, and red (the most prized color).
The dark brown to black color observed in most crystals is due iron oxide impurities. The green coloring in many rounded pebbles usually indicates that the particular stone is of radioactive variety.
| | |
| --- | --- |
| | |
| Different Colors | Colorless |
Uses
This gemstone was known to ancients as "hyacinth" and was revered for its many powers like, protection of travelers from disease and injury. It was especially sought after for men (for whom it was believed to keep evil spirits and bad dreams away, give protection against fascination and lightning, strengthen their bodies, fortify their hearts, restore appetite, suppress fat, produce sleep and banish grief and sadness from the mind). For women, this gem was believed to assist them during childbirth.
Nowadays, this jewel with several color forms is used in various forms of jewelry.
Enhancement Techniques
Techniques to enhance color and reduce the visibility of flaws are frequently used on this stone. Unfortunately, this gemstone suffers from a strange misconception that it is a synthetic or man-made stone rather than the lovely natural creation that it is. Perhaps, this misconception is due to the fact that they are frequently treated.
These gems are regularly treated to alter color, as so often seen in the blue and colorless varieties (many might mistake the colorless form of this gem for diamond because of its strong brilliance). But, these stones also occur naturally like yellow, brown, orange and red color. For many years colorless stone was used to imitate diamonds. However, most of these gemstones, especially the blue and colorless forms, are enhanced by heat treatment.
Things to Remember
Upon prolonged exposure to sunlight, color of this stone darkens and its luster becomes dull. However, this effect can be reversed by giving the stones a second heat treatment.
You need to exercise care because it is brittle and will chip or abrade easily. For this reason, zircon is recommended for rings only if, set with a protective bezel setting.
Return from Zircon to Birthstone Jewelry
Return from Zircon to Diamond Jewelry Homepage
I hope you'll not mind sharing this on Twitter, Facebook and with everyone else :)
Feel free to share if something is in your mind and want it to be covered on this site.

My Newsletter

Did you liked this article? Sign-up my FREE weekly newsletter and I'll send you more awesome new additions on this website along with latest jewelry happenings around the world, and download my Jewelry Design Album for FREE!