<!- google_ad_section_start ->
Baguette Prong Setting
Generally, channel setting is preferred for baguettes as its corners are very fragile and can be easily damaged. However, at times prong setting is also used for baguettes.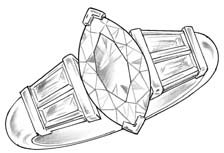 Prong Set Baguettes and Marquise Ring
<!- google_ad_section_end ->
How to create Baguette Prong Setting?
I have provided below the procedure to create perfect prong setting for baguettes with easy to follow steps. You may also like to read about how to make prong setting of round diamonds.
However, before proceeding with the setting procedure, it's very important to study the baguettes carefully. This will ultimately help you during setting process. So, verify:
All four corners of baguettes are intact and you don't have any damaged stones.
Are there any inclusions in the corners or setting areas?
Is the shape of the girdle and overall baguette uniform on all four sides?
Layout
Before setting diamonds in any style, it is essential to understand that preparing layout diamonds position is necessary to avoid placement problems that may arise at the time of setting. It also helps in choosing the right sized stones to fit in the desired mounting.
The baguette needs to overlap the prongs at both ends by 1/3rd of the prong's diameter and baguette should fit the width of the cup perfectly. It helps if you have baguettes with lesser depth and good crown angles.
Now place all the baguettes on a hard flat surface in layout position (table down) and compare their overall crown height. For perfect setting of baguettes, crown height of all baguettes should be same and tables should be at same level. Otherwise, you'll have to make adjustments in the seat while setting the stones.

Baguettes Layout
Seat Cutting Process
Seat cutting is a slow, step-by-step process and requires patience.
By using a saw blade, cut a groove across the inside of the prong at the height where you want stone's girdle to rest. Remember that groove should not be more than 30% of the prong's total width.
Now with a flat beveled graver remove metal from prong seat. Remember that the amount of metal removed should be between 40 and 50 percent.
Use a small bur to trim and adjust the angles of the inside walls of the side support (bur used must be small and undersized, larger bur will remove too much metal from the sides of support cup creating a larger seat). This process enables stone's pavilion to set properly in the seat.
| | |
| --- | --- |
| | |
| Baguette Seat Grooving | Baguette Seat Burring |
Before moving further confirm that tables of all the baguettes in row are even, at same level and fit tightly into the seat.
Setting Process
Now is the time to finally set your baguettes. With a hammer, tap and partially bend the prongs downward on to the baguettes to secure the stones in place.
Since prongs are small and thick, use of hammer tool to tap the prongs is recommended instead of pliers to bend. Bend only small amount of metal at a time. Any hurry at this point might damage the baguettes and will spoil your work done so far. Go back and forth till grip of prongs on all baguettes is tight and diamonds are secure. It's important to check that prongs style on each baguette is uniform.
Things to Remember
Setting baguettes becomes more difficult task because generally, the unique shape of baguette doesn't match the cutting angles of the bur which makes the cut in metal.
In prong set baguettes, stones are set by a single prong at both ends. Since corners of baguettes are very fragile, so it is necessary for prongs to hold the full breadth of the stone and protect them from getting chipped.
There should be deep and thick side metal support as it will give allowance for making cutting adjustments for stones with more depth.
If you use lightweight wires to support the stones or thin prongs and weak supports you won't be able to produce quality piece of jewelry. Also, thin prongs will often snag in clothes and make your setting loose and stone may fall.
| | |
| --- | --- |
| | |
| Strong Baguette Prong Setting | Weak Baguette Prong Setting |
Common Flaws of Prong Set Baguettes
| | | |
| --- | --- | --- |
| | | |
| Baguette with Improper Prong Grip | Loose Baguette | Angled Baguette |
Buyer's Checklist of Prong Set Baguettes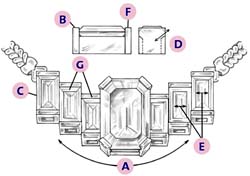 Baguette Setting Checklist
A - Each baguette is set securely and there is no movement in set baguettes. Diamond should not be loose. If so you can ask the jeweler to tight the setting before buying.
B - You should also check side view before buying and baguettes seat should justify proportion of diamond.
C - If view from top, the baguettes should cover the cup immediately below it.
D - The width of the top of the cup holding the baguettes should be beveled, not flat. It should be uniform, smooth and dent or scratch free.
E - Craftsmanship is not perfect if group of baguettes are set at different height and angle. As mentioned earlier baguettes to be set should be of same overall height.
F - As a guideline you can check that prong contact is 20% to 30% of the baguettes crown.
G - Corners of baguettes are delicate and they might get damage while setting. So check for it, if any of the diamond in ring is damaged then ask the jeweler to replace it.
Return from Baguette Prong Setting to Prong Setting page
Return from Baguette Prong Setting to Diamond Jewelry Homepage
I hope you'll not mind sharing this on Twitter, Facebook and with everyone else :)
Feel free to share if something is in your mind and want it to be covered on this site.

My Newsletter

Did you liked this article? Sign-up my FREE weekly newsletter and I'll send you more awesome new additions on this website along with latest jewelry happenings around the world, and download my Jewelry Design Album for FREE!