<!- google_ad_section_start ->
Diamond and Ruby Engagement Rings - Red is the "Color of Life"

Diamond and Ruby Engagement rings are one of the very good alternatives of diamond engagement rings.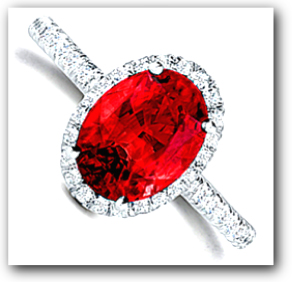 <!- google_ad_section_end ->
However, traditionally the first picture of an engagement ring, that comes in our mind is of diamond engagement rings. But, why being monotonous, why not think differently! Tradition should be our guide, not ruler.

Ruby Engagement Rings Meaning

Trust me there couldn't be a better way to express your love than with a Ruby Engagement Ring. After all, ruby (July birthstone) has been symbol of love and passion for ages.

Also, if you or your fiancee has birthday in July, think no further, as it can be romantic and symbolic at the same time.
With Mohs Scale hardness value of 9, ruby is definitely very hard, and durable enough for everyday wear.
This makes it a good choice for engagement rings. Being hard, allows it to be set into many different styles and jewelry settings.
Color me Red!
The first thing to decide before you purchase a ruby engagement ring is the color of your ruby. Beauty of engagement ring lies in the color of its stone; also color of ruby influences it price to a great deal. Darker the color of the stone, higher is its price.
Finest color is a vivid, almost pure spectral red with a very faint undertone of blue.
Variety
Ruby is available in variety of shapes and cuts; traditional cuts like round brilliants, ovals or fancy shapes like heart, cushion cuts or princess shape. Rubies are perfect choice for both vintage engagement rings and contemporary engagement rings.
You can choose the shape and setting according to taste and requirement and create your own vintage or contemporary engagement ring.
Solitaire ruby engagement ring can be chosen just like a solitaire diamond engagement ring. If you want a contemporary look, then let me tell you, diamond and ruby engagement rings in white or yellow gold in prong setting look quite classy.
By choosing diamond and ruby combinations, you can get a designer engagement ring with the fusion of beauty and brilliance of ruby and sparkle of diamond.
The classic 3 stone diamond and ruby engagement rings - having a large ruby center stone accented by two smaller round brilliant diamonds - have a symbolic meaning associated with them. Proposing with a 3 stone engagement ring is the ideal way to say "I've always loved you", "I love you now", and "I'll love you forever". Read more about Three Stone Jewelry.
You must remember, an engagement ring is a piece of jewelry that is worn daily. So, it's important that it should blend with the wearer's lifestyle. Thankfully, a ruby and diamond engagement ring looks gorgeous and blends with almost any attire. Even if she has an active lifestyle, don't worry, as mentioned earlier, ruby is quite durable to withstand busy lifestyle.
Diamond and ruby engagement rings are getting more popular as they are less expensive than diamond engagement rings. You will have to see yourself the mesmerizing beauty of ruby engagement rings to believe,  being affordable doesn't mean you are compromising.
Celebrities' Choice

The ruby engagement rings gained popularity when Prince Andrew proposed Fergie, the Duchess of York, with a ruby engagement ring.
Recently, Facebook founder Mark Zuckerberg tied knot with Priscilla Chan with a ruby engagement ring. People may wonder if this is going to set the trend of ruby engagement ring among Facebook fans!
Jessica Simpson was also proposed with a ruby and diamond engagement ring.
Things to Remember
Before buying, get yourself educated and gather enough information about ruby. And as always, deal with reputable jewelers only when considering to purchase.
When considering buying very fine ruby, it's highly recommended to get the stone tested in laboratory for confirmation of authenticity and whether or not any enhancement techniques have been used.
Finally, I would suggest to consider following points when thinking of purchasing ruby jewelry:
Concentrate more on quality of the gem and not the size of the gem; after all "quality" is what really matters the most.
Confirm its clarity. The general rule is, when you look into the stone with naked eye, there shouldn't be any inclusions. Stone having inclusions may appear cloudy. Presence of inclusions also indicates, ruby may be prone crack or chip.
Nowadays, lot of jewelers are offering ruby engagement rings. But, I recommend buying online, because due to intense competition in the online market, you can get lot of options and varieties to choose from at a comparatively lower price.
Return from Diamond and Ruby Engagement Rings to Diamond Alternative Engagement Rings
Return from Diamond and Ruby Engagement Rings to Diamond Jewelry Homepage 
I hope you'll not mind sharing this on Twitter, Facebook and with everyone else :)
Feel free to share if something is in your mind and want it to be covered on this site.

My Newsletter

Did you liked this article? Sign-up my FREE weekly newsletter and I'll send you more awesome new additions on this website along with latest jewelry happenings around the world, and download my Jewelry Design Album for FREE!