<!- google_ad_section_start ->
Different Styles of Heart Pendant Necklaces

Heart Pendant Necklaces - Let the Heart speak!
You cannot measure love but you can surely express it in a stylish way, with heart pendants being one of it.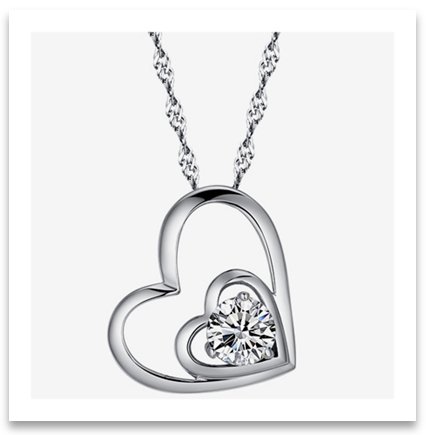 <!- google_ad_section_end ->
Heart is symbol of love and joy, so presenting a necklace with heart pendant will have a definite meaning behind it, while showing the importance of that person in your life.
Now, don't assume that heart pendant is only meant for Valentine's Day. There is no such written rule that says matters related to love are only meant for special days and occasions. Expression of love is not bound by time or event!
With heart pendants you may find endless options with myriad of designs. In this article I have mentioned some of the popular styles of heart pendant necklaces to give an idea of what all you can choose from. You may also like to read how to choose the right necklace.

Money Matter
If budget is not the constraint and you are ready to let the wings of your heart fly, then don't let it stop before it lands on solitaire. Diamond solitaire heart pendant is the epitome of expressing your love in an exquisite way.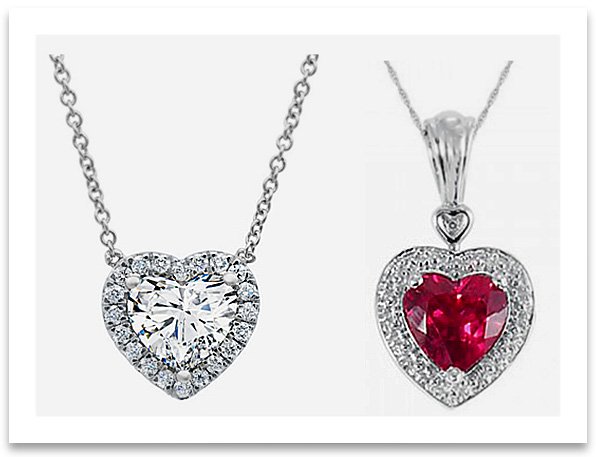 Diamond Solitaire (left) and Ruby Solitaire (right)

However, if you are financially tight, then gemstone solitaire heart pendant can come at your rescue. Members of a truly romantic group can avail the service of ruby or pink sapphire solitaire heart pendant necklaces. Pendant adorned with red or pink stones spells the passionate and joyful mood with the fusion of color into emotion.
Personal Touch
Personalizing the heart pendant with birthstone is another way of articulating your love for someone you hold dear. You can choose his/her heart-shaped birthstone and get it encased in a heart-shaped frame. Frame can be a bare metal with a sleek look or can be decorated with diamonds or gemstones.
Another style can be gemstone studded heart pendant - like the one below. This elegant piece (image below) has trail of small diamonds and rubies bedecked on heart-shaped metal frame.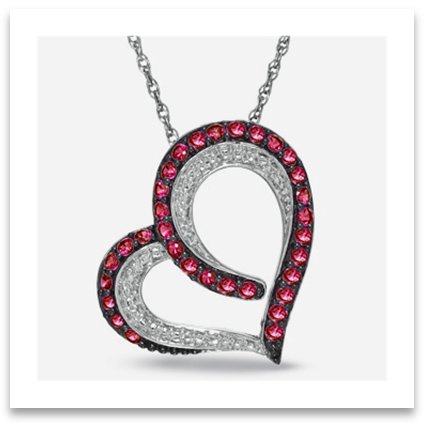 Engraving is really a sweet and cute way of personalizing a heart pendant. You can engrave your dear's name, special date, quote or any memorable moment on heart pendant (image below-left). Won't it be a wonderful idea to combine engraving with birthstones like this pendant (image below-right)!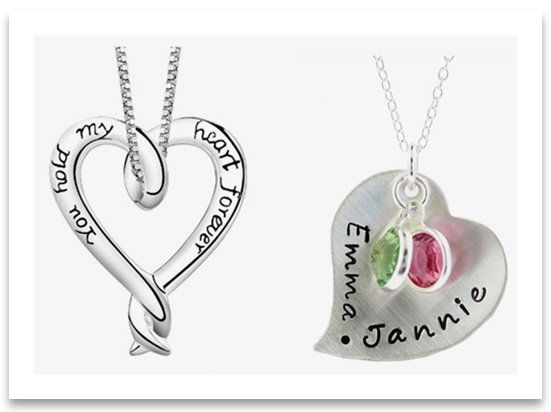 Small Diamonds
Small diamonds will allow you have enough space to let your creative juices flowing. There are innumerable possibilities that one can play with, like channel set baguettes giving a contemporary look, and prong set small diamonds imparting the traditional twist. However, it's not just the setting that decides the looks of heart pendant. It's the overall design of pendant that matters most.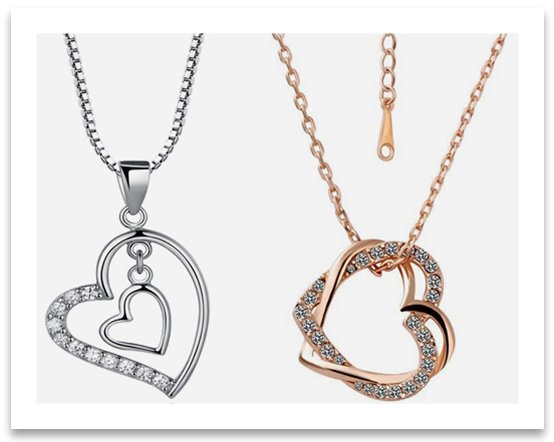 Metal Color
You can also toy around with color of metal. This two-tone heart pendant has a small pink gold heart residing inside bigger white gold heart. Two tone effect is achieved by combining metals of two different colors.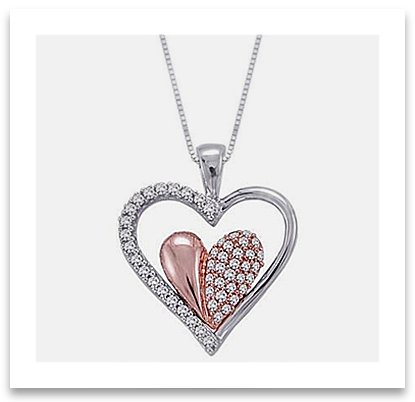 Love in not bound by Relations
Love is not confined to any particular relationship, like - boyfriend-girlfriend or husband-wife. Relation between a mother and her child is another form of love that symbolizes selflessness and devotion. This heart pendant necklace from Amazon (image below-left) beautifully depicts the genuine love of mom and child.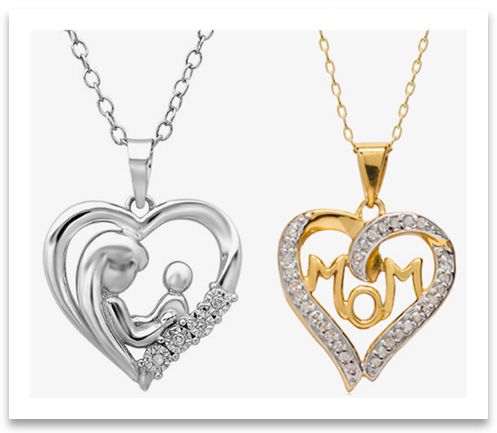 Thinking about gifting something special to your mother on her birthday? This (image above-right) simple yet stylishly designed pendant can definitely grace her neck. If your better-half is expecting, then it can be a meaningful "Push Present" for her as well.
Popular Brands
High-end brands have launched various heart collections from time to time. Double heart pendant necklace from Tiffany is one of the classics. Many jewelers replicate the popular designs of luxury brands. Search with the local jeweler and you will find the replica piece of the brand you fancy.
De Beers (top-left) and Harry Winston (top-right)

Old-world Charm
If your heart beats for antique jewelry, so why not have it in form of a heart pendant. In this crowded world of modern neon lights, bring on the romance of candlelight! You can find heart-stealing antique and vintage heart pendant necklaces at various online retail stores.
Just look at the beauty of this Victorian heart pendant necklace set with ruby and old-mine cut diamonds. I couldn't stop myself from taking this image (below) from A La Vielle Russie website. Lovely piece and a true antique admirer will surely appreciate the even-more-beautiful back-side view of this vintage piece.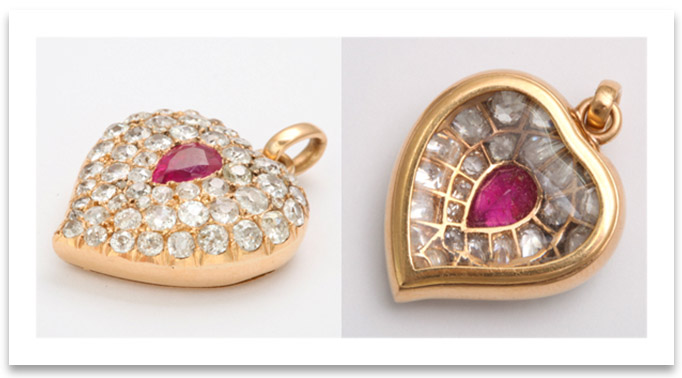 Front view (left) and Back view (right)

This antique blue topaz and pearl heart pendant (image below-left) from Eragem is light in weight with heavy craftsmanship. An antique lover will instantly notice the fine filigree and miligrain work.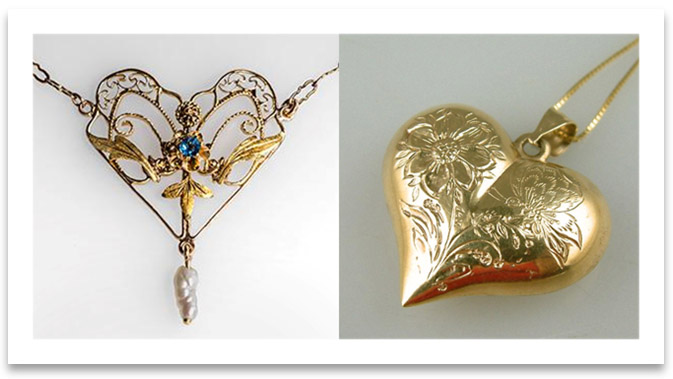 If traditional yellow gold is in your mind, then I have that too for you. Isn't it (image above-right) ringing vintage sound in your ears! Adorn it on your neck or gift to someone special who will thank you always for this beauty.
So big or small diamonds, brands or no brands, go ahead and convey your love. It's always good to shower your loved one with affection and surprises.
Return from Heart Pendant Necklaces to Diamond Articles page
Return from Heart Pendant Necklaces to Diamond Jewelry Homepage
I hope you'll not mind sharing this on Twitter, Facebook and with everyone else :)
Feel free to share if something is in your mind and want it to be covered on this site.

My Newsletter

Did you liked this article? Sign-up my FREE weekly newsletter and I'll send you more awesome new additions on this website along with latest jewelry happenings around the world, and download my Jewelry Design Album for FREE!