<!- google_ad_section_start ->
The Millennium Star
Millennium Star which initially weighed magical 777 carats (155.4g), is a relatively new gem in the world of famous diamonds. It was discovered in 1990 in Mbugi-Mayi district of Zaire (now Democratic Republic of Congo).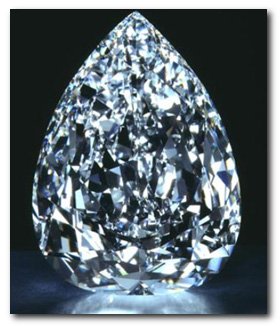 <!- google_ad_section_end ->
It is a beautiful blue pear shaped diamond, with "D" color and flawless from both inside and outside. It is the 2nd largest faceted, "D" color, flawless diamond in the world - Centenary (273.85carat) being the largest. Also, it's the 6th largest gem quality diamond ever discovered.
Former De Beers chairman Late Harry Oppenheimer famously remarked that "it is the most beautiful diamond I have ever seen."
Cutting
This crystal was purchased by De Beers and the responsibility of cutting this huge stone was given to international team of cutters working under Steinmetz Diamond Group. More than 100 plastic models of the rough stone were created to plan and design the best optimal cut for the stone.
Team studied the rough stone for around 4-5 months, and it was decided to cut the stone in three parts - biggest of three being the Millennium Star. Special room was built to cut the rough diamond with specially designed tools.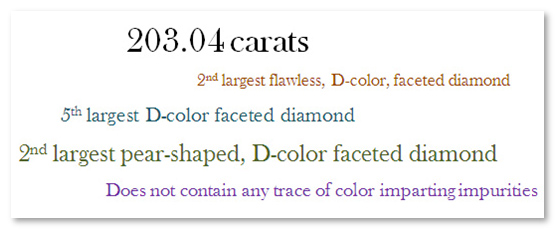 It took almost 3 years to cut this stone. The stone was cut in Belgium, with polishing and final finishing done in South Africa and New York respectively. Laser technique was employed to give it the classic pear shape.
The gem consists of 54 facets and weighs 203.04 carats (40.608g). You would be surprised to know that there is not even a single scratch or burn mark on any of its facets.
Public Display
This magnificent gem made its first public appearance in October 1999 at London's Millennium dome. It was displayed as center piece of the De Beers Limited Edition Millennium Diamond Collection.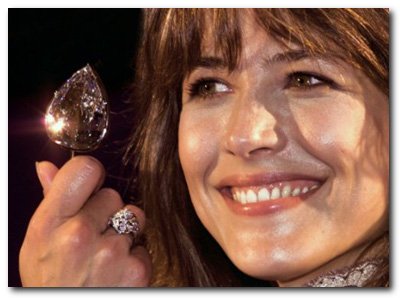 Sophie Marceau with Millennium Star during public display at De Beers Limited Edition Millennium Diamond Collection

This diamond collection was possibly the most valuable set of diamonds ever put together. The rest of the collection included 11 rare and beautiful blue diamond of different shapes and carat weight, ranging from 5.16 carats to 27.64 carats. The total weight of these 11 diamonds was 118 carats (23.6g). The largest was Heart of Eternity weighing 27.64 carats.
Value of Millennium Star
The then chairman of De Beers, Nicky Oppenheimer didn't put any official value to the millennium star. According to him, any value assigned would be purely academic.
Though there have been speculations about the price of this diamond, it is learnt to be insured for 100 million English Pounds. And this is believed to be just fraction of its value! So you can imagine (or may I say, not imagine) the price of this gem.
Return from Millennium Star to Famous Diamonds page
Return from Millennium Star to Diamond Jewelry Homepage
I hope you'll not mind sharing this on Twitter, Facebook and with everyone else :)
Feel free to share if something is in your mind and want it to be covered on this site.

My Newsletter

Did you liked this article? Sign-up my FREE weekly newsletter and I'll send you more awesome new additions on this website along with latest jewelry happenings around the world, and download my Jewelry Design Album for FREE!