<!- google_ad_section_start ->
Opal Engagement Rings
Opal engagement rings can be one of the many choices if you are looking for diamond alternative engagement rings.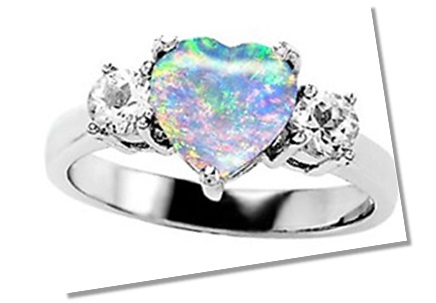 <!- google_ad_section_end ->
It's a unique gem in the sense that it displays an array of very brilliant rainbow effects, all mixed up together, with intensity and quality of color that can surpass the "fire" of diamond. No doubt, that's why it's called "Queen of Gems".
Meaning of Opal Rings

Opal is the symbol of fidelity, assurance and commitment. So, an opal ring is undoubtedly an apt token of strong relationship.
Opal with vibrant colors and brilliance, resembles the colors of fall and is certainly appropriate as one of the birthstones for October.
So, if your fiancee is October born then opal engagement ring can certainly be a good option.
Also, if you are proposing or planning your wedding in October then opal ring will look very symbolic and meaningful.
An opal ring displays the beauty of a vintage style ring that cannot come in a regular diamond ring.
So, if your love has a feel and taste for old worldly charm, go for it. Additionally, you can get an opal  ring at lesser price than a traditional diamond engagement ring.
Things to Remember
While choosing between varieties of opals, go for Boulder Opals. This type of opal makes a good choice for the opal ring because of its sturdiness.
In process of creating a handmade unique engagement ring, you need to be careful about your engagement ring settings. I'll suggest bezel set engagement ring. Bezel setting covers the edges of the stone and provides better protection to it. Whereas, in prong setting open edges of the stone are more vulnerable to impact and blows.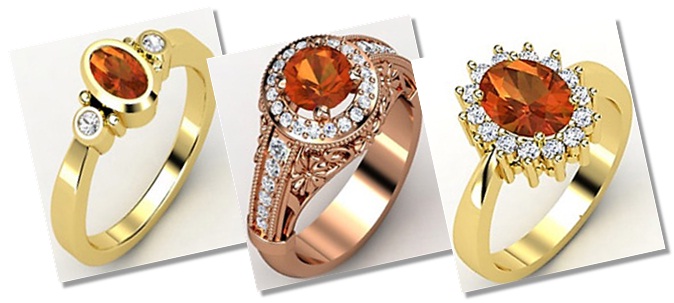 You can also have small diamonds in prong setting or pave setting around opals. This will give your opal the security as well as you will have designer engagement ring. Another advantage is, you will have a diamond engagement ring but with a totally unique look and at much lesser price!
Since there is no additional brilliance to be captured by a good faceting job, this stone is usually cut flat or in cabochon. My advice is to go for low (low dome height) cabochon. This ensures safety as high cabochons are more vulnerable to impact damage.
According to taste, opal ring can have various cuts. This gemstone is easily available in round, heart, marquise, emerald cut and princess cut.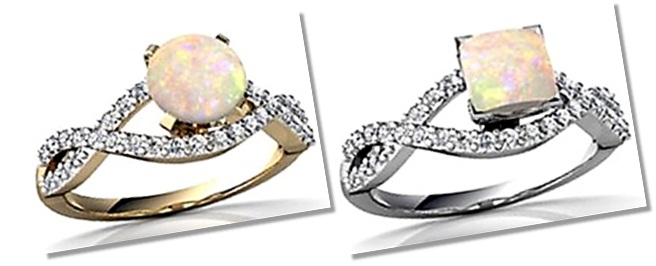 Synthetic opals are very difficult to be differentiated from the naturals and are being encountered with increasing frequency. So, make sure you know what you are getting by checking the facts with a gemologist or an appraiser. And before making the final decision of buying, shop around and research properly. This holds true for opal, more than any other stone.
Opals require special care because some tend to get dry and crack. It may lose its luster due to small scratches on its surface. However, it can be re-polished by a lapidary to renew its glossy surface.
Many a times, opal will seem to just lose its fire due to dehydration. So, avoid exposure to anything that is potentially drying.
Don't Hurry!
OK, I agree you may have made up your mind to look for opal ring, but don't just go by the stunning beauty of this gem, as you should know other facts about it as well.
It is NOT a very hard stone and on the Mohs Scale it is rated around 5.5 - 6.5 while diamond is rated as 10. It's an important fact that you should know before buying an opal engagement ring. If opal is not handled properly it can break.
But, this doesn't mean you should drop the idea of opal engagement ring, I just mean you will need to take good care of this magnificent gemstone to have your engagement ring for lifetime.
So, if you know your fiancee will be able to protect and take care of luster and beauty of opal engagement ring - as she treasures your love – then go for it!
Return from Opal Engagement Rings to Diamond Alternative Engagement Rings
Return from Opal Engagement Rings to Diamond Jewelry Homepage
I hope you'll not mind sharing this on Twitter, Facebook and with everyone else :)
Feel free to share if something is in your mind and want it to be covered on this site.

My Newsletter

Did you liked this article? Sign-up my FREE weekly newsletter and I'll send you more awesome new additions on this website along with latest jewelry happenings around the world, and download my Jewelry Design Album for FREE!