<!- google_ad_section_start ->
Panthere de Cartier - Cartier's Loyal Cat!
Published on 26-Sep-2014
"Panthere de Cartier" is the series of Cartier jewels, exhibiting various moods and postures of panther - from playful to untamed, from calm to savage. Jeweled beautifully in the Cartier trademark combination of diamonds, black lacquer, onyx, emeralds and other gemstones, panther-inspired collection belongs to the confident and for one who doesn't shy away from making a bold statement.

<!- google_ad_section_end ->
After all, will the brazen and audacious motif of panther meld with a shy and demure woman? Of course not! It's for those who want things to be in their control and doesn't shy away to show their powerful and bold presence.
Brief Background
2014 marks the centenary year celebration of association of Cartier and the Cat, with the first panther-inspired piece - a diamond studded wrist-watch with onyx spots - introduced by Louis Cartier in 1914. From then on, Cartier has beautifully tamed the wild beast, modelling and re-modelling its various characters.
So, celebrating the 100 years of togetherness, the French luxurious brand - master in creating engagement rings - has launched Panthere de Cartier collection. It features one-of-its-kind heirloom pieces with some taking more than a year to evolve into final shape.
True to Cartier design and style - known for infusing rare elements while creating unique and timeless pieces - Panthere de Cartier's bold necklaces, rings, bracelets, earrings and brooches are without doubt eye-catching and gorgeous.
Below are the images of few of pieces which caught my attention the most.
Rings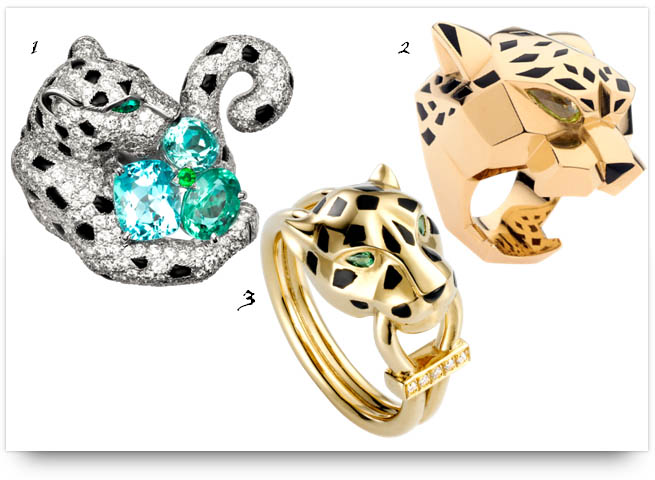 This ring captures the panther in coy playful mood while holding its children in the form of colorful cushion-cut aquamarine and two oval-cut beryls.
Depicting the cat's full glory in its wildest form, one can listen the silent roar announcing that he is out for the hunt. Peridot eyes with marvelous use of gold along with black enamel spots are majestically portraying the savage mood of the beast.
Done with the kill and slowly returning while holding on the prey. Yellow gold, with a little bit of diamonds and eyes set with tsavorite - it's no less than a trip to wild safari!

Necklaces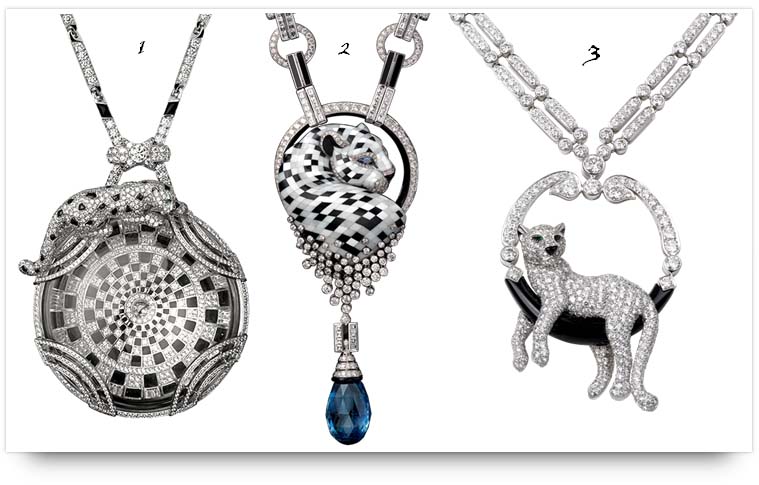 Set in 18K white gold with rock crystal as base and studded with 1,684 brilliant-cut diamonds (total 13.74 carats) along with small emeralds as eyes and onyx on body. Forget any other decorative, this necklace doesn't need the support of side-actors!
Wonderful choice of ingredients to create a brilliant recipe. Agate mosaic is finely shaped to create the body of panther with graduating platinum-mounted white diamonds holding a briolette-cut sapphire. Regality written all over it!
Depicting the feline (set in platinum) in chill-out mood - with composed and alert emerald eyes and onyx snout - resting on tree branch made of onyx.

Bracelets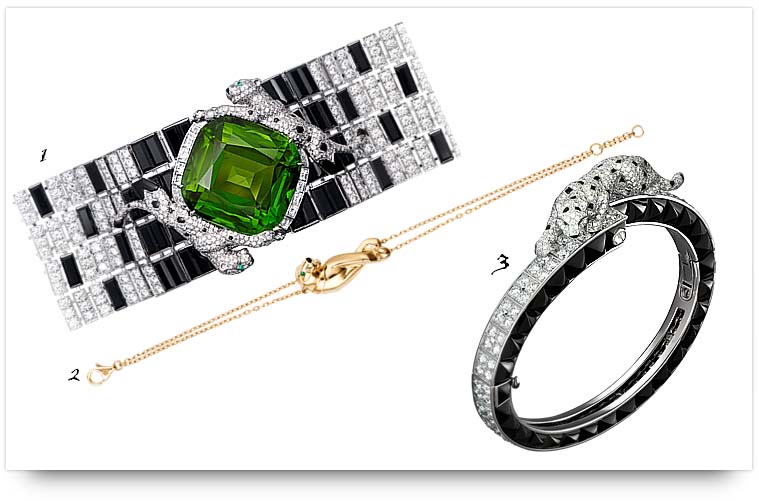 It's the opulent-designed piece made in platinum with a prominent cushion-cut peridot. Use of black onyx is adding to the playful combination of white and green.
This feminine and delicate bracelet - crafted in yellow gold with tiny tsavorite garnet eyes of feline - is an everyday work-wear piece that will certainly add edge to your personality.
This royal piece with the fine craftsmanship is the perfect stamp of Cartier work. It is set in 18K white gold, with 684 brilliant-cut diamonds (total 10.72 carats), onyx and emeralds. Use of metal is just enough to hold the diamonds while keeping the focus on latter.

Cartier's passion for fine craftsmanship brings alive the feline in the modern yet classic pieces. Focus is more on the structures and forms with a neat work. Each piece in the collection stands-out with each attracting the attention.
For more details you may visit: http://www.cartier.com/collections/jewelry/collections/panthere-de-cartier

Return to Featured Jewelry Collections page
Return to Diamond Jewelry Homepage
I hope you'll not mind sharing this on Twitter, Facebook and with everyone else :)
Feel free to share if something is in your mind and want it to be covered on this site.

My Newsletter

Did you liked this article? Sign-up my FREE weekly newsletter and I'll send you more awesome new additions on this website along with latest jewelry happenings around the world, and download my Jewelry Design Album for FREE!