<!- google_ad_section_start ->
Rough Diamond Engagement Rings

Rough diamond engagement rings express sophistication, confidence and boldness in a self-assured way.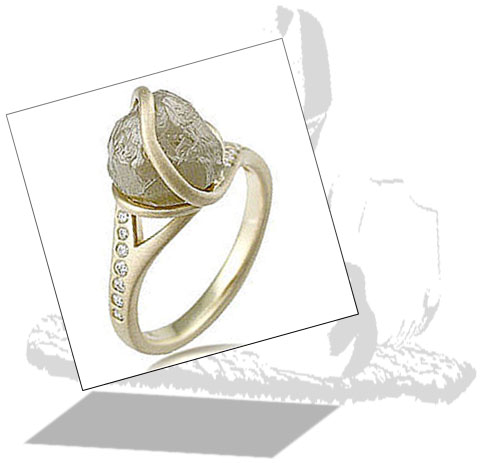 <!- google_ad_section_end ->
It's so true to say that your jewelry reflect you and your dressing style. This statement becomes even more appropriate when we are talking about rough or raw diamond engagement rings. Sporting a rough uncut diamond engagement ring shows that you are not a trend-follower, but a trend-setter!
However, many of my readers have quite a lot of queries related raw diamond engagement rings, and are apprehensive of buying engagement ring with rough diamonds.
So, information provided on this page should definitely help in knocking-off their indecision.
Appearance
A diamond that you see in a jewelry store undergoes cutting and polishing to enhance its overall brilliance. There is a systematic Lapidary process that is applied on rough diamond to give it a brilliant sparkle.
On the other hand, raw or rough diamond means natural state of diamond as discovered from Mother Nature.
Rough stone has no uniformity in its shape and looks like a pebble. In simple words, it's a untouched and unadulterated rustic beauty created by nature.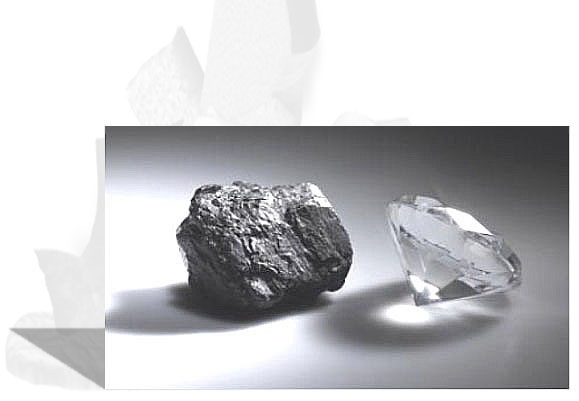 Rough and Polished Diamonds

Raw uncut diamond has its own exquisiteness and character. People have now started appreciating the beauty of organic and eco-friendly rough diamonds. Some just love its natural looks, while some need to acquire the taste to enjoy diamond in its original form.
Rough diamonds are eco-friendly because these are used as-is in jewelry. These roughs don't undergo cutting and polishing process which eventually is resource and energy intensive work. So, it should be a good enough reason to wear rough diamond as a mark environment friendliness.
Exclusiveness
Rough diamond rings are gaining popularity among those who want something really unique. I don't want to sound rude, but every jewelry brand is marketing its engagement rings as exclusive and one-of-its-kind. However, when you compare, each one has similar or identical stuff.
So, if you are really looking for an unmatched and exclusive engagement ring, then I will suggest you to go for a raw diamond engagement ring. You can play with your imagination and create your own custom unique raw diamond engagement ring. Here are some of the unique rough diamond engagement rings.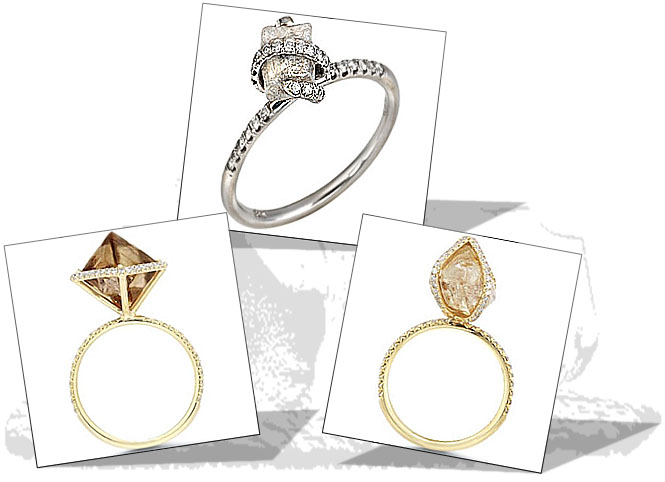 Blends with all Styles
Rough diamonds blend with all engagement ring styles - be it traditional classical designs or contemporary modern look. Many designers work exclusively with rough diamonds and create extraordinary work of art.
Sarah Perlis, Todd Reed and Melissa Joy Manning are few of the leading designers that have expertise in rustic and rough diamonds. Etsy has amazing collection of rough diamond engagement rings.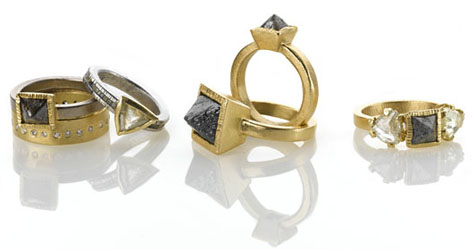 Todd Reed's designs

Value
For cut and polished diamond, 4Cs determines its value. Blemishes, inclusions or presence of color can reduce the value of polished diamond.
On the contrary, it's different for raw uncut diamonds. Imperfections give unique identity to a raw stone, adding a character to its soul.
Value of a rough diamond engagement ring depends totally on the center raw stone (provided you are not setting your rough diamond engagement ring with additional polished stones). Rarer the color, size and shape of the stone, the more pricey it gets. But, considering its exclusivity, these are reasonably priced compared to polished diamonds.
Popular among Celebrities
Celebrities have often stepped on red carpet with rough diamond jewelry. Raw diamonds give them the much desired exclusive look. Jennifer Lopez, Alicia Keys and and Rihanna are some of the celebrities who have unique raw diamond ring.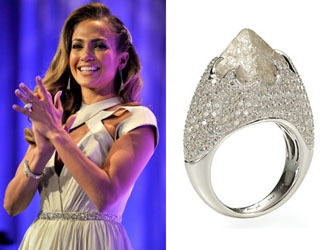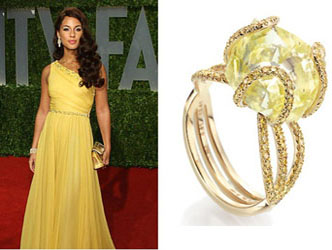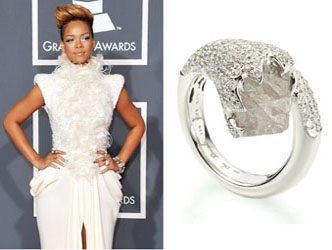 Things to Remember
Buyers must consider following points to get the best rough diamond engagement ring:
First-time buyers must consult an expert before finalizing. It's not that easy to determine the value of rough diamonds. An expert can guide you with true price of the stone and you will get value for your money.
Buy your raw diamond engagement ring from a trusted and credible jeweler. A reputed jeweler has to maintain its reputation, as even one bad review can harm its business. You may have to pay premium for its brand value, but at least you will get piece. If you are considering buying online, do read about online jewelry buying.
Rough diamonds are of irregular shape and size so all jewelry settings are not suitable. So, choose your engagement ring design carefully, after all being uncut and unpolished, its beauty depends hugely on its design. As seen in below image, setting rough diamond in a frame of prong, pave or halo setting gives the stone much needed safety.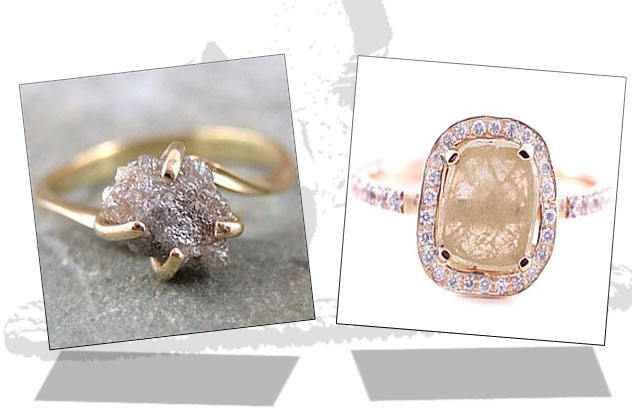 Prong Setting (left) and Prong-Halo Setting (right)

Bezel setting is the most common setting used for raw diamond engagement ring. This makes the engagement ring suitable and sturdy for everyday wear.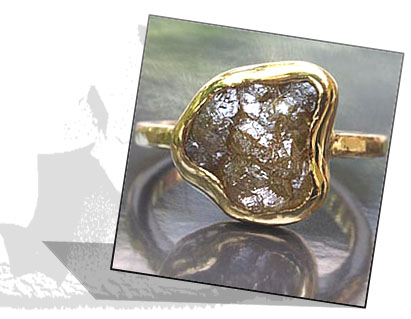 Bezel Setting

You must have the knowledge of whether your love is inclined towards rough diamonds. If she has a bias for organic and natural beauty, then she will surely love it. You will be appreciated if she is a fashion leader and always ahead in trying something unique.
So, surprise your love with a rough diamond engagement ring, she will indeed be amazed on how much you notice her taste in fashion and jewelry!
Return from Rough Diamond Engagement Rings to Engagement Ring Articles page
Return from Rough Diamond Engagement Rings to Diamond Jewelry Homepage
I hope you'll not mind sharing this on Twitter, Facebook and with everyone else :)
Feel free to share if something is in your mind and want it to be covered on this site.

My Newsletter

Did you liked this article? Sign-up my FREE weekly newsletter and I'll send you more awesome new additions on this website along with latest jewelry happenings around the world, and download my Jewelry Design Album for FREE!