<!- google_ad_section_start ->
Royal Indian Jewelry - Facts of famous Indian Jewels
Royal Indian Jewelry - The Lost Glory
I was actually browsing through a photo album of my grandparents when the idea of this article popped up. In most of the pictures, my grand-mom was literally covered with heavy traditional Indian jewelry. So, I thought why not write something about famous Indian jewelry that graced royals from different parts of India.
<!- google_ad_section_end ->
Well I am talking about days of pre-independence India (before 1947) when India was under British rule and was considered jewel in the crown of British empire. India of those times was called "The Golden Bird" for not just any reason - it was blessed with rich heritage of gems and jewelry.
So, I have listed below some of the iconic jewelry pieces belonging to various Indian royals - this is just a drop in the ocean. Order of listing is random and not according to price.
Sarpech of Nizam
The Nizam's of Hyderabad were famous for their exquisite jewelry collection with Deccani, Rajasthani and Lucknavi artistry. At the time of independence, Nizam Osman Ali Khan had the biggest and the most valuable collection of gems and jewelry in India, and was said to be the world's richest man until his death in 1967. By experts estimates the collection today (2014) can fetch more than INR 15 billion in international auction.
Among many of the notable jewels and jewelry, Sarpech or turban ornament that Nizam would wear on his head was one of those.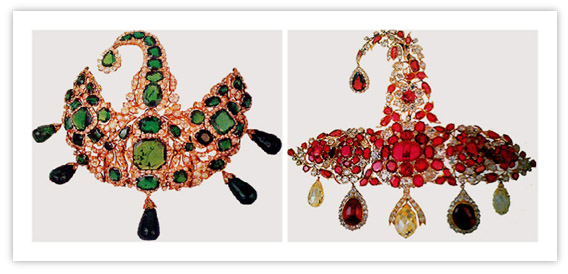 Royal Indian Jewelry - Sarpech-khurd-zamarrud-wa-kanval-almas (left) and Sarpech-yakhoot-wa-kanval-almas (right)

Sarpech-khurd-zamarrud-wa-kanval-almas was studded with over 30 emeralds (total 510 ct) and diamonds (total 90 ct). It was bought by Indian govt in 1995 for INR 50 million.
Sarpech-yakhoot-wa-kanval-almas set in gold, with rubies (110 ct) and diamonds (111 ct) - total weight 145.65 gm - was bought by govt for INR 20 million.
Note that price paid by Indian govt at that time was much less than the valuation done by international auction houses.
"Baroda Pearls" of Gaekwads
Among the jewels of Baroda royal family, the "Baroda Pearls" necklace has got the maximum attention. It's a 2-strand natural pearl necklace with 68 graduated pearls up to 16 mm in size assembled in the 1850's. The necklace was sold for almost USD 7.1 million at Christie's auction house in New York in 2007.
Maharaja wore heavy necklaces, armlets, bracelets and ornamental belts showcasing majesty and richness of royal treasury. Often, costumes and accessories of males were more elaborate than females.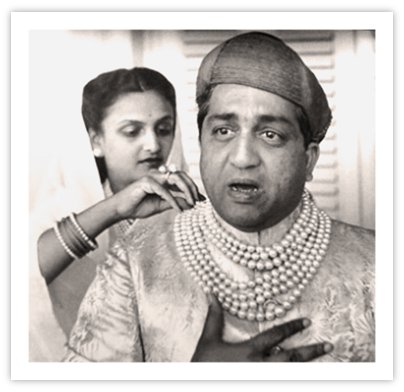 Royal Indian Jewelry - Maharaja Pratap Singh Rao Gaekwad wearing the original seven strand "Baroda Pearl" necklace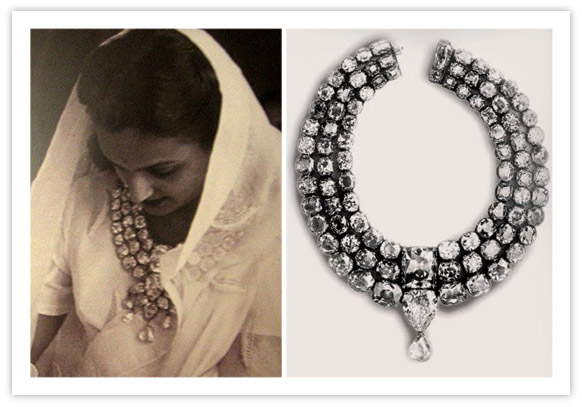 Royal Indian Jewelry - Maharani Sita Devi of Baroda wearing 3-tier diamond necklace with cushion cut "Star of the South" diamond and the pear shaped "English Dresden" diamond below it as centerpiece of the necklace
"Naulakha Haar" of Landlord of Bihar
Not many people may know that Maharaja Rameshwar Singh of Darbhanga - the landlord from Bihar - had the third best gems and jewelry collection (after Nizam and Gaekwad) of post-independence India. The most famous of the Darbhanga jewels was the "Naulakha Haar" - a long necklace of pearls, diamonds and emeralds.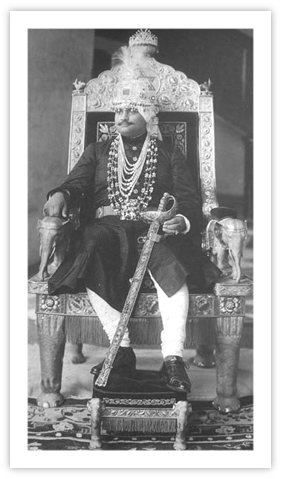 Royal Indian Jewelry - Maharaja Rameshwar Singh wearing Naulakha Haar

Originally, this necklace belonged to Peshwa Baji Rao who acquired it for INR 9 lakh (that's how it got its name "naulakha") - 1 Lakh is equal to 0.1 million - at that time and remained with Peshwas till 1857 when it was sold by Peshwa Nanasaheb to Rana Jung Bahadur of Nepal for a pittance.
In 1901, Maharaja Rameshwar Singh bought it from Nepali Prime Minister Dhir Shamsher Rana who was forcefully removed from his post and fled Nepal. Its exact selling price is not known, but it is said Rameshwar Singh paid in cash as Shamsher Rana was short of fund and urgently needed money.
Patiala Necklace
This grand art deco style necklace was created in 1928 after three years of hard-work by Cartier, and was owned by Maharaja Bhupinder Singh of Patiala. It is probably one of the most privileged and expensive jewelry in Indian history. It had 2930 diamonds and weighed 962.25 carats including the magnificent De Beers diamond.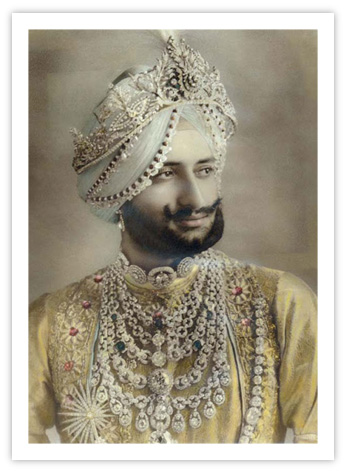 The $25 million necklace sparked controversy when it disappeared mysteriously from the royal treasury of Patiala in April 1948. It was later rediscovered and purchased by Cartier in 1998. However, with most of the gems missing and due to high price of real diamonds, CZs were used to recreate the original beauty.
It took Cartier 2 years to reassemble the necklace. Since then it has been on display in many exhibitions all over the world.
Treasures of other Royal Families
Rulers of every princely state - big or small - had their own collection of heirloom gems and jewelry.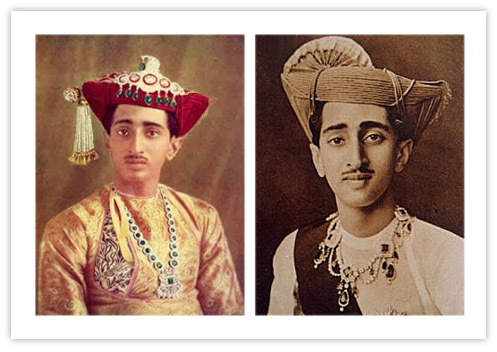 Maharaja Yeshwantrao Holkar of Indore wearing two spectacular emerald necklaces - traditional Indian design (left) and European design (right)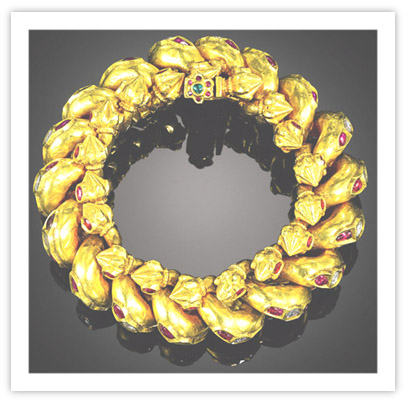 Gold anklet of Maharaja Waghji Ravaji of Morvi was up for auction at Sotheby's and estimated to be worth around £300,000 - 500,000. It has 18 gold-wrapped twirling links, each encrusted with finely cut oval diamond and four lateral cabochon rubies.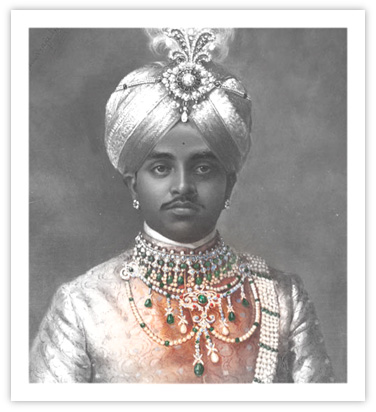 Maharaja Sir Sri Krishnaraja Wodiyar IV Bahadur of Mysore, 1906 - all decked up in necklace made of pearls diamonds and emeralds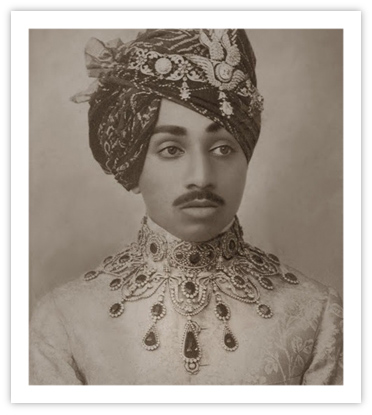 Maharajah Umaid Singh of Jodhpur (1920) adorning heavy diamond and gemstone necklace.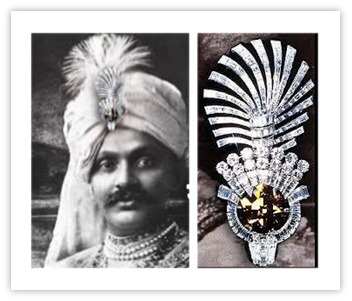 "Eye of the Tiger" - 61.50-ct whiskey-colored diamond - was mounted by Cartier in the turban crown of Maharaja Ranjitsinhji of Nawanagar in 1934

No one can deny the fact that India has been a pioneering source of precious gems, giving world the fine diamonds like - Koh-I-Noor, Orlov, Blue Hope to name the few. But sadly, many of the famous jewels have long gone missing and come in news only when under hammer by an auction house.
According to a survey it was estimated that in 1947 India possessed around 150 world class collections of jewels. So, you can imagine how much it would have had possessed had it not been the case of invaders and looters plundering the golden nation.
Return from Royal Indian Jewelry to Indian Jewelry page
Return from Royal Indian Jewelry to Diamond Jewelry Homepage
I hope you'll not mind sharing this on Twitter, Facebook and with everyone else :)
Feel free to share if something is in your mind and want it to be covered on this site.

My Newsletter

Did you liked this article? Sign-up my FREE weekly newsletter and I'll send you more awesome new additions on this website along with latest jewelry happenings around the world, and download my Jewelry Design Album for FREE!