<!- google_ad_section_start ->
Signature Style of a Jewelry Designer
In today's competitive and over-crowded world of jewelry, success mantra for any jewelry designer is to stand out and be recognized by unique style and theme of work.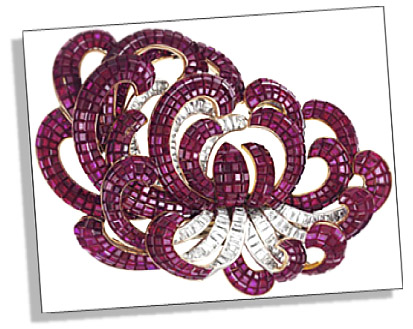 <!- google_ad_section_end ->
In this article, you will get to know what the "signature style of jewelry" mean and signature styles of various jewelry brands.
As a jewelry designer, if you are just starting your career, you may tend to incorporate all kinds of techniques and settings - that you would have learned - into your work.

However, over the period of time, a designer must develop his/her own signature style, or in other words - definitive look to designs that speaks for its creator. Rookie designers may like to read about these Jewelry Designing Tips.

Most of the experienced designers have their own style of designing, and it is this uniqueness that sets their designed jewelry pieces apart from other designers' work.
What is Your Signature Style?
When we say, jewelry designer is associated with a particular style of designing, then "style" here means - metal finish, techniques or the forms or shapes or use of particular gemstones.
As a designer, you can adopt a style in which you set your stones or sequence of beads, that can distinguish your work from others. It can also simply be a setting - with your personal touch - that sets you apart.
If you have still not figured out your signature style, then work on it. May be you like doing contemporary jewelry or may be inclined towards classic or traditional pieces. Symmetrical pieces may be your forte or you may be good at designing abstract pieces. Your trade mark style could be the techniques you use in jewelry, like - different filigree work or some ancient technique.
However, I will never suggest to restrict your creativity to one particular style. Just like any profession, always keep re-inventing your style of work that will speak for itself, without the need for any introduction - that it's your creation.
Signature Style of Different Jewelry Brands
You must have noticed that various jewelry houses or designers have particular elements in their designs that set them apart from others. Elements, that have become their trademark and help them connect with their customers.
I have mentioned below, names of few jewelry brands to explain the importance of signature jewelry and how these brands have created their own space in jewelry industry.
Bvlgari
You can very easily distinguish this Italian brand's piece of jewelry from others. Initially and till today, their jewelry pieces - like necklaces, bracelets and earrings - have their own signature style.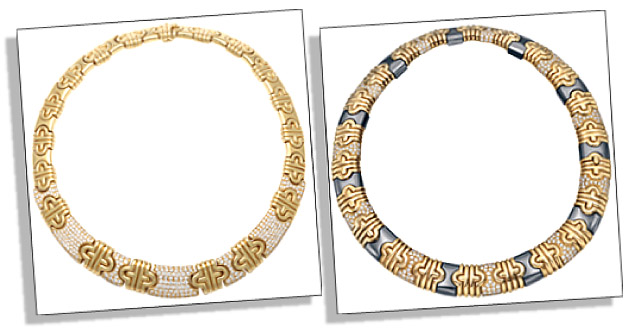 Bvlgari's work is instantly recognized by bold, architectural designs combining large and weighty gold links with interlocking steel. Their another trademark is, use of colored stones in different shades, especially sapphires mixed in unique formats.
Harry Winston
Harry Winston opened its doors in 1932, and transformed diamonds into art, and revolutionized modern jewelry designs. The distinguishing feature of their work is - highlighting of jewels' shapes by minimized setting. They are renowned for their crystal clarity of jewelry pieces, with only limited addition of color. You may read more about Harry Winston engagement rings.

They play around with different fancy shapes in plus sizes. It's just magical how they create beautiful jewelry pieces by just placement of diamonds with different shapes, with minimum visibility of metal (as shown in below image). You will instantly fall in love with their pieces.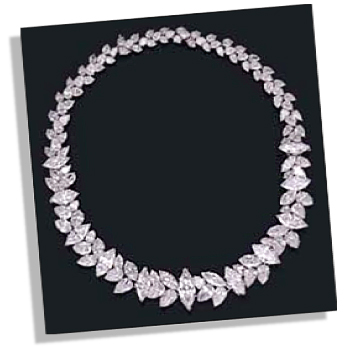 Van Cleef & Arpels
The French jeweler brought fashion, mystery and magic to the world of jewelry. The luxury jeweler creates magic with their innovative and signature jewelry settings. It has time and again shown its mastery at setting, with its iconic Zip necklace and the gem-setting procedure known as the Mystery Setting.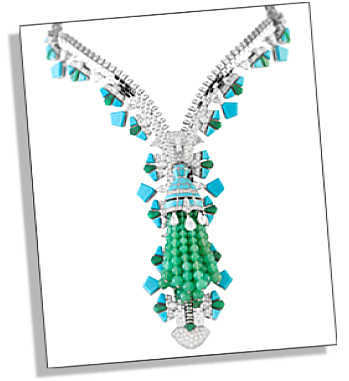 You have to see it to believe that zip in their necklaces actually works, simply unbelievable! Van Cleef and Arpels do their magic with form-based jewelry. Their doll and fairy clips are instantly recognizable and speaks for themselves that they belong to Van Cleef and Arpels family.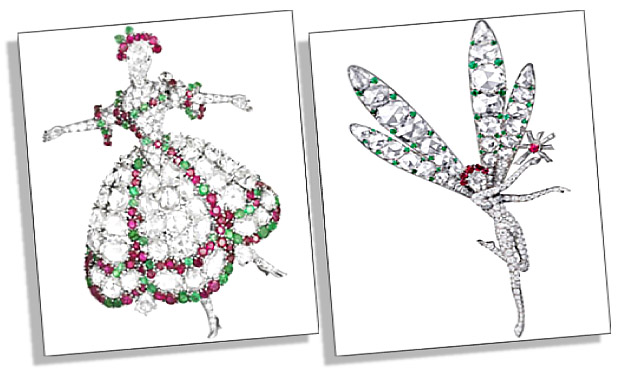 You may think that these are age-old brands, but they started following their signature style from their inception days itself. After all, it is the initial years when a designer has to focus and strive for shaping-up his/her own signature style.
Once you have the strong foundation and established your unique style of creation, you will just need to keep re-inventing it in the following years. So, it's never too soon to discover your signature style.
Return to Designing Jewelry page
Return to Diamond Jewelry Homepage
I hope you'll not mind sharing this on Twitter, Facebook and with everyone else :)
Feel free to share if something is in your mind and want it to be covered on this site.

My Newsletter

Did you liked this article? Sign-up my FREE weekly newsletter and I'll send you more awesome new additions on this website along with latest jewelry happenings around the world, and download my Jewelry Design Album for FREE!