<!- google_ad_section_start ->
Diamond and Emerald Engagement Rings
Diamond and Emerald Engagement Rings are the perfect choice for those who have the fascination for green color.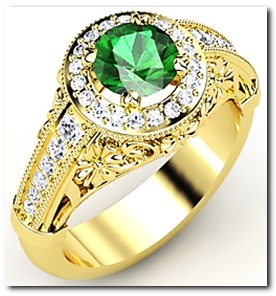 <!- google_ad_section_end ->
Meaning of Emerald Engagement Rings
Emerald is a wonderful and a valuable gemstone. It's a birthstone for month of May. So, if you or your love is May born then it gives you another reason to think about diamond and emerald engagement rings.
Emerald has long been associated with fertility and rebirth. This jewel is dedicated to Venus (the goddess of love and beauty). This gem was believed to bestow on its wearer faithfulness and unchanging love, thus making it a perfect choice for a beautiful engagement ring.
Nowadays, marketing companies have floated the concept that if your love has green eyes, then emerald engagement ring should be your choice. However, in my opinion, color of eyes doesn't matter. Love in eyes matter! If you feel emerald engagement ring will blend with your partner's overall personality go for it, irrespective of her eyes' color.
You may also read about proposal stories of couples in their own words.
Go Green
The finest-quality of emerald has the color of fresh young green grass. Sometimes, it has an almost pure spectral green with a very faint tint of blue as in the finest emeralds from Colombia.
The most desired color is an intense grass green which is considered very valuable, even when visible inclusions are present in the faceted gem. Flawless emeralds are rare, so the flaws have come to serve almost as "fingerprints", while flawless emeralds are an immediate suspect.
Color of emerald can highly influence its price, so take this factor into consideration while shopping for emerald engagement ring.
Emerald is very sensitive to pressure and banging, that's why the well-known "emerald cut" was developed specifically for this gem to reduce the amount of pressure during cutting.
Emerald cut became quite popular, and emerald cut diamond engagement rings with bolder look became a style statement. Prong Setting looks beautiful with stones in this cut.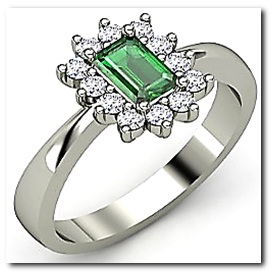 Emerald-cut Emerald in prong setting (Courtesy gemvara.com)
Popular among Divas
Emerald was the biggest fancy of Queen Cleopatra. Elizabeth Taylor, Marlene Dietrich, Angelina Jolie and Julianne Moore, all screen divas were intrigued by beauty of emerald. Among the royals, the Duchess of Windsor and Jacquelin Kennedy both wore emerald engagement rings.
Add your Personal Touch
Did you noticed, how girls were impressed when news came that how Brad Pitt had designed engagement ring for Angelina Jolie? So, now it's your turn to charm your girlfriend and create your own engagement ring.
With emeralds you can create either a vintage-looking engagement ring or a contemporary engagement ring depending on your partner's taste. Vintage emerald engagement rings looks extremely beautiful.
Green color of emerald blends beautifully with the yellow gold of a vintage emerald engagement ring.
However, if you have inclination towards white metal, then you can very well ask your jeweler to set your vintage emerald engagement ring in platinum or white gold.

You can choose emerald as center stone, surrounded by small diamonds in prong or pave setting. Or you can go for symbolic 3 stone diamond and emerald engagement rings by setting emerald as center stone accented by diamonds or vice-versa.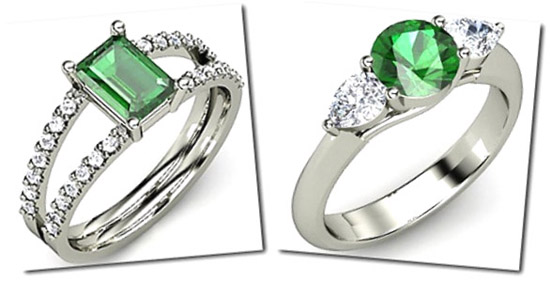 (Courtesy gemvara.com)
Things to Remember
Return from Diamond and Emerald Engagement Rings to Diamond Alternative Engagement Rings
Return from Diamond and Emerald Engagement Rings to Diamond Jewelry Homepage
I hope you'll not mind sharing this on Twitter, Facebook and with everyone else :)
Feel free to share if something is in your mind and want it to be covered on this site.

My Newsletter

Did you liked this article? Sign-up my FREE weekly newsletter and I'll send you more awesome new additions on this website along with latest jewelry happenings around the world, and download my Jewelry Design Album for FREE!