<!- google_ad_section_start ->
Designer Platinum Engagement Rings - How it differs from Gold?

Designer Platinum Engagement Rings - What better way to celebrate precious milestones than with Platinum!
Smart marketing has seeded a general belief in minds of people that platinum is the metal of today while yellow gold was the choice of yesterday. No doubt, when it comes to precious white metals none can beat platinum.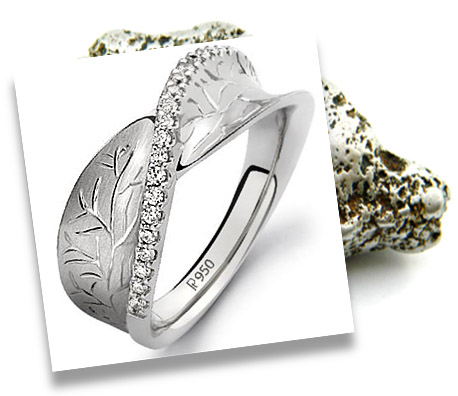 <!- google_ad_section_end ->
Its white luster add an altogether new dimension to sparkle of diamonds. But why only diamond, platinum's white shimmer imparts mesmerizing contrasting effect when combined with colored gemstones as well.
You can yourself try this by comparing similar looking gemstone rings made in platinum and yellow gold. I am sure you will find the difference.
Bite of History
Although platinum - also known as "little silver" - was officially discovered in 18th century, its reference has been found in ancient Egyptians culture and among indigenous people of South America.
However, its first use in jewelry can be only dated back to Edwardian era (1901 - 1920). During most of the first half of twentieth century, platinum was the most preferred precious white metal used in American bridal jewelry. You may also like to read about Edwardian engagement rings.

But, when World War II broke, the US government declared platinum a strategic metal and banned its use for non-military purpose. Result of this decision was, white gold replaced platinum as precious white metal in jewelry.
Do you know, Cartier was the first brand to use platinum in jewelry in early 1900's. Later on other brands too followed the trend with today almost all jewelery brands offering designer platinum engagement rings.
Benefits of Platinum in Engagement Rings
Platinum's high density, malleability and ductility makes it easily hammered or drawn into wire without breaking. This makes this "king of metals" perfect for use in rings - especially designer rings. Its strength enables its less usage in setting gemstones which in turn allows designers to create more delicate designs with less visibility of metal and more spotlight on gemstones and diamonds.
With platinum, fine and intricate metal techniques like filigree, milligrain and scroll-work come out more prominently as compared with other metals. Also, its high ductility (even more than gold and silver) permits it to be stretched into fine wire creating one of the most elegant and complex designs.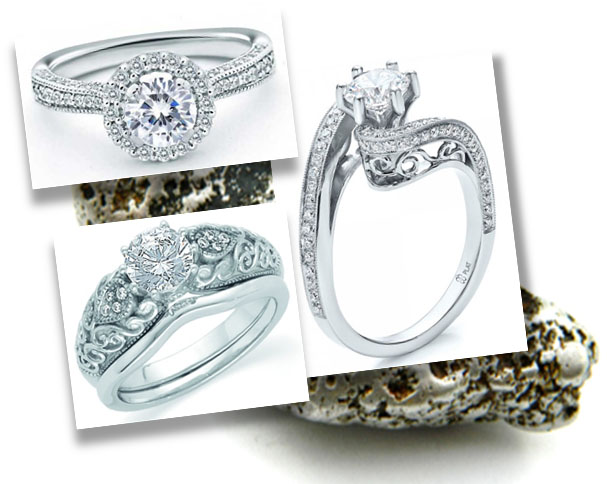 Detailed design work

Platinum v/s White Gold
I am often asked why not go for white gold engagement ring instead of platinum, as former is cheaper than latter. So, for your better understanding I have explained below few of the primary differences between these two metals. This should help you in taking a better and informed decision.

Although in terms of rarity platinum and gold are equal, but being mined far lesser than gold, platinum comes at a premium price compared to gold. Price of platinum can be two to three fold more than 18K nickel white gold.
As platinum is denser (heavier) than white gold, so for the same sized band, platinum band will be heavier and eventually costlier than white gold band.
White gold engagement rings do have a contemporary look and feel, but when it comes to durability white gold is far behind platinum. Due to more compact and dense molecules, and being the least reactive metal, platinum is highly resistant to wear, tarnish and corrosion.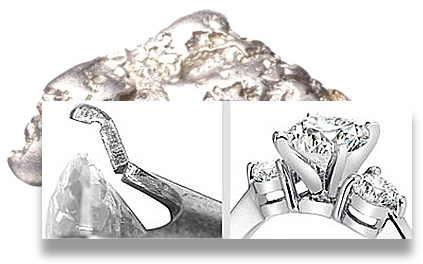 Platinum (right) holds diamond more securely than white diamonds (left)

Designer engagement rings when fabricated in platinum get a better finishing touch compared to when crafted in white gold.
Unlike white gold, platinum is naturally white, so its color doesn't fade away with regular wearing. On the contrary, since white gold alloy is not completely white, it is plated with rhodium to get white luster matching that of platinum. So, you may have to get your white gold engagement ring regularly plated with rhodium to have its white shine intact.

10 year old platinum ring (left) v/s 2 year white gold ring (right)

Sometimes white gold can have allergenic reaction with skin, while this is not the case with platinum.

In nutshell, if you are for white luster and can spend big then go for platinum engagement ring. It will last longer with less maintenance required on metal.
Photo Gallery of Designer Platinum Engagement Rings

Have a look at this photo gallery of some of the striking platinum engagement rings. Click images for enlarged view.

| | | | | |
| --- | --- | --- | --- | --- |
| Fabulous designer platinum engagement ring with old-cut diamonds from Art Deco period. Art deco styling makes it bold but fine detailing offer to it touch of softness. | | This stunning Mark Schneider piece speaks for itself. Look at the flow, and smooth twist and turn of this platinum engagement ring. It's simply elegant and beautiful. | | This retro finish platinum engagement ring (Brilliant Earth) has old European cut center diamond nestled with ten single-cut diamond-studded curves of platinum. |
| It's a hand-made platinum engagement ring with a 0.6ct marquise diamond, bezel-set with 18K yellow gold (Pruden and Smith jewelers). | | It's a delicate vintage floral motif designer platinum engagement ring, crafted with old-fashioned die-struck casting and hand-engraving. | | This open style designer platinum engagement ring with contemporary flavor has baguettes on both ends giving it a stunning bold look. |
An engagement ring symbolizes promise for the lifetime, and platinum does signifies everlasting love. So, if you can afford, why not celebrate the memorable moment in a special way with a platinum engagement ring.

Return from Designer Platinum Engagement Rings to Engagement Ring Articles
Return from Designer Platinum Engagement Rings to Diamond Jewelry Homepage
I hope you'll not mind sharing this on Twitter, Facebook and with everyone else :)
Feel free to share if something is in your mind and want it to be covered on this site.

My Newsletter

Did you liked this article? Sign-up my FREE weekly newsletter and I'll send you more awesome new additions on this website along with latest jewelry happenings around the world, and download my Jewelry Design Album for FREE!