<!- google_ad_section_start ->
Chinese New Year 2012: Jewelry Ideas
Published Date: 14th Jan, 2012
Chinese New Year is a time of giving gifts and celebrating life. This is the most celebrated holiday in Chinese calendar. The event is based on the lunar calendar and its celebration begins on a new moon day and lasts for two weeks till the full moon day. This year, this celebration will start from 23rd Jan.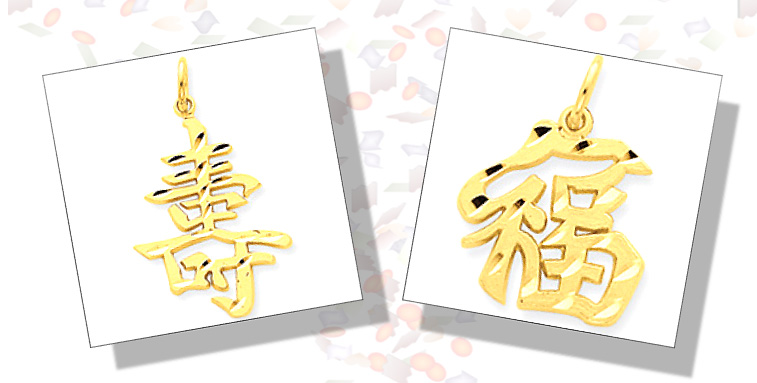 Long Life Pendant (left) Good Luck Pendant (right)

<!- google_ad_section_end ->
Year of Dragon
According to the Chinese zodiac, each year is associated with a specific animal that represents the kind of year it is going to be. There are 12 such animals which are associated with each year in cyclic order. This year is Year of the Dragon.
Dragon is the symbol of great importance in Chinese zodiac, with the belief that there is a balance between heaven and earth in the lives of people born in Year of the Dragon.
The charismatic, enthusiastic and self-confident personalities of Dragons (people born in Dragon year) help them excel at creating a good first impression.
Dragons have good judgment and tend to take a keen interest in the world around them, often stepping in at the right moment to help those in need. Both decisive and dignified, they take a wholehearted approach to life and see themselves as protectors.
Chinese New Year Gifts
The most common gift is a Red Chinese envelope. Red envelopes have been part of Chinese culture for centuries. Filled with lucky money, they are given to friends and family to bring good luck in the upcoming year.
Traditionally, people like to buy jewelry gifts for New Year in both mainland China and Hong Kong. Jewelry particularly made of jade are usually in hot demand, because it is believed to bring good luck. In Chinese culture, it is said that, Gold has value but Jade is invaluable.
Jewelry that is appropriate for a Chinese New Year gift includes charm bracelets, jade pendants or earrings, and necklaces. In Chinese tradition, charms and pendants symbolize longevity, happiness, love, energy, peace, good health and prosperity.
Dragons admire jewelry designs with beneficial properties that incorporate gemstones such as:
Amethyst for Wisdom
Great fascination for Ruby as it is red and noble
Black Onyx for peace and abundance
Turquoise for good communication
Jade to banish greed and carelessness
In metal, yellow gold is very popular. Jewelry made of gold are highly adorable as they can be matched with any attire with bright and cool shades. If you wish to follow the fashion trend, make sure that you buy jewels made of yellow gold or gold-fill with some bold colored gemstones like garnet, ruby, sapphire rather than plain diamonds or other light colored ones.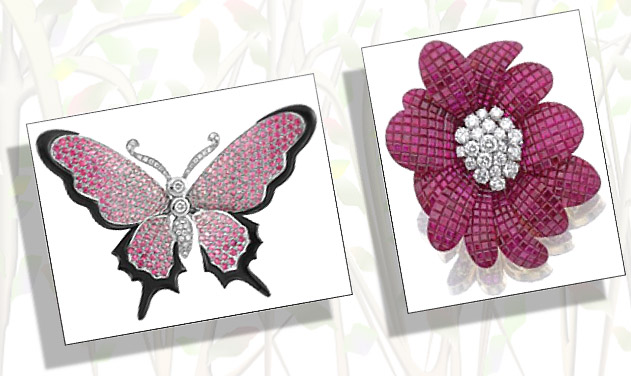 Pink Sapphire Onyx Brooch (left) Ruby Diamond Brooch (right)

Presently, among the colored gem stones, opal, sapphire and black onyx are highly popular. Black onyx can be used alone or in combination with other stones to make charming yellow gold jewelry.
Basically, you can see there are plenty of options for taking part in the latest jewelry wave during this Chinese New Year. So, be the part of this traditional celebration and have a very happy and prosperous new year.
Return from Chinese New Year 2012 to Jewelry Trends page

Return from Chinese New Year Jewelry Ideas to Diamond Jewelry Homepage
I hope you'll not mind sharing this on Twitter, Facebook and with everyone else :)
Feel free to share if something is in your mind and want it to be covered on this site.

My Newsletter

Did you liked this article? Sign-up my FREE weekly newsletter and I'll send you more awesome new additions on this website along with latest jewelry happenings around the world, and download my Jewelry Design Album for FREE!