<!- google_ad_section_start ->
Season's Jewelry Trends - Thanksgiving 2011
Published Date: 13th Nov, 2011
Thanksgiving is just around the corner (24th Nov). It is one of the biggest family holidays of the year. Everyone comes together to enjoy a day of food, conversation, and giving thanks. It has been a century's long tradition, originating in US, for families to eat together and make merry. The motive is to be grateful to the forces of nature, friends and family.
<!- google_ad_section_end ->
Officially, Thanksgiving Day kick starts the holiday season in most parts of the world. While, flowers are the most obvious gifts to express and welcome earthly beauty, but nothing could be a more exclusive and unique than diamonds and gemstone jewelry!
It's around Thanksgiving that the most tempting of bargain offers can be spotted at retail and online jewelry stores.
However, with popularity of online buying, many shoppers choose this medium of purchase in order to avoid long queues and waiting period. But you must take few precautions while purchasing jewelry from online stores. Read more about Online Jewelry Buying.
It is the perfect time to surprise your loved ones: your wife, fiancee, or girlfriend with a gift they will be thankful. Give them something to Be Thankful for on Thanksgiving.
One can find large range of gift options at Blue Nile.
Now, that you want to shop but are little bit confused and don't know what's in trend this season, then don't worry. To help you out, I've put together a little guide to the top trends for 2011.
Jewelry: Essential Style Advice for Thanksgiving 2011
This season, jewelry has taken a bigger and bolder look. This season, "less is not more" but "more is more".
Necklace: Chokers, Statement Necklaces, Single Strand Pieces and Vintage Pieces are popular this fall. Old favorites as well as some new designs are available in market. Individual chains are piled on to create the look of layered chains. This will give you more flexibility in terms of the look you want to create. You can add long pearl strings in different colors to match your dress.
Fashion conscious women all over the world are wearing tourmalines, garnets, aquamarines and other stones in thick chains together making chunky necklaces.
While gifting, I will advise you to choose something simple yet attractive like diamond heart necklace. Something that would look great with a beautiful Thanksgiving Day dress, or even with a pair of jeans and a t-shirt. No matter what she is wearing this diamond heart necklace will look perfect. For more pendant collection, check James Allen.
Earrings: Women who like dangling earrings should rejoice as chandelier earrings have returned. This season's top styles include chandelier earrings, diamond dangling earrings, tassels, and large diamond hoop earrings. Earrings gives a glamorous look to your personality and makes your look complete. Go with streamlined and light weight chandelier earrings or diamond dangling earrings.
| | |
| --- | --- |
| | |
| Kate Hudson wearing Tassel Earrings | Chandelier Earrings |
When you are gifting, my advice will be to choose something simple yet attractive like diamond and pearl earrings or diamond cluster earrings as it blends with all outfits.
Rings: One of the ring trends that have lasted through many seasons is the Cocktail Ring. Big and bold cocktail rings are liked by women, as just one big cocktail ring can brighten up her look. Contemporary Right Hand Diamond Rings are also popular and it's a gift she can wear every day. Read more about Cocktail and Right Hand Diamond Rings.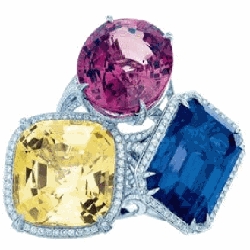 Cocktail Rings
These rings show off confidence, attitude and a controlled opulent look. You can also experiment with different colored stones like amethyst, coral and garnet instead of just sticking with sapphire and ruby.
Bangles and Bracelets: In Bangles, chunky styles and bold cuffs are quite popular. Stack of big bangles and bold enamel bracelets are quite in trend. Mismatched bracelets are a hit, so it's good news as you can mix some of your old bracelets to create a new look.
| | |
| --- | --- |
| | |
| Bracelets | Cuffs |
Still thinking and not confident on what to buy, then play it safe and go with a classic style. You really can't go wrong with a classic piece of jewelry - the solitaire diamond jewelry. Diamond solitaire rings and diamond necklace solitaire has always been popular and will be for years to come.
Whenever you are in doubt or not sure about the trend to follow, then stick with solitaires. While looking for solitaires, don't just stick with round shape. Instead, you can try different diamond shapes. Like emerald cut diamond rings or princess cut diamond earrings will be a Thanksgiving Day gift she will treasure and wear for many occasions.
Gemstones, Colored Diamonds and Fancy Shapes
Precious or semi-precious, gemstones are in vogue. Sapphire and diamond rings and jewelry is true celebration of well-being and thus is a good Thanksgiving gift. Best thing about sapphire is that it blends well with all types of jewelry like a ring, pendant or earring.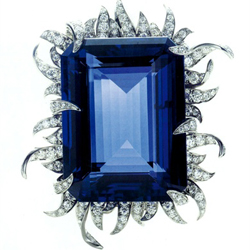 sapphire Ring
Diamonds in big sizes are in demand. Instead of smaller diamond set in pave setting, flavor of this season is bigger diamonds in prong setting. Different diamonds shapes apart from round brilliant cut are very much in trend with colored diamonds adding an extra oomph to your piece of jewelry!
One of the most important things that you should remember is to try only one trend at a time. For e.g., do not wear stacked bangles or bold bracelets and many chains in neck at a same time. Only one single piece of jewelry is sufficient to make you look stylish and standout in crowd.
I hope all this information will help you to purchasing for yourself and gifting jewelry pieces to your loved ones that are in trend this season. As of now this is all about the jewelry trends for this holiday season. Keep track of Season's Trends for fashion guide and trendy tips for upcoming world-wide festivals and celebrations.
Return from Thanksgiving 2011 to Jewelry Trends page
Return from Thanksgiving 2011 to Diamond Jewelry Homepage
I hope you'll not mind sharing this on Twitter, Facebook and with everyone else :)
Feel free to share if something is in your mind and want it to be covered on this site.

My Newsletter

Did you liked this article? Sign-up my FREE weekly newsletter and I'll send you more awesome new additions on this website along with latest jewelry happenings around the world, and download my Jewelry Design Album for FREE!