<!- google_ad_section_start ->
Ideas for 2014 Valentine's Day Engagement Rings

Season of Love is knocking the door with sense of passion and emotion in air. Valentine's Day is around the corner, and the count-down has begun.
<!- google_ad_section_end ->
So, what on earth are you going to get her? It's time to get her the right gift, and she'll know she has her place in your heart. Just make her bound to say Yes! Now is the time to put on your thinking cap, and choose a memorable present for her.
Instead of slogging at the last moment, I will advise to start considering your Valentine's Day gifting options as early as possible. After all, the old adage - Early Bird gets the Worm - still holds true!
However, this article is not for you if you have made your mind to tread the conventional lane of gifting heart-shaped chocolates, flowers and fragrance on Valentine's Day. Because here I will be walking you through some proven engagement ring ideas that I am sure will stimulate her emotions and urge her to say "Yes".
Also, with plenty of good diamond rings on offer
during Valentine's Day, confusion may creep in mind because of lack of ideas. So here we go...
Heart Shaped Engagement Rings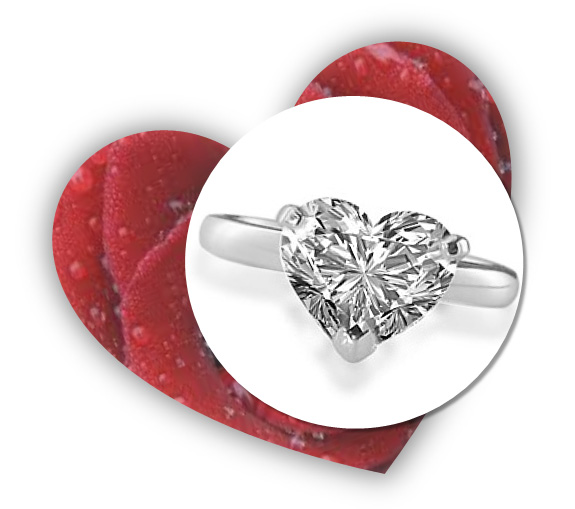 If you are truly romantic and don't shy away from expressing your feeling, then it will be quite an exciting choice to propose her with. In my opinion, among all solitaire engagement rings, heart-shaped stone should get the honor of "the most charming and passionate". Astounding beauty of heart shape will surely compel her to accept your proposal.
So, if you are contemplating a heart-shaped center stone, then go for a stone with 0.5 ct or more. This is because, small hearts appear more like a round stone than a heart, and this will defeat the purpose of gifting heart-shaped engagement ring. You can read more on how to choose a heart shaped engagement ring.
Ruby Engagement Rings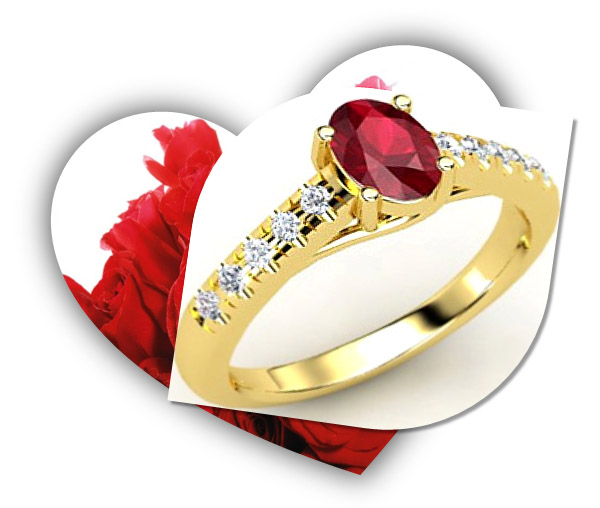 Ruby has been the symbol of love and passion for ages. Isn't this characterizes the foundation of any strong relationship! Without intensity and warmth, a love affair will appear dull and meaningless. Red color of ruby exemplifies romance and is perfect for Valentine's Day.
Ruby and diamond engagement ring looks delightful and elegant, and blends with almost any attire. Even if she has an active lifestyle, don't worry, ruby engagement rings are very durable.

Pink Diamond Engagement Rings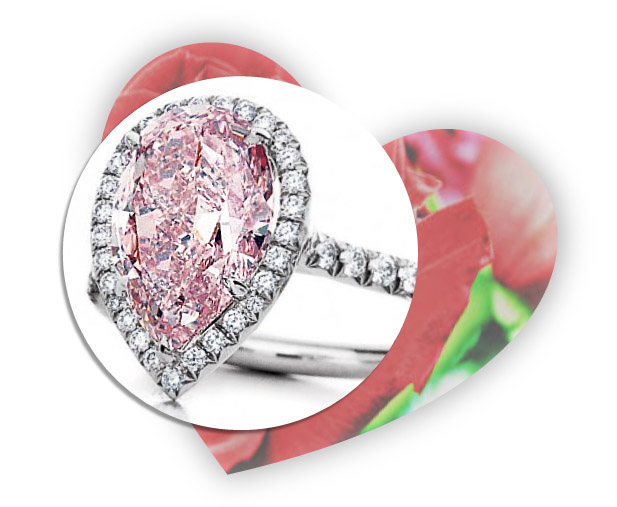 Pink diamond is the embodiment of love and romance. So without any doubt, femininity of Pink will suit the beautiful moment. Pink diamond engagement ring epitomizes the tender love brimming with eternal purity.
But in case, affordability is something you are pondering over, then instead of a big solitaire pink diamond, you can get a small pink diamond, and get it set with smaller white diamonds to create a gorgeous looking engagement ring. The small accent white diamonds will add more sparkle to ring and emphasize the pink color of center diamond. This will allow you to have a pocket-friendly engagement ring.
Budget concern is leading the race!
However, if you are finding it difficult to splurge on an expensive engagement ring, yet not in mood to compromise on presenting her the best ring, then don't have headache! There is a solution to every problem.
There are affordable engagement ring options - like Cubic Zirconia engagement ring and Moissanite engagement ring - which can be deceptively identical to diamonds.
It's your feelings and emotions that count more than how much you have spent for her gift. A ring (or for that matter any gift) is just has a symbolic meaning, it's the commitment in relationship that matters the most.
Moissanite Engagement Rings
Moissanite is a mineral that looks similar to diamond. By choosing an inexpensive stone like moissanite, you will have enough pocket space to personalize the ring to make it look more unique and exclusive.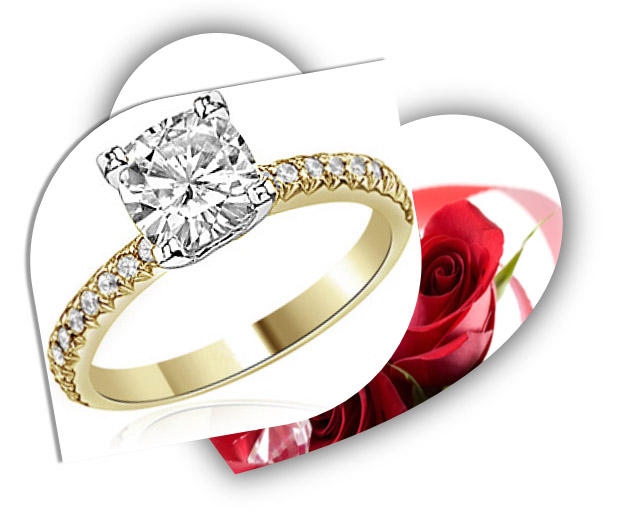 Cubic Zirconia Engagement Rings
Cubic zirconia (CZ) engagement rings are fast becoming a popular inexpensive engagement ring option. CZ is the most popular of lab-created diamond alternatives, and looks just like a diamond to the naked eye. Since, CZ can be mass-produced, so it is cheaper than even a moissanite.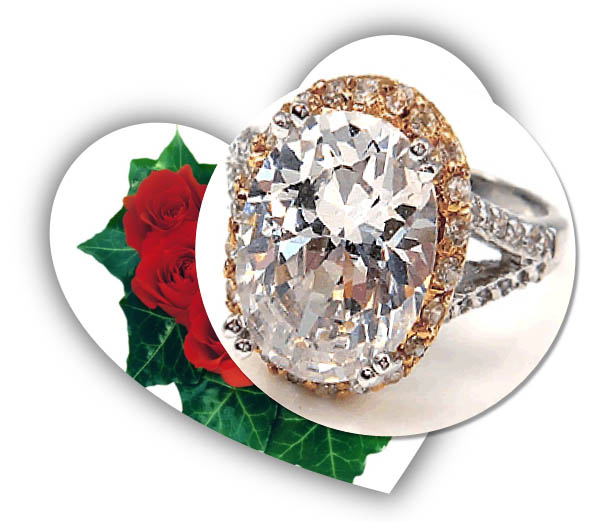 This article was about engagement rings, so I have just emphasized on Valentines Day engagement ring ideas. However, if you are open for any piece of ornament, then there are plenty of jewelry gift options on Amazon
with a wide price range. You can also go for SuperJeweler's Valentine Sparkly Sale that start as low as $6.99!
Final suggestion, while your heart will be working at full capacity to prepare you for Valentine's Day, don't let your brain go on a holiday trip! Take a wise and thoughtful decision in choosing the gift which you both will remember and revere for ever. And, if you don't mind, you may share your proposal story with other readers.

Return from Valentine's Day Engagement Ring Ideas 2014 to Jewelry Trends page
Return from Valentine's Day Engagement Ring Ideas 2014 to Diamond Jewelry Homepage
I hope you'll not mind sharing this on Twitter, Facebook and with everyone else :)
Feel free to share if something is in your mind and want it to be covered on this site.

My Newsletter

Did you liked this article? Sign-up my FREE weekly newsletter and I'll send you more awesome new additions on this website along with latest jewelry happenings around the world, and download my Jewelry Design Album for FREE!