<!- google_ad_section_start ->
Mens Engagement Rings - Traditions are re-defined

Concept of mens engagement rings is comparatively new as against the custom of mens wedding bands. You must have observed, for a man to wear an engagement ring is not a very frequent sight.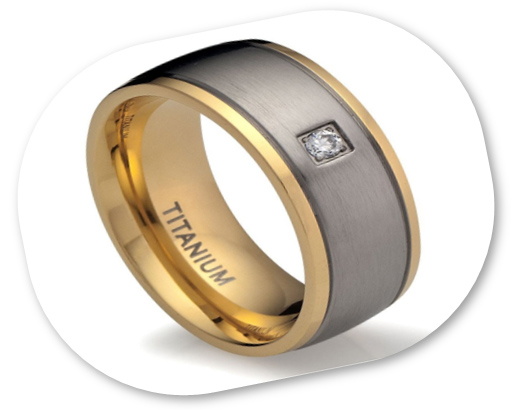 <!- google_ad_section_end ->
According to a survey done by XO Group in 2011, only 5% men were found wearing engagement ring at that time.
However, as the saying goes "Change is the only Constant", men nowadays are not afraid of breaking age-old traditions and treading the road less-traveled.
And this is the trait that don't make them feel shy in adorning engagement rings that have long been accomplice of women.
So, it may not be long enough when men sporting engagement rings will become a common thing.
And let me tell you, jewelers will not lag behind either to grab the new trend in men's jewelry.
Nonetheless, male engagement rings have long been part of men's jewelry segment of Tiffany, Cartier and Harry Winston - well-known for their luxurious engagement ring collections.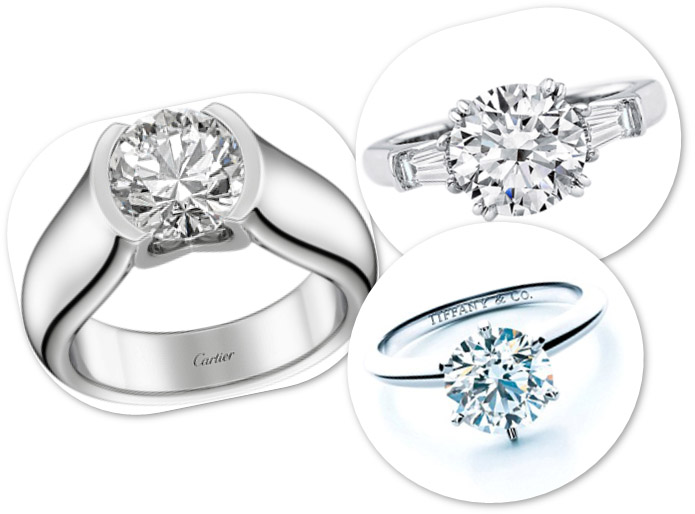 Male Engagement Rings from Cartier, Harry Winston (top right) and Tiffany

Simplicity is the Key
A woman's engagement ring is symbolic as well as ornamental. After all, don't we identify a woman's engagement ring with its style and sumptuousness!
Contrary to that, engagement ring of a man has nothing ornate about it. Without any gaudiness and show-off, it is purely a token of commitment towards new relationship. So, a male engagement ring must be simple, sophisticated and hassle-free.
How to choose mens engagement rings?
Metal
White gold, stainless steel, sterling silver, tungsten, black titanium and platinum are the preferred metals for mens engagement rings. Yellow gold can be used with white gold in two-tone effect. However, rose gold should be avoided as its color has a womanish feel.
Tungsten is fast catching the trend due to its durability and gold getting expensive. Further, tungsten has a modern flavor which makes it a good choice for contemporary engagement rings. However, make sure to select the right ring-size on the first go itself, because being very hard tungsten ring cannot be resized easily.

Stone Shape
As always, round shape is the evergreen and classic pick, while princess and emerald shapes exudes masculinity. But, marquise and pear shapes are in red zone for a male engagement ring because of their feminine touch.
Geometrical Pattern
Mens jewelry and geometrical patterns work together. In case of non-solitaire diamond engagement ring, small diamonds set in pave setting - with square or rectangular outline - looks quite refine.
Stone Color
For mens engagement rings, multi-color look is strictly NO! Basic rule is, mens ring should be elegant without being flashy. So, a white diamond engagement ring is most appropriate. However, if you are searching for something different, then go for black diamond. Among gemstones, onyx, opal, emerald and blue sapphire usually blends well with men in general. Always keep in mind, darker shade gemstones should be preferred for male engagement rings.
Setting
Women can compromise on comfort for the sake of a stylish piece of jewelry, but this is not applicable on men. For them comfort comes first. Their engagement ring or band's surface should be smooth and snag-free. Pave setting, channel setting and prong setting are most-preferred. If it's a band, then flush-set engagement band looks good.
Mens Engagement Rings from Amazon
It's not necessary for a male engagement ring to be expensive, and one has to splurge on it. If searched properly, you can easily find a good-looking and suitable male engagement ring under $200.
When it comes to variety and price range in men's rings segment, Amazon offers a wide array of rings for men with an extensive price range. Below, I have listed my inexpensive selections from Amazon's collection of men's rings
.
This diamond tungsten engagement band has a sturdy and manly feel to it.
It has just 13 diamonds, nonetheless these are strategically placed - along the center line of band - in order to impart the maximal impact.
With tungsten, one can be worry-free about dulling of polish or ring getting scratch marks.
Round brilliant diamonds are in G/H Color and SI2/I1 Clarity, which means there will be enough sparkle against the contrasting color of tungsten.
Diamonds set in pave will be well-secured against any fall-off. All in all, this strong and durable ring will perfectly suit a man whose daily activity involves heavy duty field work.

Wow, what a cute and romantic idea for an engagement ring! It has a definite expression - "lady is the key to her beau's locked heart!"
If both of you are of romantic breed then order both male and female versions, and wear these together.
I really loved the fine engraving of lock, and it's deep enough to get scratched easily.
Single stone is set in flush setting on lock which further highlights the engraving of the lock.
I will recommend this ring to truly romantic couples crazily in love with each other.

This engagement band is on similar lines as above. It will evidently express your feeling without uttering a word.
The ring is simple in making, nothing too fancy and flashy, but really romantic. Just a single stone with beautifully carved words to show your love.
It's a win-win at such a low price. Go for it if you don't want to spend much, but want to gift your man a truly romantic something.
You can order it as set and you both can show-off your love for each other.


This smart stainless steel engagement band is set with emerald-cut black Swarovski Zirconia.
Stones are set in channel setting which gives it a smooth finish.
Since the stones are set through the ring, it gives impression of eternity ring. Continuous setting of stones symbolizes eternal love which has no beginning or end.
Ring is 0.1" thick which is quite good and means will be durable enough.
Stainless steel, emerald-cut black stones and channel setting combines well to make it a deadly engagement ring!

Design your own Mens Engagement Ring
Put on your thinking cap, and play with your imagination. One can very well add a personal touch to a male engagement ring by getting an intimate message (like "I Love You" or your engagement date or any special moment/thing you both share) engraved.
Return from Mens Engagement Rings to Designer Mens Jewelry page
Return from Mens Engagement Rings to Diamond Jewelry Homepage
I hope you'll not mind sharing this on Twitter, Facebook and with everyone else :)
Feel free to share if something is in your mind and want it to be covered on this site.

My Newsletter

Did you liked this article? Sign-up my FREE weekly newsletter and I'll send you more awesome new additions on this website along with latest jewelry happenings around the world, and download my Jewelry Design Album for FREE!