<!- google_ad_section_start ->
Engagement Ring History
Engagement Ring History - Know how Engagement Rings evolved
In present times, diamond engagement rings have become an essential part of marriage ritual across the globe. Now you will find endless variety in engagement ring designs to choose from - be it in shape of the center diamond, engagement ring styles, engagement ring settings or diamonds to fit almost any budget.
<!- google_ad_section_end ->
There are countless choices available to choose between expensive engagement rings and cheap diamond engagement rings.
These days, the first ring that a couple gives each other is the "promise ring" which is a kind of pre-engagement ring. Next comes the "engagement ring" when they have known each other for a while. And last is the "wedding ring" when they have decided to spend their life together.
These commitment rings in circular shape – with no beginning and end – are representation of eternity. It symbolizes couple's eternal and unending love.
But, why not let's dig a little bit of engagement ring history - after all it has long been the symbol of love and commitment - and know when and how the customs associated with engagement rings started and evolved over the years.
Engagement Ring History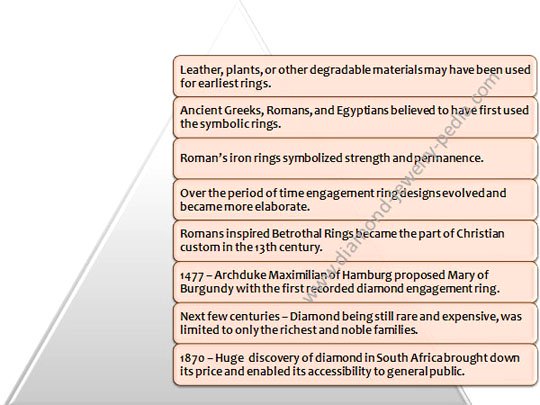 According to legends, engagement and wedding rings have the same origin. The ancient Greeks, Romans and Egyptians are believed to have first used the symbolic rings. Betrothal Rings custom inherited from the Romans, symbolized woman engaged to be married to a particular man. This became traditional Christian custom in the 13th century.
Roman's iron rings symbolized strength and permanence. In some cultures, it was believed that fourth finger of the left hand - where the "vena amoris" or vein of love was supposed to - connect to the heart. This tradition continues till today, as it is customary to wear both engagement and wedding band on the left ring finger.
It is likely that the first rings may have been made from leather, plants, or other degradable material. Later, as the time passed, Romans are believed have made bands of iron, copper or may be of silver or gold.
| | |
| --- | --- |
| | |
| Ancient Roman Iron Ring | Ancient Roman Gold Ring |
So, we can say that earlier it was just a plain ring (as engagement and wedding bands) that represented commitment of lifetime. However, we can still find plain engagement and wedding bands to honor each others love and commitment.
With the passage of time engagement ring designs evolved and became more elaborate. Gemstone engagement rings and Pearl engagement rings started gaining momentum. Couple's parents' as well as couple's symbolic birthstones were used in the rings. It's believed Victorians exchanged "regards" rings set with birthstones.
Diamond Engagement Ring
Topic of engagement ring history cannot be complete without the mention of diamond engagement rings.
In 1477, the Archduke Maximilian of Hamburg proposed Mary of Burgundy (shown in the image) with the first recorded diamond engagement ring.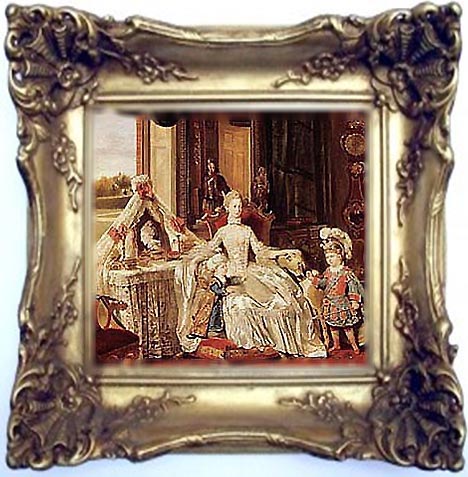 The ring was set with thin, flat pieces of diamonds in the shape of an "M". After this proposal, it became a trend in upper class to give the sparkling diamond engagement rings and gemstone engagement rings to their beloved and betrothed.
Over the next few centuries, diamond was still a rarity and very expensive, and giving a diamond engagement ring was limited to only the rich and noble families.
Around 1870, huge reserves of diamond were discovered in South Africa. This brought down the price of this expensive jewel drastically and opened the gate of accessibility to general public. Now, diamond began to be popularly used in jewelry.
Later, extensive marketing by De Beers (during middle of 20th century) led most of the people to believe that if it's an engagement ring it has to be a diamond engagement ring.
In 1979, when richest diamond deposit in the world was discovered in Kimberley region of Western Australia, it further increased the availability and affordability of diamonds for the general public.
Engagement Rings for Men
For centuries, engagement or wedding rings were associated with only women. When it comes to engagement ring history, it is mostly dominated by women's engagement rings.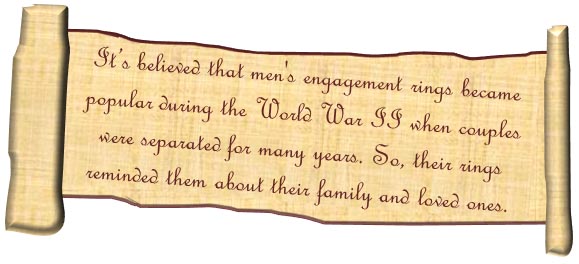 But nowadays, both men and women exchange engagement and wedding rings. Market is now flooded with men's engagement rings, like - princess cut engagement rings and emerald cut diamond engagement rings with bold gold bands giving very masculine look.
Today the engagement ring worn by you – whether it's a modern engagement ring, vintage style engagement ring or a designer engagement ring – is a reflection of your personality and taste.
So, now you know engagements rings exchange has been going on since ancient times. Although, it was not as romantic, glamorous and extravagant as it is today, engagement rings have been the most symbolic and universal expression of true love and lifelong commitment.
Return from Engagement Ring History to Diamond Jewelry Homepage
I hope you'll not mind sharing this on Twitter, Facebook and with everyone else :)
Feel free to share if something is in your mind and want it to be covered on this site.

My Newsletter

Did you liked this article? Sign-up my FREE weekly newsletter and I'll send you more awesome new additions on this website along with latest jewelry happenings around the world, and download my Jewelry Design Album for FREE!