<!- google_ad_section_start ->
Valentine's Day Engagement Ring Trends

Published Date: 26th Jan, 2013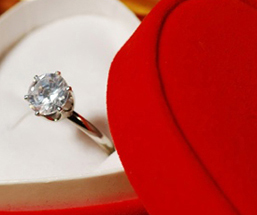 Since, maximum number of couples propose on Valentine's Day, so I thought it would be a perfect time to write about engagement rings trends when this day is nearing.

<!- google_ad_section_end ->
But before thinking of engagement ring trends, it's important for you to know your love's taste and style in jewelry. Observe her way of dressing, ask her friends, go shopping with her and see what she selects, just find out her likes.
Following questions will act as a checklist and will surely help you in finding the best engagement ring.

Does she have a sophisticated, classic and simple taste?

If she has a classic taste, and flair for sophisticated and no fussy pieces, then solitaire engagement rings is the good choice for you. You will find a variety of options available in solitaire engagement rings.
Round shape is the most time-honored of all diamond shapes, but you can still try something in fancy shaped diamond engagement rings. Oval shaped engagement ring and pear shaped engagement ring give a nice blend of classic as well as something unique. Consider emerald cut diamond engagement ring if she has a taste of the highest class and desires bold look.

Is she has fun loving, lively and colorful personality?

In this case, you can contemplate colored diamond engagement rings. Also look around for diamond alternative engagement rings to choose from.

In fact, you can have diamond and gemstone engagement ring to have a fusion of diamonds' sparkle and gemstones' burst of color.  Emerald green is the color of this season, so you can also consider diamond and emerald engagement ring.
Don't stick to simple yellow gold, white gold or platinum. Experiment with shades of gold. Two tone engagement ring is quite a popular trend as it gives a delicate and feminine look.

Are you both Romantic?

Of course you are! That's the reason you are proposing on Valentine's Day. What could be more desirous than a diamond and ruby engagement ring, after all "red" is the color of love.
You can even give a thought to engagement rings with pink gems, like - diamond and pink sapphire engagement ring or pink diamond engagement rings. These days pastel shades are getting popular, have a look at pink champagne sapphire engagement rings and pink peach sapphire engagement rings.

But, don't forget about absolutely romantic heart shaped engagement rings - double heart engagement rings are the all time favorite and will always be in trend.

| | | |
| --- | --- | --- |
| Diamond and Ruby Engagement Ring | Diamond and Pink Sapphire Engagement Ring | Double Hearts Engagement Ring |
Does she cherish sweet symbols?

If she loves symbolic gestures, then what better way than expressing your love with a birthstone engagement ring? You can design your own engagement ring and combine her and your birthstone in the engagement ring, and make it a handmade unique engagement ring.

Heard about three stone jewelry? 3-stone engagement rings are perfectly symbolic and will show her your love at best. It will look extremely beautiful and symbolize your past, present, future and lifetime of togetherness. This style is timeless and she will always feel proud that you selected three stone engagement ring for her.

3-Stone Engagement Ring

Is she a keen observer and notices finer details?

I'm sure your effort won't go unnoticed if you go for an engraved engagement ring. Engrave something personal that you both share. Any personal message - could be the day or place you met - that only you both share.

Also, think about engagement ring setting. If she has a active style of living and her work involves working extensively with hands, go for engagement ring in bezel setting. Having knowledge of jewelry settings will allow you to make the right choice. She will be pleasantly surprised to see the effort you have put in buying her engagement ring.

Bezel Set Engagement Ring

Working on limited budget?

If you are on limited budget and want an affordable engagement ring, you have the wonderful option of cubic zirconia engagement rings and moissanite engagement rings. These inexpensive engagement rings can give you many options to choose from.
Don't give her any false impression, just explain her about diamond simulants. I'm sure she will understand, and love you more for being honest and straightforward. Due to rise in price of gold and diamonds, lot of people are opting for simulated diamond jewelry.
Can't place her in any of the above categories?

I understand she is fun loving and classic yet likes bold pieces and totally romantic too. Oh please! Don't get confuse while choosing the best engagement ring for her. You love her unconditionally and after all Valentine Day is all about love and bonding.

A beautiful engagement ring will show your love to her but it's your feelings and sentiments that will finally make her say Yes! So, select the engagement ring that your heart expresses, apart from what's in trend.

So, this valentine don't shy away, express your love and make her yours forever. All the Best! :)
Return from Valentine's Day Engagement Ring Trends 2013 to Jewelry Trends page
Return from Valentine's Day Engagement Ring Trends 2013 to Diamond Jewelry Homepage
I hope you'll not mind sharing this on Twitter, Facebook and with everyone else :)
Feel free to share if something is in your mind and want it to be covered on this site.

My Newsletter

Did you liked this article? Sign-up my FREE weekly newsletter and I'll send you more awesome new additions on this website along with latest jewelry happenings around the world, and download my Jewelry Design Album for FREE!